Eric Ripert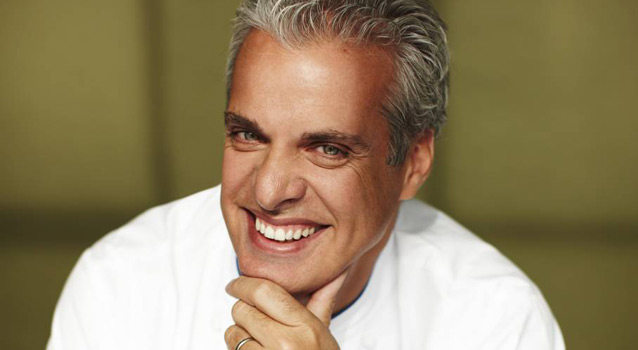 Eric Ripert is grateful for his early exposure to two cuisines—that of Antibes, France, where he was born, and to Andorra, a small country just over the Spanish border where he moved as a young child. His family instilled their own passion for food in the young Ripert, and at the age of 15 he left home to attend culinary school in Perpignan. At 17, he moved to Paris and cooked at the legendary La Tour D'Argent before taking a position at the Michelin three-starred Jamin. After fulfilling his military service, Ripert returned to Jamin under Joel Robuchon to serve as chef poissonier.
In 1989, Ripert seized the opportunity to work under Jean-Louis Palladin as sous-chef at Jean Louis at the Watergate Hotel in Washington, D.C. Ripert moved to New York in 1991, working briefly as David Bouley's sous-chef before Maguy and Gilbert Le Coze recruited him as chef for Le Bernardin. Ripert has since firmly established himself as one of New York's—and the world's—great chefs.
In 1995, at just 29 years old, Ripert earned a four-star rating from the New York Times. Over 15 years later and for the fifth consecutive time, Le Bernardin again earned the New York Times' highest rating of four stars, becoming the only restaurant to maintain this superior status for this length of time, without ever dropping a star.
In September 2011, Le Coze and Ripert unveiled the next chapter in the restaurant's history: a significant redesign from Bentel & Bentel that earned Le Bernardin a James Beard Award for "Best Restaurant Design" in 2012. The new look features a lounge, a first for the restaurant, where a separate menu is available.
In 1997, GQ named Le Bernardin the best restaurant in America, and in 2007, the magazine named Le Bernardin one of "Seven Food Temples of the World." In 2005, New York magazine declared Le Bernardin the #1 restaurant in the city, awarding it five stars in the inaugural restaurant rating issue – a position it holds today. Also in 2005, Bon Appetit declared Ripert's Butter-Poached Lobster with Tarragon and Champagne its "Dish of the Year."
Le Bernardin continues to receive universal critical acclaim for its food and service, and currently ranks 19 on the S. Pellegrino World's 50 Best Restaurants list. The Michelin Guide, which made its New York debut in 2005, honored Chef Ripert and Le Bernardin with its highest rating of three stars in 2005 and each year thereafter. In the 2011, 2012, 2013 and 2014 editions of the Zagat Guide, Le Bernardin received a "29 out of 30" rating for food: the highest in New York City and the first time that's happened since 1996. In the 2012, 2013 and 2014 Zagat Guide, Le Bernardin is named the most popular restaurant in the city. In 1998, the James Beard Foundation named Le Bernardin "Outstanding Restaurant of the Year" and Eric Ripert "Top Chef in New York City." In 1999, the restaurant received the "Outstanding Service" award from the Beard Foundation, and in 2003, the Foundation named Ripert "Outstanding Chef in the United States." In 2009, Le Bernardin was honored with the James Beard Award for "Outstanding Wine Service." Most recently, in 2013, Le Coze won the award for "Outstanding Restaurateur." In his year-end dining feature, Frank Bruni of The New York Times selected Le Bernardin as the "Best Meal of 2008." In addition, Ripert has partnered with The Ritz-Carlton Hotel Company to open Blue in Grand Cayman.
Ripert is the host of RESERVE CHANNEL's show "On the Table" on YouTube, which debuted in July 2012. He has also appeared on the Late Show with David Letterman, The Charlie Rose Show, Ellen DeGeneres, TODAY, Regis & Kelly, and Martha Stewart. In fall 2008, Ripert published "On the Line," his second cookbook with Artisan. In 2002, Artisan published A Return to Cooking, a collaboration between Ripert, photographers Shimon and Tammar Rothstein, artist Valentino Cortazar, and writer Michael Ruhlman that was selected by Newsweek as one of its best books of the season. In September 2009, AVEC ERIC, Ripert's first TV show, debuted on PBS stations, and ran for two successful seasons, earning two Daytime Emmy Awards: "Outstanding Culinary Program" (2011) and "Outstanding Achievement in Main Title and Graphic Design" (2010). "Avec Eric: a culinary journey with Eric Ripert," (Wiley) was released in November 2010 with more than 100 recipes inspired by Ripert's travels.
Ripert is the Chair of City Harvest's Food Council, working to bring together New York's top chefs and restaurateurs to raise funds and increase the quality and quantity of food donations to New York's neediest. When not in the kitchen, Ripert enjoys good tequila and peace and quiet. He lives on the Upper East Side and Sag Harbor with his wife and young son.