Transparent Recap: Episode 210 (Grey Green Brown & Copper)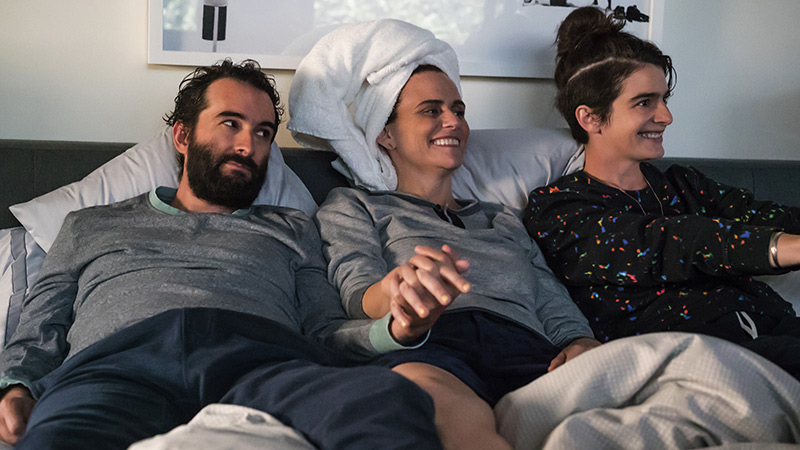 In a motel room, Vicki (Anjelica Huston) tells Maura (Jeffrey Tambor) about getting a double mastectomy. Vicki spoons Maura in bed.
In 1933, Rose (Emily Robinson) and Yetta (Michaela Watkins) ride on a ship to America. Yetta gives Rose the chocolate mold containing Gittel's (Hari Nef) pearl ring hidden inside.
Ali (Gaby Hoffmann) and Sarah (Amy Landecker) swim in the pool at the Pfefferman family home.
Josh (Jay Duplass) wakes up and joins Ali and Sarah in the pool. Sarah says being in the woods has made her interested in rediscovering her Judaism. Josh asks her not to involve Raquel (Kathryn Hahn). They dive underwater and have an imaginary tea party.
The next morning, Vicki and Maura kiss and caress in bed. Vicki shows Maura her mastectomy scars and they have sex.
Ali, Sarah and Josh watch TV. Ali says this is the first time they've all been single at the same time. She takes Gittel's pearl ring and wears it around her neck.
Over breakfast, Maura asks Vicki to come with her to see her mother Rose (Shannon Welles). Vicki says she isn't ready for that.
Sarah gets spanked by Pony (Jiz Lee), a dominatrix she met at Idyllwild Wimmin's Festival.
At UCLA, Leslie (Cherry Jones) asks Ali if Maura is okay after Idyllwild. Ali tells Leslie about her theory of pain being passed in her family line from the Holocaust. Leslie tells Ali she has to decide between being her student and being her girlfriend.
Josh tells Buzz (Richard Masur) about going on tour with Fussypuss. Buzz asks Josh how he feels about his relationship with Shelly (Judith Light) and tells him his opinion matters. Buzz and Josh hear a wounded duck crying. They find it and wrap it in Josh's jacket.
On a train to see Grandma Rose, Ali apologizes to Maura for what happened at Idyllwild. She says she plans to study with Leslie in the fall. Maura says she's nervous to see Rose.
Maura and Ali visit Rose at the assisted living home. Maura greets Rose as "Morty" and tells her people call her "Maura" now. Maura's sister Bry (Jenny O'Hara) arrives. Rose examines Ali's pearl ring necklace.
In the Boyle Heights section of Los Angeles in 1934, Yetta (Michaela Watkins) and Rose (Emily Robinson) find Chaim (Michael Stuhlbarg) who has a new wife and child. Yetta reveals that Gershon stayed behind in Berlin. Chaim tells Rose he's still her father and offers to buy her a book. Yetta and Rose spit on the floor and leave.
Back in the present day, Sarah gives Len (Rob Huebel) a makeup palette to replace the one of Melanie's she ruined. Len says that Melanie dumped him.
Josh and Buzz watch the duck swim in the bathtub. Josh says nothing in his life has been adding up. Buzz tells him he's in shock from losing his father when Mort became Maura. Buzz encourages Josh to mourn, and hugs Josh as he cries.
Sarah visits Raquel (Kathryn Hahn) and asks if she can talk.
Maura, Ali, Bry and Rose go to the beach and look out at the ocean.
In the past, Rose is in labor. Her husband Moshe Pfefferman (Moshe Kasher) tells Yetta he thinks the baby will be a girl. The doctor delivers the baby and reveals it's a boy.
Stream Transparent Season 1 online now.
Listen to this week's Transparent Playlist below, featuring songs from Episodes 209 – 210.