Transparent Recap: Episode 209 (Man on the Land)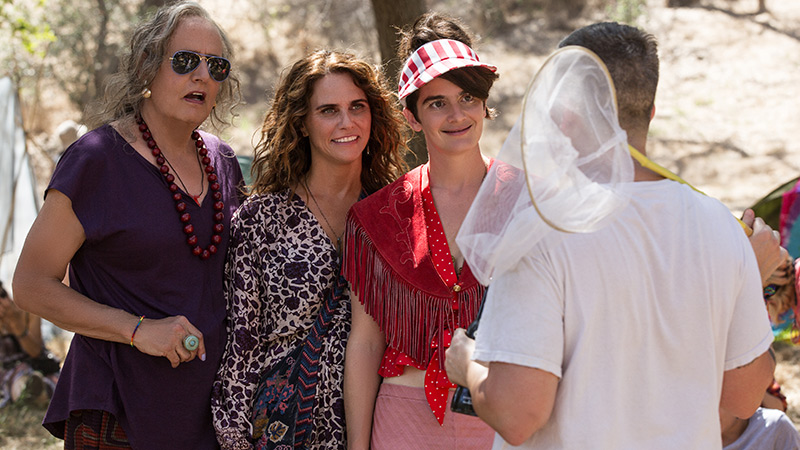 Maura (Jeffrey Tambor), Sarah (Amy Landecker) and Ali (Gaby Hoffmann) arrive at Idyllwild Wimmin's Festival.
At their tent, Maura and Sarah discuss the festival activities. Ali goes topless and watches the attendees.
Ali, Sarah and Maura dance and watch the Indigo Girls play. They eat nut loaf and Ali and Sarah go off to see a drum circle and Leslie's (Cherry Jones) poetry reading.
While browsing at a vendor, Maura meets Vicki (Anjelica Huston) who tells her that the festival has a policy of only letting women who were born women attend, but that she thinks it's awesome that Maura is there.
Ali compliments Leslie on her poetry reading. Leslie reveals she and Bella (India Menuez) split up. Ali says she and Syd (Carrie Brownstein) broke up and she came with Sarah and Maura. Leslie says the festival isn't trans-friendly and they go off to find Maura.
Sarah runs into Jocelyn (Melanie Hutsell), a parent from her kids' school. Jocelyn tells her that the other parents don't care about her divorce and she should stop feeling sorry and forgive herself.
Ali and Leslie leave a note for Maura telling her to meet them at Sojourner.
While watching a drum circle, Sarah notices a woman using an S&M paddle on another woman.
As Maura waits in line to use one of the portable toilets, some male workers arrive, prompting the crowd to shout "Man on the land!"
Maura finds the note Ali left for her. Sarah learns about roleplaying at the S&M tent.
Later that evening, Maura finds Ali sitting around a campfire with Leslie and her friends. Maura tells her she wants to find Sarah and leave. Leslie asks Maura to join them for a beer.
Sandy (Sandy Martin) tells Maura that the festival is a safe space for women who are born women. The group debates what it means to be a woman and Ali notes the privileges Maura had when she identified as a man. Maura gets up and leaves.
Sarah gets tied up and spanked at the S&M tent. Ali looks for Maura in the woods.
Maura looks for Sarah and shouts "Man on the land!"
While walking in the woods, Ali notices she is wearing old-fashioned Jewish shoes. She sees Yetta (Michaela Watkins) walk by.
In Berlin, 1933, Rose (Emily Robinson) sits with Dr. Magnus Hirschfeld (Bradley Whitford) and Gittel (Hari Nef) at the Institute for Sexual Research. A group of Nazis break in, harass everyone and burn books.
Back in the present, Maura knocks over a tent, gets her suitcase and yells that she's leaving.
Ali has visions of Gittel and Rose at the Nazi book burning. She holds Rose's hand and they watch Gittel being handcuffed and taken away by the Nazis.
In the present day, Ali makes love to Leslie in her tent.
Maura walks away from the camp. Vicki pulls up in her car and tells Maura to get in.
Stream Transparent Season 1 online now.
Listen to this week's Transparent Playlist below, featuring songs from Episodes 209 – 210.