Transparent Recap: Episode 208 (Oscillate)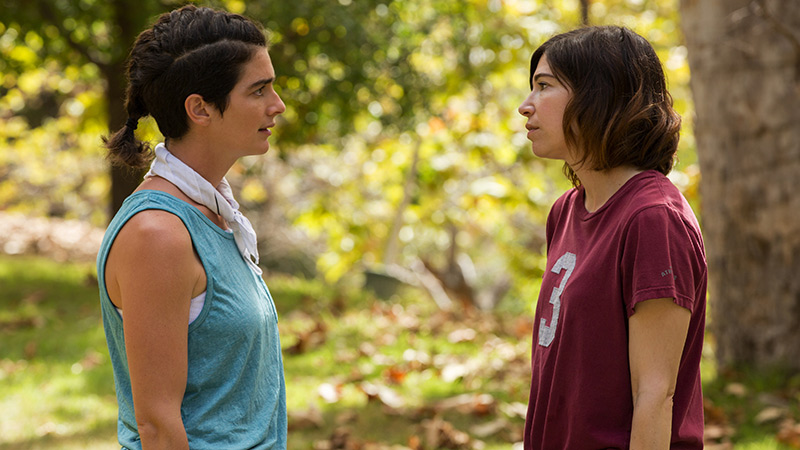 In Berlin in 1933, Gittel (Hari Nef) gives her mother Yetta (Michaela Watkins) money for visas to get to America. Gittel and Rose (Emily Robinson) tell Yetta about the Institute for Sexual Research and Dr. Magnus (Bradley Whitford). Rose says she's going to stay with Gittel at the Institute.
At the Institute, Rose drinks and dances. Gittel gives Rose her pearl ring necklace.
Yetta puts the family valuables, including the pearl ring necklace, inside a chocolate mold. Gittel paints whiskers and a cat's nose on Rose's face.
Rose watches Gittel in a burlesque show at the Institute. Yetta arrives and sees Gittel wearing pasties.
Yetta shows Rose and Gittel the Visas she obtained. Gittel says her name is not "Gershon," as the visa says, and that she isn't leaving Magnus.
Yetta ask Magnus to keep Gittel's Visa in case she decides to come to America.
In the present day, Josh (Jay Duplass) works out with a CrossFit trainer. He throws up and then continues to exercise.
While hiking, Ali (Gaby Hoffmann) and Syd (Carrie Brownstein) discuss having an open relationship. Syd says she can't go to the Idylwild Wimmin's Festival with Ali or be in a polyamorous relationship.
At the LGBT Center, Maura (Jeffrey Tambor) discusses volunteering on the graveyard shift for the Trevor Project, a hotline to help troubled teens.
Maura approaches Davina (Alexandra Billings) at a yoga class and asks if she wants her to move out. She says she's trying to do the right thing for the community by volunteering.
Ali visits Leslie (Cherry Jones) to drop off her essay. Zelda (Becky Thyre) tells Ali that Leslie only dates younger women.
Josh goes shopping for a tour van with the members of Fussypuss. He negotiates a lower price with the car salesman and drives off with Margaux (Clementine Creevy).
Ali asks Sarah (Amy Landecker) to come with her to Idylwild so she doesn't seem like one of Leslie's groupies. Ali says she likes Leslie but worries she's too old for her.
Ali and Sarah arrive at Shelly's (Judith Light) condo for a barbecue with Buzz (Richard Masur). Shelly says she invited Josh but he's still depressed about Raquel (Kathryn Hahn) breaking up with him. She also reveals Buzz has been staying with her.
Shea (Trace Lysette) role-plays some crisis hotline scenarios with Maura. Shea admits to having had suicidal thoughts in the past. Maura says to call her if she ever gets depressed. They hug and Shea tells Maura she's a good mom.
Over steaks, Shelly tells Ali and Sarah that she has quit the condo board and is going on a cruise with Buzz.
Ali and Sarah duck into the bathroom and laugh about how Shelly is in early days of puppy love with Buzz.
Shelly tells Ali the garage where she has cleaned out all the old family stuff because it didn't bring her joy. Ali asks why she didn't keep her old artwork from school.
Ali and Sarah look for their old stuff at the thrift store. Sarah says she needs to start doing something with her life. Ali says she should come with her to the festival.
Josh screams at drivers while in the new van with Margaux. They pull over and Josh hyperventilates while Margaux rubs his back.
At Ali's place, Ali and Sarah try out their new tent for Idlywild. Maura shows them her re-gendered photo album.
Sarah, Ali and Maura drive to Idlywild and sing along to an Indigo Girls song.
Stream Transparent Season 1 online now.
Listen to this week's Transparent Playlist below, featuring songs from Episode 206 – 208.