Transparent Recap: Episode 206 (Bulnerable)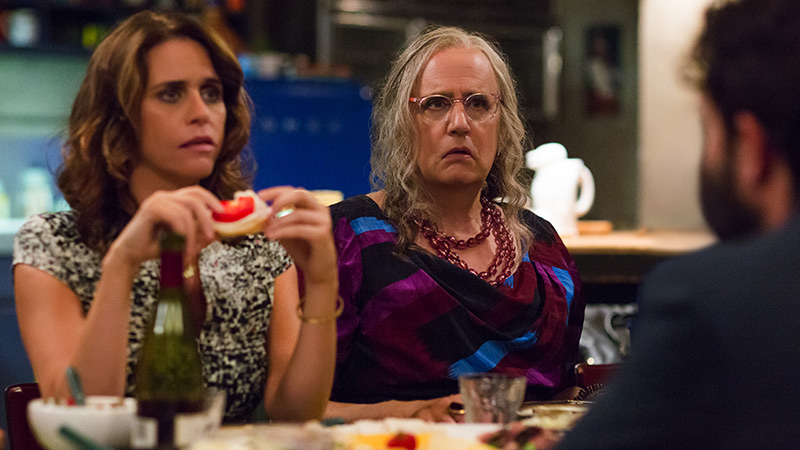 At Sarah's (Amy Landecker) house, Shelly (Judith Light) is putting her grandson Zack (Zackary Arthur) to work on her condo association campaign posters. Josh (Jay Duplass) arrives and tells Shelly he needs to speak to her in private.
Josh questions Shelly's choice to not tell him about his son, Colton (Alex MacNicoll). Shelly tells Josh she put Colton out of their lives to protect him.
Syd (Carrie Brownstein) helps Ali (Gaby Hoffmann) with her graduate school essay. Ali debates asking Leslie (Cherry Jones) for help.
Raquel (Kathryn Hahn) tells Josh they may never have met if he had known about Colton. Josh notices some red bumps on Raquel's back.
While cooking lasagna for Sal's (Ray Abruzzo) arrival, Maura (Jeffrey Tambor) tells Shea (Trace Lysette) and Davina (Alexandra Billings) about meeting with the hormone therapy doctor. Davina says it's possible the hormones could affect Maura's sex drive. Davina leaves to pick up Sal from jail.
The doctor tells Josh and Raquel that her rash is likely hives. While examining Raquel, the doctor notices something wrong with the baby.
Davina and Sal return home with a bucket of chicken. Maura thanks Sal for letting her stay with them. Davina and Sal head upstairs, leaving Maura and Shea alone with the lasagna.
Raquel and Josh talk about losing their baby. Josh suggests they take a moment to deal with everything before they try again. Raquel tells him she wants a baby soon.
Ali visits Leslie for help with her essay. Leslie suggests they get in her hot tub.
Josh leaves Raquel at home while he attends a music industry event.
Sarah and Dr. Steve (Jason Mantzoukas) hang out and fool around. Sarah tells Steve about her fantasy of being paddled by her high school disciplinarian Mr. Irons. As they start to role-play, Sarah gets a call from Shelly.
At the music industry party, Barry (Ethan Sandler) and Josh discuss Fussypuss being on their own record label. Josh suggests they get drunk.
Ali and Leslie soak in the hot tub and smoke pot. Ali says she wants to explore the rift Maura coming out as transgender caused in her family in her essay. She admits to Leslie that she only recently came out as a lesbian.
At Sarah's house, Shelly says Sarah's daughter Ella (Julia Butters) made her cry while babysitting. Shelly reveals that Maura left her and rests her head on Sarah's lap.
Maura watches TV with Sal and Davina. Sal tells Maura he has always dated trans women. Maura says she's always loved women.
Ali lounges on Leslie's couch waiting for her. Leslie tells her she's going to bed.
In bed, Maura hears Sal and Davina having sex. She turns the volume up on her iPod.
Josh comes home drunk. In the bedroom, he discovers Raquel is gone and has left the pearl engagement ring.
Stream Transparent Season 1 online now.
Listen to this week's Transparent Playlist below, featuring songs from Episode 206 – 208.