Transparent Recap: Episode 205 (Mee-Maw)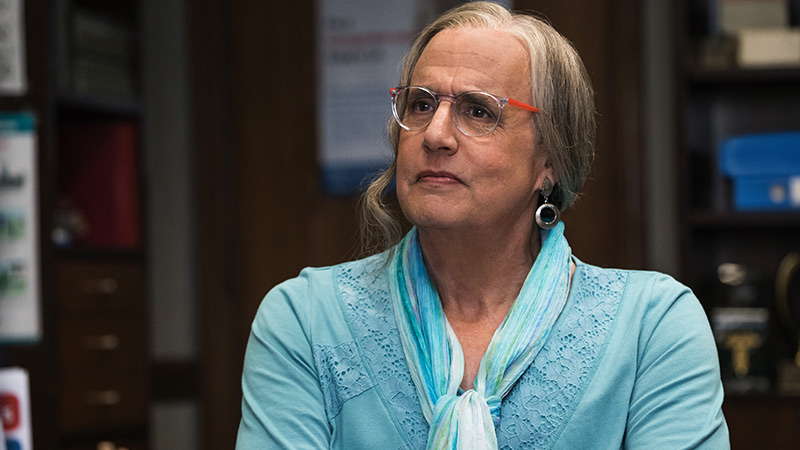 Ali (Gaby Hoffmann) and Sarah (Amy Landecker) get massages at a women's spa. In the sauna, they discuss Ali's lesbian relationship with Syd (Carrie Brownstein). Sarah admits to fantasizing about their school disciplinarian Mr. Irons and his paddle. 
Colton (Alex MacNicoll) tells Josh (Jay Duplass) and Raquel (Kathryn Hahn) that his adopted parents are coming to meet them. 
Sarah has a session with life coach Laura Kaufberger (Carrie Aizley) and talks about her messy life. Laura says they'll knock down Sarah's personal wall over the course of their sessions. 
Davina (Alexandra Billings) shows Maura (Jeffrey Tambor) and Shea (Trace Lysette) photos she had made changing old photos of herself as a young boy into a young girl. 
Josh asks Raquel to wear a family heirloom ring while Colton's parents visit. She refuses and asks if he's proposing. Josh says he's working on the actual engagement ring. 
Colton's adopted parents, Blossie (Meagen Fay) and Pastor Gene (Brett Rice), arrive in an RV with their other children Cliff (Roland Kilumbu) and Becky (Emma Howard.) Blossie tells Josh and Raquel that Colton has been trying to find his birth father his whole life. Pastor Gene says they've seen pictures of Josh when he was younger. 
Syd and Ali discuss the full moon festival that Leslie Mackinaw (Cherry Jones) is throwing. Ali wears a strap-on and waves it at Syd, which makes her uncomfortable. Ali worries she'll say something inappropriate in front of Leslie. 
Josh and Raquel get to know Pastor Gene and Blossie. Maura arrives and Pastor Gene refers to her as Colton's "Mee-Maw." Maura goes to look for the family photo album.   
Sarah meets up with Dr. Steve (Jason Mantzoukas) in a parking lot to get medical marijuana. He doesn't charge her for it, then asks if she wants to go out for a drink. She declines, and he asks if she's attracted to men or women. Sarah says she isn't sure.
Pastor Gene tells Josh, Raquel and Maura about his TV ministry. Maura tells them the Pfeffermans are Jewish, and Josh says Colton is as well. Blossie laughs and says Colton isn't Jewish.
Colton reveals that Josh and Raquel are having a baby. Blossie wonders if they'll have time for Colton, and asks Raquel if she has a problem with Rita.
Pastor Gene tells Josh he hopes he doesn't make the same mistake with his new baby as he did with Colton. Josh says he never abandoned Colton and never knew he had a son. Maura reveals that the Pfeffermans knew about Colton and gave a sizable donation to Pastor Gene's church to help Rita pay for her medical bills. Speechless, Josh leaves the room and Raquel follows him.
In private, Josh tells Raquel that his life would've been different if his parents hadn't lied about Colton. Raquel says his life would've been different if Rita hadn't molested him. Josh tells Raquel he's sick of people saying that and that he loved Rita. Colton knocks on the door and comes in. Josh asks Colton if he wants to go with Pastor Gene and Blossie. Colton says it's up to them and leaves the room. Raquel tells Josh that all of the stress from Colton is bad for their unborn baby.
Ali and Syd attend Leslie's full moon party. Ali tells Leslie that she hopes to study with her at UCLA.
Maura tells Shelly that Josh knows everything about Rita and the money they gave to Pastor Gene. Shelly says they were just trying to protect Josh. Maura says living together doesn't work because they are "broken" and packs her clothes.
Sarah smokes pot in her car and eats a burger.
Ali and Syd take part in Leslie's drum circle.
Raquel says goodbye to Blossie, who wishes her luck with her pregnancy. Colton hugs Josh and Raquel goodbye as Becky and Cliff sing a Christian hymn. Colton asks Josh if he wants him to stay. Josh looks at Raquel and doesn't say anything. Colton gets in the RV and leaves with his adopted parents.
Maura yells for the security guard to open the gate at Shelly's condo. The guard opens the gate, and Maura drives off.
Stream Transparent Season 1 online now.
Sign up for the SundanceTV Newsletter to be among the first to receive full episodes of Transparent.
Listen to this week's Transparent Playlist below, featuring songs from Episode 203 – 205.