Transparent Recap: Episode 204 (Cherry Blossoms)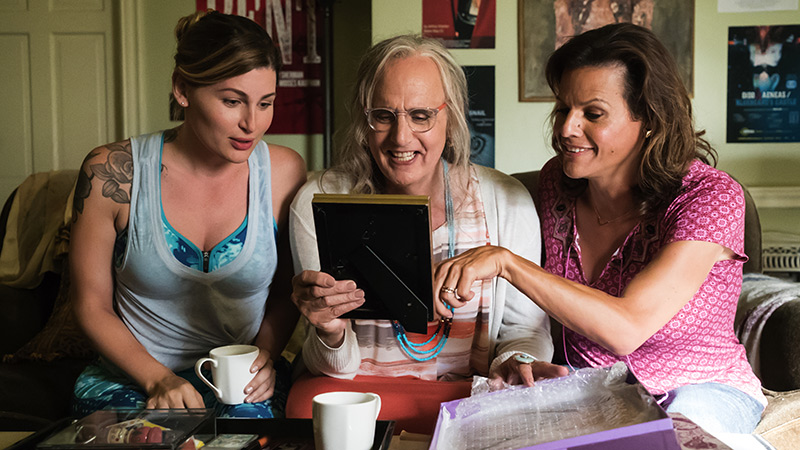 Maura (Jeffrey Tambor) wakes up in bed with Shelly (Judith Light). Shelly says she notices Maura going out a lot and asks if she makes her happy. "You do," Maura says while brushing her teeth.
At Oak Leaf elementary school, Sarah (Amy Landecker) discusses being overwhelmed about her newfound single parenthood with her kids' teacher Poppy (Annie Mumolo). Poppy reminds Sarah about the upcoming gala.
Josh (Jay Duplass) walks in on Colton (Alex MacNicoll) praying. He tells Raquel (Kathryn Hahn), who explains her method of praying. Colton says he prays for Josh, Raquel, their baby and Rita (Brett Paesel), since she isn't happy now that he's living with Josh and Raquel.
Maura visits a doctor (Jennifer Hasty) to get a testosterone blocker. They discuss Maura's sex life, and the doctor asks if Maura plans to undergo gender reassignment surgery. The doctor says the testosterone blocker could affect Maura's ability to get an erection, and recommends that Maura get to know her body.
Ali (Gaby Hoffmann) and Syd (Carrie Brownstein) visit Grandma Rose in a retirement community. Ali asks Grandma Rose, who is alone and wheelchair-bound, if she remembers her. Grandma Rose refers to Ali as "Gershon."
Josh and Colton go bodyboarding at the beach. Josh suggests inviting Rita over for dinner in order to include her in the family.
Sarah visits Raquel for advice on coping with single mom stress. Raquel confesses her worry about Rita being involved in her life with Colton and Josh.
While dining alone, Maura buys a drink for a lawyer named Cynthia (Sonya Walger). Cynthia declines Maura's offer to have tapas together, and Maura leaves feeling rejected.
At the school gala, Sarah helps Poppy sell raffle tickets and sees Len (Rob Huebel) with his new girlfriend Melanie (Angelique Cabral). Len asks Sarah if she noticed a stain on the rug at the house and says Melanie is missing her expensive eye shadow palette.
Rita arrives to have pizza with Colton, Josh and Raquel. Rita asks if Josh would come by to look at some black mold in her house. She starts singing "A Family Affair" and Josh tells her to stop. Raquel tells Josh that Rita is crazy and she doesn't want her in the house.
Ali and Syd visit the library to research the Pfefferman family history.
In Berlin, 1933, young Rose (Emily Robinson) visits the Institute for Sexual Research. A tour guide explains that the institute is a safe haven for homosexuals, transvestites and those who don't identify as traditionally male or female. Rose finds Gershon (Hari Nef), her brother, dressed in women's clothing. She says she needs money in order to go to America with their mother to find their father.
In the library back in the present day, Ali tells Syd about the concept of inherited trauma in DNA.
At the gala, Sarah buys the leftover raffle tickets. Tammy (Melora Hardin) approaches her and Sarah notices she is drunk and has a neck tattoo.
Shelly tells Maura she is a candidate for president of the condo board. Maura suggests they watch TV. She tells Shelly to stop worrying about her and to make herself happy.
Tammy and Sarah make out in an empty classroom. Sarah stops and says she can't, and then hears her name being called for the raffle.
Back at the gala, Sarah wins a giant television set and a certificate for life coaching sessions. She refuses the life coaching sessions and screams at the raffle organizer. After the crowd goes silent, Sarah takes the life coaching certificate.
Later, Sarah stands alone naked in her apartment eating.
Stream Transparent Season 1 online now.
Sign up for the SundanceTV Newsletter to be among the first to receive full episodes of Transparent.
Listen to this week's Transparent Playlist below, featuring songs from Episode 203 – 205.