Transparent Recap: Episode 203 (New World Coming)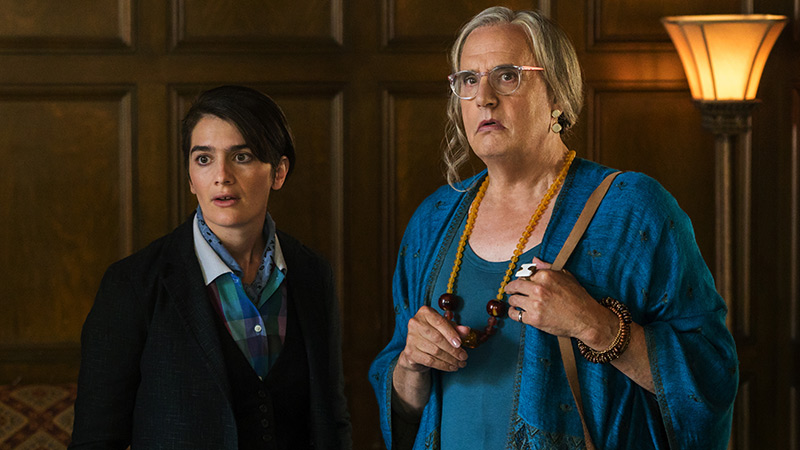 Maura (Jeffrey Tambor) wakes up at Davina's (Alexandra Billings) house. Davina reveals that her boyfriend Sal is coming home from jail. Shea (Trace Lysette) joins them and talks about the Marine she hooked up with. She reveals that she has female genitalia that cost her $15,000.
At her children's school, Sarah (Amy Landecker) encounters Barb (Tig Notaro), Tammy's ex-wife. Barb refuses to let Sarah sign up for her committee and declines coffee with her.
Colton (Alex MacNicoll) settles into his new room at Josh (Jay Duplass) and Raquel's (Kathryn Hahn) house. He asks if it's OK if he calls Josh "dad." After thinking about it, Josh agrees. 
Josh shows Colton around his old high school where Colton will now be attending. They talk girls, and Colton reveals he's slept with a few. 
Josh and Colton meet with the school principal. Josh reveals he's Colton's biological father, but not his legal guardian. Colton asks to get the same locker that Josh had as a student. 
Ali (Gaby Hoffmann) and Maura meet with Carl Spritzer (Lyman Ward), the dean at UCLA where Maura once worked. They are joined by Leslie (Cherry Jones), a poet and gender studies professor. Maura and Leslie talk about their time at Berkeley together, and Leslie recalls being blocked from the editorial board by Maura back when she identified as Mort. 
Sarah visits her old house and finds Len (Rob Huebel) hanging out with Barb and the kids. In the bedroom, Sarah looks through Len's new girlfriend's suitcase and accidentally spills some makeup powder on the floor. She hides the mess and hurries out of the room.
At the transgender support group, Maura admits to being sexist towards Leslie and other women in the past. 
Josh and Raquel discuss Colton living with them. Raquel asks when Josh plans on proposing to her. 
Josh and Colton watch Fussypuss perform "New World Coming" in the studio. Over pizza, Bianca (Kiersey Clemons) and the other band members suggest ways that Josh should propose to Raquel. Barry (Ethan Sandler) suggests Josh use a diamond "mohel" to get a ring for Raquel. 
At a bowling alley, Ali tells Syd (Carrie Brownstein) about meeting Leslie. She reads one of Leslie's poems, flirts with Syd and observes the lesbians around her. 
Sarah has a sexual fantasy about Mr. Irons (Wade Williams), her high school disciplinarian. As her younger self watches, Sarah masturbates while Mr. Irons smacks a paddle.  
Syd and Ali kiss at the bowling alley. 
Josh arrives home to find that Raquel has set up romantic candles in the living room. She gets on one knee and proposes to Josh. He tells her to get up and says she doesn't trust him to propose. 
In bed, Syd asks Ali how she likes to be touched. Ali asks if they can just have sex and that she'll tell her more next time. 
Stream Transparent Season 1 online now.
Sign up for the SundanceTV Newsletter to be among the first to receive full episodes of Transparent.
Listen to this week's Transparent Playlist below, featuring songs from Episode 203 – 205.