Transparent Recap: Episode 202 (Flicky-Flicky Thump-Thump)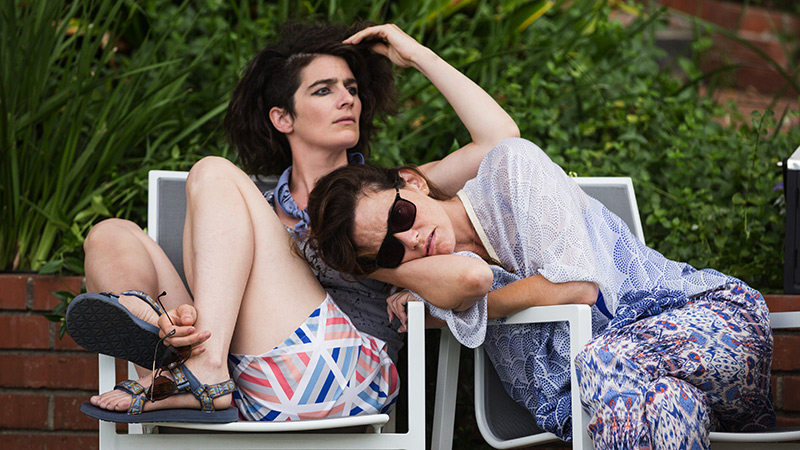 Sarah (Amy Landecker) and Len (Rob Huebel) discuss their custody situation with a mediator. The mediator recommends they take turns living with their children in their Los Feliz home and that Sarah should rent an apartment nearby.
Sarah looks at an apartment with a realtor.  
Ali (Gaby Hoffmann) sits in an astrology class.
Josh (Jay Duplass) and Raquel (Kathryn Hahn) watch an ultrasound of their new baby. 
Shelly (Judith Light) helps Maura (Jeffrey Tambor) pick out a dress from Maura's storage box. The condo security guards ask when the storage box will be moved. Maura offers to move the box, but Shelly says she likes Maura and the box just where they are.
Ali visits Syd (Carrie Brownstein) and asks if they can be friends again. Syd agrees and asks Ali to come over later for a party. 
Josh picks up Colton (Alex MacNicoll) at Rita's (Brett Paesel) for a music industry pool party he's throwing. Colton tells Josh he's thinking of staying in Los Angeles for his senior year. They get in the car, and Josh tells Raquel about Colton's plans to stay in L.A. 
Maura gets ready while Shelly takes a bath. Shelly says they had some good times together while they were married. Shelly says Maura always made her laugh and had a "flicky-flicky thump-thump" sexual technique she liked. Maura rubs Shelly's feet and then slips her hand into the tub and brings Shelly to orgasm. Shelly offers to reciprocate, but Maura says she's good, gets dressed and leaves the bathroom. 
Sarah and Ali arrive at Josh's pool party at the Pfefferman family home. Josh and Raquel get towels for the party, and Raquel asks Sarah how she's doing after splitting with Tammy. Ali suggests they serve the leftover cake from Tammy (Melora Hardin) and Sarah's wedding. Maura and Shelly arrive together. Ali asks if they're "lesbians" now. Maura says she's living with Shelly temporarily after being kicked out of the Shangri-La apartments.
Ali asks Maura if she'd like to come with her to visit Grandma Rose. Maura says her sister Bryna banned her from seeing their mother. 
Out by the pool, Josh hangs out with Bianca (Kiersey Clemons) and the other members of Fussypuss. Josh's old boss Barry (Ethan Sandler) comes over and says he can't wait to hear the band play. 
Colton asks Maura a questions about being trans.
Josh asks Barry to consider signing Fussypuss to his record label. 
Sarah tells Raquel that her kids are with Len and that she needs "me-time." Raquel asks if she wants to join her Torah study group. Sarah cuts her off to ask if she wants a drink. Raquel reminds her that she's pregnant.
Maura avoids Shelly at the party. She talks with Ali and asks why she's always putting herself down. Ali dives into the pool as moments from 1933 and the present (people dancing in drag; a woman putting a necklace on another woman; the necklace being sealed in cement; Ali walking with a lantern; a Nazi soldier smoking) blend together. 
Fussypuss performs for the party guests. Maura leaves to smoke a cigarette, and Barry tells Josh he likes the band.
Maura smokes alone and sees Tammy watching from the deck. 
Tammy drunkenly interrupts Fussypuss' performance. She takes the microphone and causes a scene, threatening to punch Josh when he tries to take the mic from her. Tammy breaks down and asks Sarah why she wasn't invited to the party. Colton and Josh try to get Tammy to leave. Tammy calls the Pfeffermans "monsters," then grabs the leftover wedding cake and tells Sarah she has ruined her life. She throws the cake into the pool and leaves.
Later, Maura asks Ali to take Shelly home and refuses to talk about anything else. Raquel rubs Josh's feet and says she felt sorry for Colton at the party and wanted to protect him. Josh suggests they live in the Pfefferman family house with Colton.
Sarah takes Shelly home. Ali attends Syd's party.
Maura, Davina (Alexandra Billings) and Shea (Trace Lysette) go to a bar. Two men come over and ask Davina and Shea to dance. Maura sits alone, smokes and takes in the room. Davina brings Maura over to dance with the group. Maura puts her two hands on the nearby mirror and dances with herself. She closes her eyes and sways. She opens her eyes and looks at herself in the mirror.
Transparent episodes make air back-to-back on Wednesdays at 10/9c on SundanceTV.
Stream Transparent Season 1 online now.
Sign up for the SundanceTV Newsletter to be among the first to receive full episodes of Transparent.
Listen to this week's Transparent Playlist below, featuring songs from Episode 110 – 202.