Transparent Recap: Episode 201 (Kina Hora)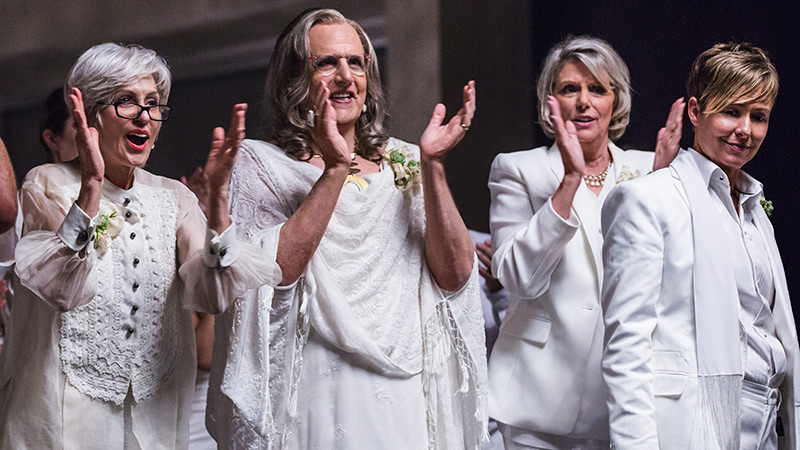 At an outdoor ceremony, the Pfeffermans pose for a family photo at the wedding of Sarah (Amy Landecker) and Tammy Cashman (Melora Hardin). They call Bianca (Kiersey Clemons), Colton (Alex MacNicoll) and Rabbi Raquel (Kathryn Hahn) over to join them. Maura (Jeffrey Tambor) asks the photographer if she should keep her chin up or down. The photographer refers to Maura as "sir." Maura walks away from the photo session with Shelly (Judith Light). Tammy calls her ex-wives Barb (Tig Notaro) and Quinn (Rebecca Walker) in for a photo with the Cashman family. Josh (Jay Duplass) tells Ali (Gaby Hoffmann) they need to talk.
Josh asks Ali to include Raquel in the family and reveals they are having a baby. Ali says he already has a kid, Colton. Josh asks her not to tell the rest of the family. 
Ali tells Sarah about Josh and Raquel having a baby. Sarah tells her kids that their father Len (Rob Huebel) isn't coming to the wedding.
Before the ceremony, Maura tells Davina (Alexandra Billings) how much she misses her since they had to move out of their apartment complex. Maura says she's doing well living at Shelly's house.
Maura notices that her sister Bryna (Jenny O'Hara) is at the wedding with her son Simon (Bashir Naim). 
Josh checks in with Colton to see how the family is treating him. He tells Colton he loves him. 
Maura asks Ali who invited Aunt Bry to the wedding. Ali reveals they invited Aunt Bry since Sarah doesn't have many friends. 
Maura greets Bryna and says she hasn't visited their mother since her gender transition. 
Judy (Caroline Aaron) asks Shelly if they're sure that Colton is Josh's son. Shelly says they had a DNA test done and he is in fact part of their family.
Josh and Raquel flirt by the marriage altar.
Maura tells Shelly that Bryna hated her even when she identified as male. She adds that Bry accused her of wearing her clothes, which she did. Maura asks Sarah why she invited Aunt Bryna. Sarah says she doesn't have any people and that Aunt Bryna should have brought Grandma Rose to the wedding. Maura says Grandma Rose is too sick and in a wheelchair.
Sarah walks down the aisle with Maura and Shelly. She sees Tammy waiting for her and all the smiling faces. 
Rabbi Raquel delivers the ceremony. Sarah struggles to maintain her focus on the moment. Tammy says her vows to Sarah, and they crush a glass together.
The Pfeffermans dance at the reception. Sarah reveals to Shelly that Josh and Raquel are having a baby.
Tammy dances with her dad. Sarah looks over at Maura, who is chatting with Davina.
Ali tells Bryna about her classes and asks about Grandma Rose. Ali says Maura thinks Bryna hates all of them. "No, not all," Bryna says.
The family dances to "Hava Nagila." Tammy looks for Sarah, who has left to go to the restroom. Simon dances in the middle of the circle and waves his coat around his head. 
Flashback to Berlin, 1933. A group of women and men, some dressed in women's clothing, dance as a band performs. A short-haired woman (Hari Nef) dances with a young man. 
In the present day, Ali and Josh find Sarah in the bathroom. Sarah asks Ali why they let her marry Tammy. She cries and says she didn't want to leave Len and hates Tammy. 
Tammy asks Shelly where Sarah is as she's lifted up for the chair dance. Shelly announces to everyone that Josh is having a baby and kisses Raquel. Josh pulls Raquel away to help with Sarah. Raquel asks how Shelly knows that they are going to have a baby. Josh lies and says he didn't tell anyone.
Sarah cries and says she is stuck with Tammy for the rest of her life. Raquel says "Jewish-wise" they are married, but not legally since she hasn't sent the license in yet.
Sarah joins the family for a circle dance. Tammy pulls her away to talk.
After the ceremony, Maura thanks Bry and Simon for coming to the wedding. She says she wants to come by to see their mother. Bry tells her not to come by and to let their mother die without knowing about Maura's gender transition.
Josh admits to telling Ali about Raquel's pregnancy. He hoped it would make Ali be nicer to her. Raquel says she thought they were going to wait and tell people together. He accuses her of waiting for him to mess up so she can prove their relationship is a bad idea.
In the next room, Sarah tells Tammy she doesn't want to be married.
Next door, Shelly gives Maura a kiss and tells her she's beautiful.
Ali walks out on the balcony and looks out at the desert. The short-haired woman from 1933 sits on the balcony watching Ali.
Stream full episodes of Transparent online now.
Sign up for the SundanceTV Newsletter to be among the first to receive full episodes of Transparent.
Listen to this week's Transparent Playlist below, featuring songs from Episode 110 – 202.