Transparent Recap: Episode 109 (Looking Up)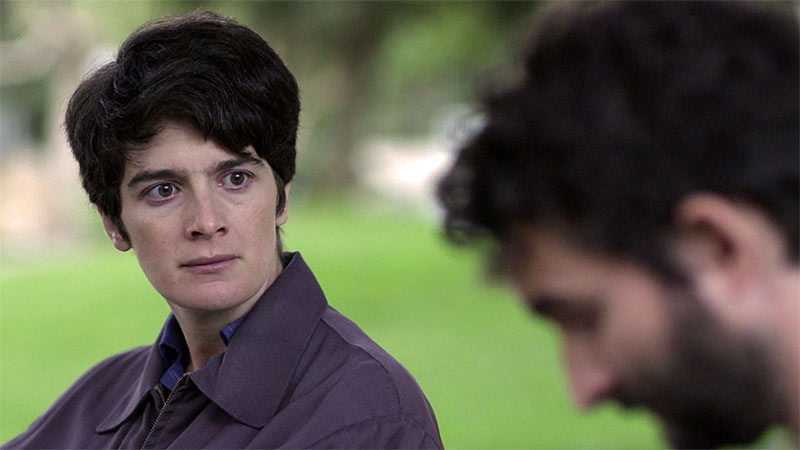 Shelly (Judith Light) and Maura (Jeffrey Tambor) discuss Ed's (Lawrence Pressman) deteriorating condition. Maura says they have options for putting Ed out of his misery. Shelly says she sometimes does some Googling on the subject.
In 1994, Shelly confronts Mort for lying to her about being at a conference. He tells her about the cross-dressing retreat he attended and asks her to go with him.
Back in the present day, Sarah (Amy Landecker) flushes her pot down the toilet at the request of the Tammy, who is sober. Sarah apologizes for what happened with Bianca (Kiersey Clemons), but Tammy says Bianca is responsible for her own behavior.
Bianca arrives at Josh's (Jay Duplass) house, having been kicked out by Tammy and Sarah. She offers to make him huevos rancheros for letting her "chill" at his place.
Maura and Shelly eat and discuss Maura dating women. Shelly says that Maura is now a lesbian and they "got gay married before it was fashionable." They laugh.
Sarah drops off the kids with Len (Rob Huebel). She complains about Tammy making her flush her drugs and they joke about Len ruining the Shabbat dinner. They talk about how they never got high together, and Len shows her his vape pen.
Josh visits Rabbi Raquel (Kathryn Hahn) and apologizes for bailing on their dinner plans. He asks her out again and says he'll wait while she teaches her class.
Ali tells Syd (Carrie Brownstein) about her confusing experience on her date with Dale (Ian Harvie). Syd thinks Ali went on the date to learn about transgenderism. Ali looks at a record she used to listen to with Josh, and Syd reveals that she and Josh hang out sometimes.
Len and Sarah smoke pot in the bedroom and discuss splitting up. Sarah says she should have looped Len in on telling the kids about Maura. Len says he should have known she was unhappy. She touches his arm, and Len reveals he has a date with his assistant.
Over a meal at Josh's house, Raquel and Josh discuss the differences between working in the music industry and being a rabbi. Bianca arrives and Josh tries to explain who she is to Raquel and why she is staying with him. Raquel says she's wasting her time with him and needs to leave. He asks if they can take it slow. Raquel says she wants to have a family. They argue and have passionate sex.
Syd reveals to Ali that she's been sleeping with Josh. Ali gets upset, and Syd says Ali makes her feel terrible all the time. She confesses to having feelings for Ali since the eighth grade, and wonders if Ali feels the same.
In 1994, Mort stands before Shelly dressed in women's clothing. He says he loves her, and has always been transgender. Shelly says she is done with their marriage.
Back in the present day, Tammy and Sarah discuss their exes. Sarah tells her that Len is dating his assistant. Tammy wonders if Sarah is jealous.
Raquel tells Josh she wants to stay in bed all day and watch movies. He hears Bianca singing while listening to music and asks why she never told him she could sing.
Ali, Josh and Sarah visit Ed at Shelly's condo. They are surprised to see Maura there.
Ali holds Ed's hand and asks how he's doing.
Maura tells everyone she's been feeling down after Ali, Josh and Sarah left during her talent show performance. Sarah compliments Maura on her performance. 
Shelly and Maura reveal that Ed is in a dire state and have decided to help him die. Shelly says Maura is the only one who comes to help her with Ed. Sarah suggests getting the rabbi's advice. Josh texts Raquel and reveals they're seeing each other, which excites Shelly and Sarah. Ali gets up and leaves.
Outside, Sarah and Josh ask Ali what's wrong. Ali says she won't help them end Ed's life. Sarah accuses her of only caring about herself. Ali asks Josh why he never told her about him sleeping with Syd. Josh apologizes and says it won't happen again. He says he's in love with Raquel. Ali leaves in a huff.
Shelly tells the family her plan to give Ed some ground-up Percocet to end his suffering. Maura says they could have a wonderful Shiva for Ed.
Ed gets out of bed and walks out of the condo towards the duck pond.
In 1994, Ed tells a joke to Shelly and a young Ali, Sarah and Josh. He says he's just here to make them happy, raises his glass and toasts "L'chaim."
Stream full episodes of Transparent online now.
Sign up for the SundanceTV Newsletter to be among the first to receive full episodes of Transparent.
Listen to this week's Transparent Playlist below, featuring songs from Episodes 7 – 9.