Transparent Recap: Episode 108 (Best New Girl)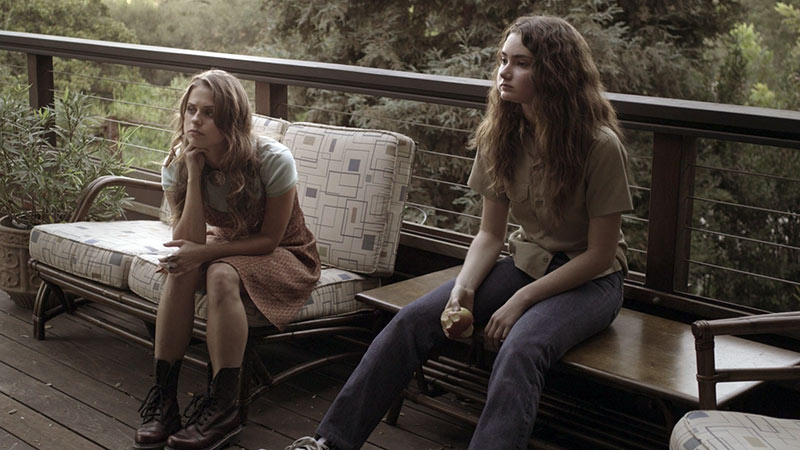 In 1994, Mort (Jeffrey Tambor) is leaving the family for a "surprise" conference. Shelly (Judith Light) is annoyed at teenager Ali (Emily Robinson) for canceling her bat mitzvah. Ali waves goodbye to her father.
Sarah (Kelsey Reinhardt) and Ali talk about Shelly being left alone. Shelly leaves to spend time with her sister and tells Sarah she's in charge.
Mort and Mark (Bradley Whitford) arrive at Camp Camellia, a retreat for cross-dressers. They say hello to the other attendees and check into their cabin. 
Shelly complains to her sister Judy (Caroline Aaron) about Ali's canceled bat mitzvah. Caroline recounts the times Mort hasn't been around for family functions. Caroline suggests couples therapy. Shelly expresses disinterest in it and reveals that Mort wears her underwear during sex. Caroline suggests that Shelly should have an affair with a man named Ed from the school board.
Mort and Mark, now identifying as Maura and Marcy, attend a camp mixer. Jackie (Pat Towne), another cross-dressing attendee, introduces his wife Connie (Michaela Watkins). Maura and Marcy dance with the other attendees.
Back at the Pfefferman house, Sarah tells Ali and Josh (Dalton Rich) that she's leaving to attend a protest. She asks them not to tell their mom and puts Josh in charge. Rita (Annabel Marshall-Roth) arrives to pick up Josh. Ali tells Josh she thinks his relationship with Rita is "disgusting."
Maura and Marcy ride bikes around the camp. They stop at a pay phone, and Marcy calls home and uses a traditionally masculine voice with his wife and son. Maura decides to call home "tomorrow" instead.
Ali lounges on the couch alone. A bartender named Jules (Mel Shimkovitz) arrives with drinks and Ali tells her that the bat mitzvah has been canceled.
Maura and Marcy attend the camp picnic. Jackie and Connie gossip about a past attendee who underwent a gender transition and was banned from the camp.
The camp attendees play croquet and other activities. Maura and Marcy tell Connie that their wives would never attend the camp with them. Maura asks about the banned attendee, and disagrees with Marcy about whether transsexuals should be allowed at camp. Connie suggests they get some drinks before the pageant.
Ali and the bartender talk about the canceled bat mitzvah. Ali sings her a song in Hebrew and dances on the furniture.
On the bus to the protest, Sarah fends off a sleeping young man and sits next to a young woman named Cindy (Victoria Oritz).
Josh admires Rita's legs in the car and touches her hand.
Ali gets a ride to the beach from the bartender. She chases seagulls and lies down on the sand alone.
Later, Ali meets a man (James Frecheville) on the beach operating a remote-controlled toy plane. The man offers her a beer, which she drinks.
Over drinks, Connie talks about her husband coming out to her as a cross-dresser. Connie and Maura dance as Marcy watches.
Ali and the man go under a nearby bridge and play-fight.
Connie and Maura dance and compliment each other. Marcy asks if Maura is going to go to the pageant. "What are you, my wife?," Maura jokes.
Ali pins the man as they play-fight.
Marcy changes outfits and watches Connie and Maura dance.
The man walks away, leaving Ali in the sand. Sitting against the wall, present-day Ali watches her younger self lying in the sand.
Connie compliments Marcy's dress. Maura tells Connie that Marcy is "very needy."
Back on the beach, the man approaches grown-up Ali. As young Ali crawls towards them, the man kisses adult Ali. Young Ali tugs at the man's shirt.
Marcy turns off the music and tells Connie and Maura that it's time to go to the pageant. Connie and Marcy argue, and Maura calms them down. Maura tells Marcy to go to the pageant. Once alone, Connie turns the music back on and they resume dancing. Intoxicated, they caress and kiss.
In the back of the man's truck, Ali yells for him to drive faster.
The next morning, Maura is packing up the car. Marcy arrives, dressed as Mark. Maura says she wants to drive wearing women's clothing. Mark says it isn't safe. Maura says she wants to be happy for two more hours.
Ali wakes up in the back of the man's truck. She asks him why he didn't try anything with her. He says he doesn't think she's actually 17. She tells him her real age is 13 and opens her mouth to kiss him.
Stream full episodes of Transparent online now.
Sign up for the SundanceTV Newsletter to be among the first to receive full episodes of Transparent.
Listen to this week's Transparent Playlist below, featuring songs from Episodes 7 – 9.