Transparent Recap: Episode 107 (Symbolic Exemplar)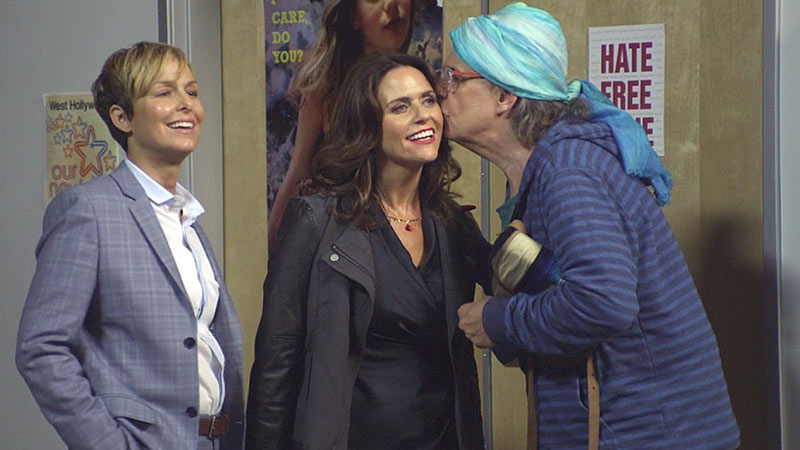 At a trendy boutique, Ali (Gaby Hoffmann) and Syd (Carrie Brownstein) shop for clothes and discuss different types of femininity.
In the dressing room, Ali tries on a revealing dress and puts on red lipstick.
In 1994, young Ali complains to her father, Mort (Jeffrey Tambor), about her uncomfortable bat mitzvah dress. She asks Mort if he believes in God. Mort reveals he sometimes struggles with his faith.
Later, Mort and Shelly (Judith Light) argue about canceling Ali's bat mitzvah. Shelly tells Mort to "be a man" and fix the situation.
Back in the present day, remodeling is underway at the former Pfefferman family home where Tammy (Melora Hardin) and Sarah (Amy Landecker) are living. Sarah reminds Tammy that they will be attending Maura's (Jeffrey Tambor) talent show. Sarah finds "Joshy's Michael Jackson glove" and the old family treasure box amongst stuff Tammy is planning to throw away.
Dale (Ian Harvie) picks up Ali for their date and compliments her on her sexy outfit.
They arrive at Dale's cabin-style home and Ali admires the rustic, masculine décor. She takes off her jacket and tries to seduce Dale, who stops her and tells her what to do.
Josh (Jay Duplass) and Sarah visit a doctor (Jason Mantzoukas) who gives out marijuana prescriptions. The doctor flirts with Sarah and tells her she seems anxious.
Outside, Sarah smokes pot in the car and tells Josh he has to go to Maura's talent show. Josh says he doesn't know how he feels about Maura being transgender.
Dale gives Ali instructions to take off her underwear and tells her she needs to trim her pubic hair.
Over wine, Josh and Raquel (Kathryn Hahn) discuss the sexiness of her yarmulke. They kiss.
Dale shaves Ali's pubic hair. He then instructs her to get up, because they're going shopping.
Dale and Ali shop for sex toys. Ali picks out a unicorn dildo and pays for it with Maura's credit card.
Josh stops making out with Raquel and apologizes for not being able to get aroused. He says he can't stop thinking about his father being transgender. Raquel offers to cook something for them and wait while he goes to Maura's talent show.
In bed, Sarah smokes more pot and puts her new weed and smoking accoutrements in the family treasure box.
Maura sets up reserved seats for Josh, Ali and Sarah at the trans talent show. 
Sarah, still high, arrives with Tammy and tells Maura that Josh and Ali are coming. She leaves Tammy's side to go get a drink.
Josh arrives at the talent show. Ali shows up with Dale.
Sarah asks a transgender woman about the show and says her "Moppa" is performing. Josh asks her for the vape pen and they go off to find somewhere to smoke pot.
Ali joins Sarah and Josh in a private room. Sarah compliments Ali on her dress, and she tells them she is with Dale on a date. She reveals Dale is trans.
The talent show starts. Davina (Alexandra Billings) and Maura take the stage and perform Gotye's "Somebody That I Used to Know" while wearing black and white dresses. Ali, Josh and Sarah laugh amongst themselves at Maura's performance. Dale and Ali get up to go to the bathroom.
In the bathroom, Ali tells Dale she was really "losing it" during Maura's performance. He asks if she wants to go into a stall to have sex.
Josh gets up and leaves during Maura's performance. Tammy asks Sarah where her family is. They argue loudly and Tammy asks if Sarah is drunk. Sarah spills her drink and gets up in a huff.
Back in the bathroom, Ali and Dale talk dirty as he tries to open the dildo packaging. He has difficulty putting the dildo inside of her and Ali suggests using lube, which causes Dale to drop it on the floor. As he washes the dildo off, Ali suggests they stop.
Maura and Davina finish their song. Maura notices that Ali, Sarah and Josh are no longer in their seats.
In the parking lot, Sarah tells Josh that Maura will be devastated if they leave. Josh says he can't handle it. Josh notices pieces of the family house in Tammy's truck. He gets upset and tells Sarah she had no right to let Tammy tear apart the house without telling him.
Josh arrives at the family home where Bianca (Kiersey Clemons) is watching TV. He angrily complains about Tammy's renovations, and Bianca offers him some weed from the family treasure box. He examines the treasure box and tells Bianca he used to keep "dirty pictures" in it when he was a kid.
Back at Josh's house, Raquel sits waiting with wine and two covered plates of food. She checks her phone, but no messages have come in.
Josh and Bianca swim in the pool and smoke pot.
After the talent show, Davina asks Maura to have a drink with her and Shea (Trace Lysette). Davina tells Maura to forget her family and celebrate their performance. Maura declines and sits alone.
Tammy and Sarah arrive home and look for Josh. Tammy notices the treasure box of pot on the table.
Outside, Tammy and Sarah find Josh and Bianca in the pool. Tammy screams at Bianca to get out of the pool.
Driving home, Dale accuses Ali of being a "chaser," someone who likes trans people just because they are trans. Annoyed, Ali loosens her tight dress and tosses the top part out the window.
Maura drives home with her wig in the backseat. She arrives at Shelly's house, and Shelly gives her a hug.
Dale and Ali arrive at his house. She gets out of his pick-up truck and says she's going to grab her stuff and go. She looks at Dale's house, which is not actually a cabin, but a regular house. She looks back at Dale, and realizes his pick-up truck is a regular car. Ali and Dale go inside, and Ali looks around at Dale's furnishings, which are normal and not as rugged and traditionally masculine as she had previously fantasized. She gives a bewildered look to Dale. Dale offers her some tea.
Stream full episodes of Transparent online now.
Sign up for the SundanceTV Newsletter to be among the first to receive full episodes of Transparent.
Listen to this week's Transparent Playlist below, featuring songs from Episodes 7 – 9.