Transparent Recap: Episode 106 (The Wilderness)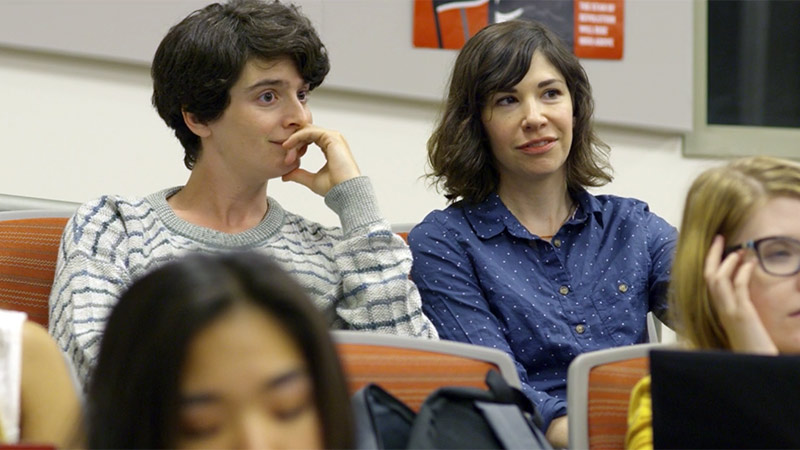 Josh (Jay Duplass) visits Maura (Jeffrey Tambor) at the Shangri-La Apartments and tells her he lost his job and would like to use money from the sale of the family house for his new record label. Maura agrees to give him money, but asks that Josh not tell his sisters about it. Maura tells Josh he can ask her anything about being transgender.
In Maura's bedroom, Josh looks at her wigs and makeup.
Josh expresses his concern over Maura's new life to Ali (Gaby Hoffmann) and Sarah (Amy Landecker). Ali reveals she's going back to school.
In 1994, Shelly (Judith Light) and Maura (then identifying as "Mort") enjoy a "sexy Sunday" at home. Mort asks Shelly if he can wear her underwear. She laughs and kisses him.
Back in the present day, Ali tells Maura about the gender studies classes she'll be taking. Maura says she always saw a lot of herself in Ali's younger "tomboy" days. Maura asks that Ali not tell Josh and Sarah about the money he's giving her for classes, and asks Ali to come to the Trans Got Talent show.
Sarah explains Maura being transgender to her kids. Sarah says Maura is "magic," and Tammy (Melora Hardin) corrects her explanation, saying that it's more complicated than that.
In the gender studies class, Syd (Carrie Brownstein) and Ali talk about Syd's past relationship with the professor, Celeste (Jill Soloway).
After the class, Syd meets Celeste and compliments her on her Ted Talk. Ali introduces herself to Dale (Ian Harvie), the teacher's aide who happens to be trans.
Dale and Ali discuss Maura coming out as transgender. He reveals he came out twice to his parents — once as a lesbian and once as transgender. Dale explains he's "a man with a vag." He asks Ali if she's a lesbian. She says she's "politically lesbian" but "into dudes." Dale says he's attracted to women.
In 1994, Mort and Mark (Bradley Whitford) walk down a hotel hallway together as Maura and Marcy. They ask a passing man where the ice is and Maura takes off running in heels.
At the hotel restaurant, they peruse the activities offered at Camp Camellia, a retreat for cross-dressing males. Maura says they should go. Marcy says she can't get away and that it was hard enough to come to the hotel. Maura says she tells Shelly she's going to a conference when she wants to get away. A waitress brings them salads and calls them "ladies." They smile at each other. Maura realizes the camp is taking place during her daughter's bat mitzvah.
In the present day, Josh searches the web for "transvestite" and clicks on a live streaming cam site. He talks to a trangender woman over the computer and asks her questions about being trans. The woman talks dirty to Josh, strips and asks if he likes to dress in women's clothing. He turns off the computer.
Maura and Davina (Alexandra Billings) arrive at Maura's old house for Shabbat dinner with Tammy and Sarah. They meet Bianca (Kiersey Clemons), and Sarah's daughter Ella (Abby Ryder Fortson) says her mom told her Maura is "magic."
Josh visits Rabbi Raquel Fein (Kathryn Hahn) at a Shabbat service. Rabbi Fein delivers a sermon about Moses and the Jews being in the "wilderness" before getting to see the "promise land."
Back at Tammy and Sarah's, everyone is sitting down to Shabbat dinner. Sarah asks Maura, the "mother" of the family, to light the candles. Maura sings a blessing in Hebrew and lights the candles.
At the synagogue, Josh says he wanted to show Raquel that he's not crazy. He asks her not to tell his mom he attended his first Shabbat service.
Raquel gives Josh a tour of the synagogue and shows him the mikvah, a bath used for transformative life events. Josh steps inside of it.
At dinner, Maura announces she will be a performing a duet with Davina at the Trans Got Talent show. He asks Sarah to come and bring Josh, as she needs all three of her "babies" there.
In the mikvah, Raquel and Josh discuss past relationships. Raquel says she wasted her "last good years" on the wrong guy.
Len (Rob Huebel) arrives at the Shabbat dinner to pick up the kids. Sarah says he's early, and introduces Davina and Bianca. Maura says hello, and Len refers to her as "Mort." Maura corrects him and asks Len to sit down, but he declines. Sarah tells Len their son Zack has a cold. Len accuses Tammy of giving Zack a cold. Bianca gets the kids ready to leave, and Len asks everyone at the table what the children know about Maura because he wants to "get the terminology straight."
Len gets upset that Tammy and Sarah told the kids about Maura without consulting him first. Sarah tells Len he's using a "tone." He starts talking in a "feminine" voice and jokes about cutting his penis off with a knife. Maura apologizes to Len and says she should have taken him to lunch and explained her new situation. She says she's "just a person" and that Len needs to "get in this whirlpool," or "get out of it." Len apologizes for picking up a knife and leaves.
Outside by the pool, Sarah tells Maura she hopes she's not messing up her kids with all the "crazy stuff." Maura asks if she remembers their family's "crazy stuff," and Sarah says it's all blended in with the good stuff. Maura says she wants Tammy and Sarah to have the house, and asks her not to tell Ali and Josh. Sarah admires Maura's nail polish on her toes.
Stream full episodes of Transparent online now.
Sign up for the SundanceTV Newsletter to be among the first to receive full episodes of Transparent.
Listen to this week's Transparent Playlist below, featuring songs from Episodes 4 – 6.