Transparent Recap: Episode 105 (Wedge)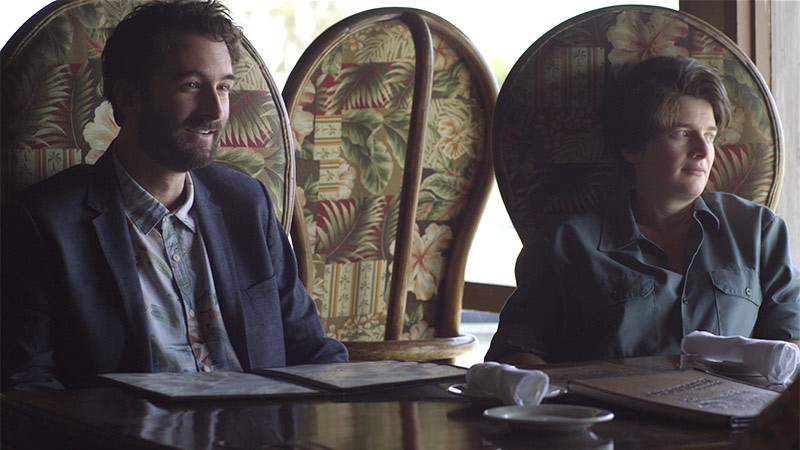 In a crowded bar, Josh (Jay Duplass) meets a realtor named Kristin (Deborah S. Craig). They sleep together, and the realtor suggests putting his dad's house on the market as a "whisper listing."
Tammy (Melora Hardin) and Sarah (Amy Landecker) have sex in Maura's house. Tammy stops to take a call from Barb (Tig Notaro).
Shelly (Judith Light) tells Ali (Gaby Hoffmann) that her husband Ed (Lawrence Pressman) has wandered off. She asks Ali to find Ed since the rabbi is coming over later to check on him.
At the Shangri-La apartments, Maura (Jeffrey Tambor) administers a hormone shot to Davina (Alexandra Billings). Maura then takes one of Davina's estrogen pills.
Sarah meets Bianca (Kiersey Clemons), the daughter of Tammy's ex, Quinn.
Ali rides around the retirement community in a golf cart with a security guard looking for Ed. Another security guard informs them that Ed was last seen at the 7-Eleven by the marina making a drink of various sodas.
Bianca tells Sarah and Tammy that she's annoyed with her mother, who is a Scientologist. Sarah suggests that Bianca should be the summer babysitter for her and Tammy's kids. 
Josh shows Kristin around Maura's house. He meets Bianca by the pool, who jokes that since Tammy and Sarah are now together, Josh could be her uncle someday.
Maura attends a yoga class. She tells the instructor, Shea (Trace Lysette), that she is feeling "floaty" from the estrogen she took earlier.
After the class, Davina gives Maura a flyer for a trans talent show.
Back at Maura's house, Josh and Sarah argue over Tammy's renovation plans. They both get texts from Ali asking for help finding Ed.
At the marina, Ali, Josh and Sarah look for Ed and reminisce about the time Shelly lost the family cat. As Ali searches for Ed, Josh and Sarah talk about getting Bloody Marys.
Rabbi Raquel Fein (Kathryn Hahn) arrives at Shelly's condo to check on Ed. Shelly asks Raquel if she is married and offers to set her up with Josh.
Sarah and Josh order Bloody Marys at a restaurant by the marina. Ali examines the lobster tank and says the restaurant is the "saddest place she's ever been." Josh reveals to Sarah that his ex-girlfriend Kaya had an abortion. Ali and Sarah tell Josh that their father is transgender. They order another round of Bloody Marys.
Maura, Davina and Shea have drinks and discuss the trans talent show. Maura asks Davina to perform a duet with her in the show. Davina notices a man at the bar checking out Shea. Maura realizes she knows the man, whose name is Gary (John Kapelos). Gary comes over to the table and flirts with Shea. Maura says hello to Gary, who remembers her when she identified as Mort. Gary asks Maura about her appearance and stifles his laughter. Maura reveals that their families vacationed together. Gary shakes Maura's hand, apologizes and leaves.
Outside Shelly's apartment, Ali and Sarah tell Josh that Maura is still attracted to women.
Inside, Shelly lectures Raquel on waiting too long to get married. Ali, Sarah and Josh arrive with food. Shelly tries to set Raquel up with Josh. Josh reveals to Shelly that his father is transgender. Shelly says she already knew about her ex-husband's "private kink." Ali calls the police to report Ed missing. Josh says he understands why his father was never around when he was younger. He asks Shelly what she was doing when she left him with the family babysitter Rita. Shelly gets upset, and Josh begs on his knees for Raquel to stay and help them. She agrees to try.
Ed interrupts the family argument when he walks in the front door with cotton candy and a caricature drawing of himself. 
Stream full episodes of Transparent online now.
Sign up for the SundanceTV Newsletter to be among the first to receive full episodes of Transparent.
Listen to this week's Transparent Playlist below, featuring songs from Episodes 4 – 6.