Transparent Recap: Episode 104 (Moppa)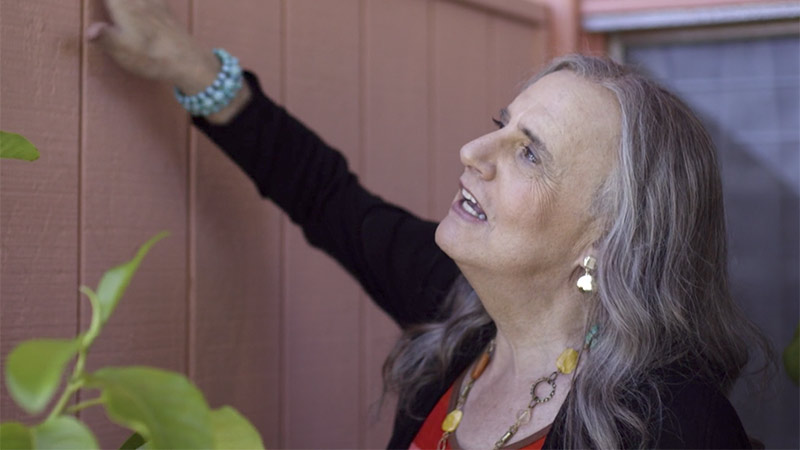 Ali (Gaby Hoffmann), still high from the drugs she took with Derek (Cleo Anthony) and Mike (Amin Joseph), touches Maura's (Jeffrey Tambor) face. She asks if her mother knows about Maura being transgender and wonders what she should call her father now.
Josh (Jay Duplass) and Syd (Carrie Brownstein) play-fight in bed while having sex. Afterwards, Josh asks her not to tell Ali that they slept together. They discuss the Pfefferman family babysitter who took advantage of Josh sexually when he was a teenager.
After styling Maura's hair, Davina (Alexandra Billings) offers her some tips on how to walk and act like a woman.
In 1994, Maura (then publicly identifying as Mort) checks into a hotel.
In the hotel room, Mort and Mark (Bradley Whitford) are dressed in women's clothing. They compliment each other and say that no one has ever seen their true selves. Mark introduces herself as "Marcy" and gives Mort the name "Maura."
Back in the present day, Sarah (Amy Landecker) and Tammy (Melora Hardin) discuss Tammy's reluctance to tell Barb (Tig Notaro) about their affair. Sarah gets a text about Maura coming out as transgender to Ali.
Ali tells Sarah about being high when Maura came out to her and says she has started calling their father "Moppa." Sarah reveals her affair with Tammy. Ali asks what she's going to do about Len. Sarah gets a call from Maura, who has arrived for brunch.
Josh confronts Rita (Brett Paesel) about the affair they had when he was in high school. They sleep together, and Rita tells him the air conditioner guy never came by. Josh says he'll call him again.
Josh sits in his car outside of a tobacco store and sings the song "Night" by Billy Callahan to himself.
Maura, Ali and Sarah visit the mall and sample products at a makeup demonstration counter. Sarah sends some selfies to Tammy. Maura and Ali buy makeup.
Maura, Ali and Sarah wait in line in the women's restroom. Young women stare at Maura. A woman harasses Maura, telling her that she shouldn't be in the ladies' restroom because she is a man. Sarah reprimands the woman for not letting Maura use the ladies room.
In the parking lot, Ali and Sarah comfort Maura and say goodbye. When Maura leaves, Sarah and Ali wonder why Maura waited so long to come out as transgender.
Maura uses a portable toilet at a construction site.
Ali returns the makeup she purchased in exchange for cash. Checking her phone, Sarah has a weird feeling about Tammy.
In her new apartment, Maura tries to make tea. She hears some partying going on outside.
Outside, Maura politely asks her neighbors to turn their music down. She calls the manager, who she finds out is next door at the party. She bangs her shoe on the wall and yells at the partygoers to be quiet. Not getting any reaction from them, Maura sits alone outside.
Ali gets her hair cut short at a barber and washes the makeup off her face in the bathtub.
Sarah confronts Tammy outside her house and says she needs to tell Barb about their affair.
Ali and Josh talk about her new haircut. Ali suggests Josh "check in" with their father. Josh reveals that Kaya (Alison Sudol) is no longer pregnant. They dance together to soul music.
Stream full episodes of Transparent online now.
Sign up for the SundanceTV Newsletter to be among the first to receive full episodes of Transparent.
Listen to this week's Transparent Playlist below, featuring songs from Episodes 4 – 6.