Transparent Recap: Episode 103 (Rollin')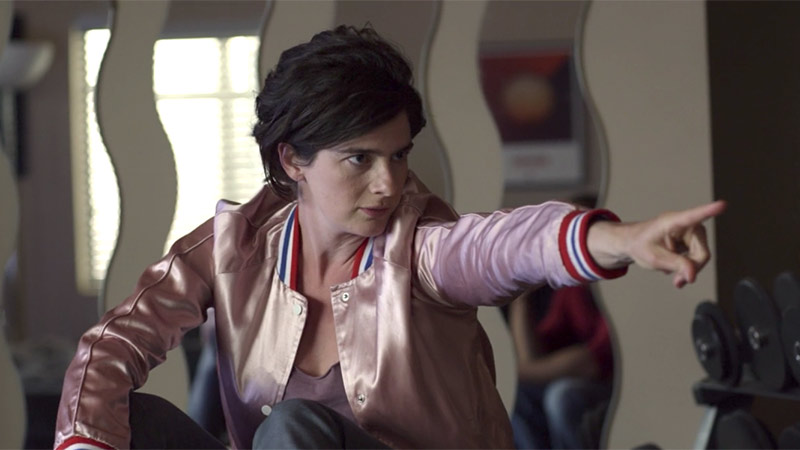 Maura (Jeffrey Tambor) and Sarah (Amy Landecker) pack up photographs and other items in the family home. Maura says she's going to come out to Josh (Jay Duplass) next. She asks Sarah how long she and Tammy (Melora Hardin) have been "carrying on." Sarah discusses her feelings for Tammy and asks if she can sleep over at Maura's.
Later that night, Sarah leaves Tammy a message. While looking through Josh's old letters hidden inside cereal boxes, Sarah finds a photo of a woman dressed in a nightie with the inscription, "XOXO Rita."
At Glitterish's rehearsal, Josh can't reach Kaya (Alison Sudol). Josh asks Margaux (Clementine Creevy) where Kaya is and reveals he proposed to her.
Sarah calls Josh and asks him to come help her pack. She tells him she saw the letters and photos of "creepy Rita," the family babysitter. Josh says he's coming over.
While hanging out, Syd (Carrie Brownstein) gives Ali (Gabby Hoffmann) some drugs that are "better than E." Ali says she can't hang out and get high with her because she's planning to sleep with her trainer Derek (Cleo Anthony) and his roommate Mike (Amin Joseph).
Having finished packing, Maura waits for Josh to arrive. She goes outside and sees him pull up, and then goes back inside.
Josh arrives at Maura's house and goes through his old stuff. Maura enters, dressed in men's clothing, as Mort. Josh smells perfume and asks Mort if he has a new girlfriend. Mort says, "It's complicated."
Back in 1992, Mort browses at Wild Time Books. In the adult magazine aisle, he meets Mark (Bradley Whitford).
Outside, Mort returns to young Sarah, Ali and Josh who are waiting in the car. He gives them candy, and Ali and Josh squabble in the backseat.
Back in the present day, Ali asks Derek and Mike to get high with her.
At the Materials & Artists office, Josh's boss Barry (Ethan Sandler) tells him he's going to be working with the band Drug Mules instead of Glitterish. When Josh protests, Barry says Kaya doesn't feel safe around him. Josh throws a chair at the window, but it doesn't break. As Josh storms out of the office, Barry fires him.
Back home, Sarah tells Len (Rob Huebel) she's feeling anxious. She confesses to living with Tammy in college and still being in love with her.
Kaya admits to Josh that she told Barry to fire him because he wouldn't drop "the whole baby thing." She then confesses to going through with the abortion.
At the Shangri-La apartments, Maura tells Davina (Alexandra Billings) that she couldn't come out to Josh. She says she has to come out to Ali first.
Ali, Derek and Mike take drugs together.
In the car, Sarah leaves Tammy a message about leaving Len.
While high, Mike, Derek and Ali undress and begin to have a threesome. After Ali says the guys really want to "fuck each other," Mike and Derek stop fooling around with her and get dressed. Derek sends Ali home in a car.
In the car, Ali talks to Tigran (Jack Topalian), the Armenian driver, eats candy and sticks her head out the window.  
Sarah arrives at Tammy's house and sees her inside with Barb and their daughter.
Josh reads old romantic letters from Rita.
At Maura's empty house, Sarah makes a bed for herself out of a futon and lights a candle.
Tigran drops Ali off at her apartment building and asks that she give him "five stars." Still high, Ali spins around and sticks her hand in the fountain. She gets a call from her father, who wants to come visit her. Ali says, "Yes, now is the perfect time. I would love that."
Stream full episodes of Transparent online now.
Sign up for the SundanceTV Newsletter to be among the first to receive full episodes of Transparent.
Listen to this week's Transparent Playlist below, featuring songs from Episodes 1 – 3.