Transparent Recap: Episode 102 (The Letting Go)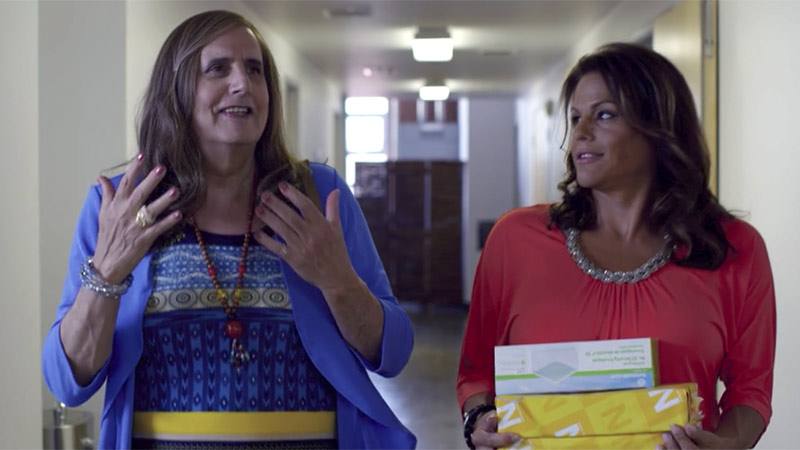 Maura (Jeffrey Tambor) arrives home to find Tammy (Melora Hardin) and Sarah (Amy Landecker) kissing. She explains her appearance to Sarah, saying she has struggled with gender identity her whole life.
In 1989, Mort (Jeffrey Tambor) walks to his office, shuts the door and takes a dress out of a bag. A student knocks on the door, but Mort doesn't answer.
Back in the present day, Sarah and Tammy discuss their surprise encounter with Maura. Sarah gets a text from Len (Rob Huebel) saying that Barb (Tig Notaro), Tammy's wife, has arrived for a playdate with her kids.
Josh (Jay Duplass), Margaux (Clementine Creevy) and Kaya (Alison Sudol) discuss recording Glitterish's album. Kaya says she can't record because she is scheduled to get an abortion.
 
Ali (Gaby Hoffmann) and her trainer, Derek (Cleo Anthony), engage in aerobic sex. 
Derek's roommate, Mike (Amin Joseph), arrives home and confuses Ali with another woman Derek is sleeping with.
 
At the playdate, Sarah introduces herself to Grace (Alyvia Alyn Lind), Barb and Tammy's daughter. Barb and Len talk about golfing and vacationing in Hawaii.
 
Kaya assures Josh that the baby is his. Josh says he'll drive her home and take care of her after her abortion appointment.
 
That night, Sarah gets out of bed as Len sleeps and drives to Tammy's house to pick her up.
 
Tammy and Sarah have sex in the backseat of Sarah's parked car overlooking Los Angeles. Sarah tells Tammy she's in love with her.
 
At the Los Angeles LGBT Center, Maura tells her support group about coming out as transgender to Sarah. Maura asks a woman working at the center, Davina (Alexandra Billings), if she would like to get a drink.
 
While putting the carseats in the car, Len asks Sarah why the backseat is down. Sarah says she moved the seats when she and Tammy went to the tile store.
 
At Canter's Deli, Ali and Josh discuss Kaya's pregnancy and pick up their mother's order.
 
Josh and Ali arrive outside their mother Shelly's (Judith Light) house to see Len and Sarah arguing while unpacking their car. Josh takes the kids from Len and Sarah while they argue.
Sarah tells Len about her father coming out as transgender.
Inside Shelly's house, Shelly asks Ali if she found a job yet. Ali doesn't respond.
Over drinks, Maura tells Davina about her life and children. Davina reveals that none of her family members are still in her life. They hear a siren.
 
In Shelly's bedroom, Ali asks her mother about the story behind her Tanta (Hebrew for "Aunt") Gittel's ring. Ali asks if Tanta Gittel gave it to someone before she was killed at the Treblinka extermination camp. Shelly says Mort tried to propose to her with the ring.
 
Len and Sarah argue about Mort coming out as transgender. Sarah defends her father, saying he's been hiding his whole life. Ali brings them some bagels and narrowly avoids an attack by a flock of geese.
Josh bonds with his niece, pretending to be underwater as he puts her to bed.
 
At the Shangri-La apartments, Davina and Maura watch as coroners carry away the body of an elderly resident who has passed away. Davina and Maura look at the deceased man's apartment and Maura comments that the rent is cheap.
 
Later, Len and Sarah wait for a table at a restaurant.
 
At Derek and Mike's apartment, Ali takes a hit from a bong and watches TV with the guys.
 
After making a case for Kaya to keep their baby, Josh proposes to her using Tanta Gittel's ring. "No girl wants to get proposed to with a ring that came from the Holocaust," Kaya says. He asks her to think about it.
Back in 1989, Mort walks out of his office and throws the dress bag in the garbage.
At home, Mort gets out of his car and pauses to gaze at his children and a young Shelly getting ready for dinner inside the house.
In the present day, Maura stands in the same spot Mort stood, pausing to gaze at the family home.
Back in 1989, Mort enters the dining room and kisses the heads of his children.
Sign up for the SundanceTV Newsletter to be among the first to receive full episodes of Transparent.
Stream full episodes of Transparent online now.
Listen to this week's Transparent Playlist below, featuring songs from Episodes 1 – 3.