Transparent Recap: Episode 101 (Pilot)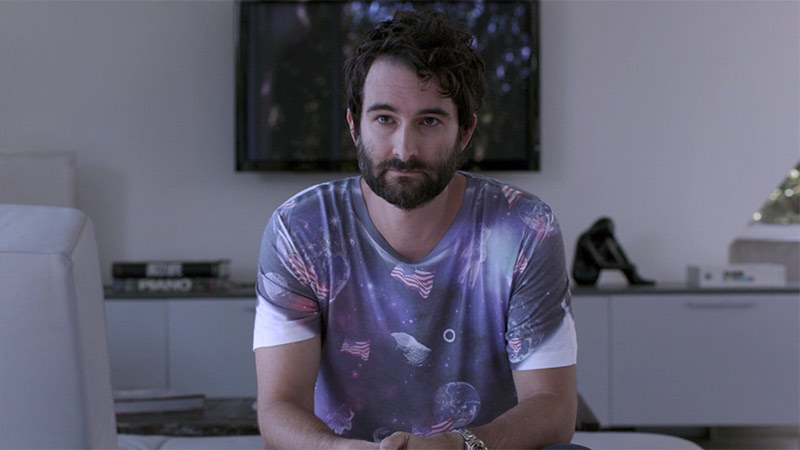 The three Pfefferman siblings start their respective days in various neighborhoods around Los Angeles. Ali (Gaby Hoffmann) wakes up alone and makes coffee. Josh (Jay Duplass) lies in bed with a woman. Sarah (Amy Landecker) gets her kids ready for school.
Walking in Griffith Park, Ali tells her pal Syd (Carrie Brownstein) about her new idea for a children's book called "Are You My Soulmate?" She gets a call from her dad, Mort Pfefferman (Jeffrey Tambor).
While getting her children in her car, Sarah also gets a call from Mort.
Ali visits Josh at his house, where he's hanging out with band duo Margaux (Clementine Creevy) and Kaya (Alison Sudol), the woman Josh was in bed with earlier.
At her kids' school, Sarah encounters her old friend Tammy (Melora Hardin), who shares that she is remarried to a woman named Barb (Tig Notaro). Sarah reveals she's now married to a man named Len (Rob Huebel). Sarah compliments Tammy on her success as an interior designer, and suggests they get together sometime. Tammy agrees, then tells Sarah she looks really great.
Back at Josh's house, Ali is giving Josh grief for hanging out with younger women. She pokes fun at the girls' band name, Glitterish. Ali and Josh discuss their father's call, and Josh wonders if their father has cancer.
That night, Josh, Sarah and Ali arrive at their father's house. Mort, sporting a ponytail, greets his children with kisses.
Mort reveals to Sarah in the kitchen that he broke up with Marci and is doing well.
Josh and Ali look at old family records and discuss Ali's childhood crush on singer/songwriter Jim Croce.
The family jokes around over a messy dinner of ribs. Mort tells them that there is a big change going on. Josh, Sarah and Ali ask if it's cancer. Mort slams the table and says he doesn't have cancer. He reveals he's selling the house. An argument breaks out amongst the siblings. Ali asks Mort where he's going to live.
Mort gives Ali some money in private. He tells her that out of all his kids, Ali can see him most clearly since they both share the "depressive gene."
Alone, Mort takes off his clothes and calls a friend. He says he couldn't tell his kids about his big news. Wearing a nightgown, Mort lets down his hair in bed.
Josh visits the home of an older woman. He sits by her feet and rests his head on her lap. They caress each other.
The next morning, Sarah and Len discuss the dinner with her father. She tells him she is thinking about inviting Tammy and her child over for a playdate.
Shelly Pfefferman (Judith Light) gets a visit from her daughter, Ali. They eat fruit while discussing Mort's dating life, and the sale of the family home.
At Josh's place, Kaya asks why Josh was late coming home. He reveals his father is selling the house he grew up in.
At the Los Angeles LGBT Center, Mort speaks to a support group. Dressed in women's clothing, Mort's true self is revealed – Maura. Maura tells the group about a difficult experience that happened in public, and confesses that she wasn't able to come out to her kids. She says the time wasn't right, but she promises to come out soon. Maura says her children are selfish, and she doesn't know how she raised three people who can't see beyond themselves.
At her apartment, Ali strips naked and looks at herself in the mirror.
Leaving their kids' school, Sarah expresses interest in Tammy's "eye" for design, and asks if she would like to look at her father's house. Tammy agrees.
In the park, Ali tells her trainer she wants to change her body.
Sarah and Tammy arrive at the house and flirt in the bedroom.
Josh and Kaya have sex. Josh tells her he loves her. "Do not say that," she says. Josh tells her he has a song he wants Glitterish to cover.
In Josh's yard, Kaya and Margaux play Jim Croce's song, "Operator."
Ali flirts with her trainer in the park.
Josh watches Kaya and Margaux perform.
Maura arrives home and walks in on Tammy and Sarah making out. For the first time, Sarah sees Maura. "Dad?," Sarah asks.
Stream full episodes of Transparent online now.
Sign up for the SundanceTV Newsletter to be among the first to receive full episodes of Transparent.
Listen to this week's Transparent Playlist below, featuring songs from Episodes 1 – 3.