Top of the Lake: China Girl Recap: Chapter 5 & 6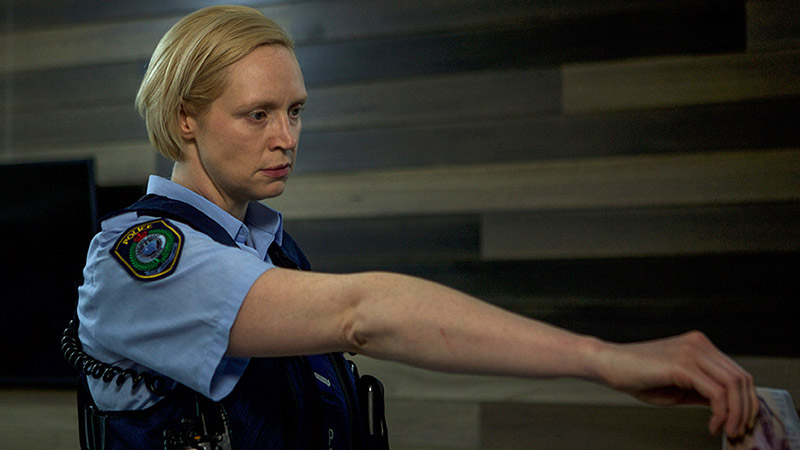 While Robin (Elisabeth Moss) sleeps in her bed, Mary (Alice Englert) leaves with Puss (David Dencik). Robin has a dream about holding tiny babies.
Pyke (Ewen Leslie) arrives and Robin tells him Mary is prostituting herself for Puss. Pyke cries at the news and Robin comforts him.
At the morgue, Brett (Lincoln Vickery) identifies the victim's body as Cinnamon. 
While playing video games, Brett imagines having sex with Cinnamon. He introduces his mother to Cinnamon, but she doesn't see anyone there.
Robin and Miranda (Gwendoline Christie) show Adrian (Clayton Jacobson) a photo of Cinnamon before she was murdered. Miranda tells Adrian she's worried about her baby.
At the fertility clinic, Miranda shows the secretary, Pixie (Susie Lindeman), a photo of Cinnamon and aggressively demands to see an ultrasound.
Miranda reveals to Robin that she isn't actually pregnant and is using a surrogate for her baby.
Brett visits the coffee shop and films his brothel-going friends with a camera strapped to his chest. He tells them he's going to put them on the news.
Pixie tells Robin she connected couples who couldn't conceive with illegal surrogates. She tells Robin to meet with her and some of the couples.
Over beers, Miranda says she thought Cinnamon might have been her surrogate, Mahlee, when she saw the fetus removed at the morgue. Robin says Puss bit her and is involved in the Silk 41 brothel.
At Silk 41, Caramel (Merlynn Tong) packs a suitcase and asks Mary to go to Thailand with her when she gets back. She kisses Mary.
Puss, Bootie (Kim Gyngell) and Dang (Ling Cooper Tang) take Caramel to a storage locker to get clothes. Mary asks Puss what happened to Cinnamon. He says he had nothing to do with her death.
Robin, Adrian and Miranda discover that Pixie has killed herself. Miranda reads a letter saying that Pixie has been connecting couples with surrogates.
A couple who was using Cinnamon, whose real name was Padma, as a surrogate identifies her from Robin's photo.
Robin arrives home to find Puss waiting for her. Robin tells him to leave Mary alone. Puss apologizes for biting Robin's nose and tells her he saw a suitcase in the hallway of the brothel the night Cinnamon/Padma went missing.
Pyke cuts vegetables and Julia (Nicole Kidman) asks if he has a date. Pyke says he invited Robin over for dinner as repayment for Robin taking care of Mary for a few nights. Robin arrives. Julia tells Robin that she is not Mary's mother and leaves in a huff.
Alone, Pyke reveals to Robin that he was never unfaithful to Julia except for one kiss with a woman he fell for at work.
Puss and Mary film the brothel women dressed in traditional village clothing holding babies and taking money.
Robin and Pyke arrive at Mary's school and see Puss waiting. Pyke tells Puss to leave Mary alone. 
Robin and Pyke have drinks and sleep together. 
Brett tells the imaginary Cinnamon that he will restore her honor. He walks into Silk 41 with a shotgun and asks for Puss.
Puss flees into the elevator, abandoning Mary. Brett fires the shotgun. 
Robin gets a call while having drunken sex with Pyke. She hears Mary scream on the phone. 
Miranda calls and tells Robin there's been a shooting at Silk 41 and the shooter has taken Mary hostage. 
Robin arrives at the scene and determines that Mary was not the shooting victim. 
At the Silk 41 brothel, Dang tells the police that Brett came in looking for Puss and started shooting. 
Robin sees Puss leaving on the security camera footage and an armed Brett taking Mary away. 
Pyke tells Julia that Mary has been taken hostage. They watch a news report that says Brett has killed a cab driver in Bondi Beach. 
Robin meets with the rest of the precinct and plans a sweep of Bondi Beach to look for Brett. Watching timelapse footage of the beach, Robin notices a box next to some beer bottles.
Miranda and Robin watch a live-streaming camera of the room where Mahlee (Michelle Ny) and the other surrogates are staying. Miranda calls Mahlee, but Caramel covers up the security camera.
Julia and Pyke ask Mary's classmates for leads on where she might be. Michaela (Liv Hewson) tells them that Mary might be at Cafe Stasi where she first met Puss.
Robin and Miranda search the beach. Miranda spots the beer box Robin noticed in the surveillance footage. They clear the area around the box, and Miranda kicks over the box, revealing Brett hiding under the sand. Brett opens his eyes and shoots Miranda. Robin points her gun at Brett and asks where Mary is.
Mary wakes up in the basement of her house. She goes upstairs and finds Julia and tells her she can't stay. Julia notices blood on Mary's shirt, which Mary says is from the taxi driver. Julia asks to hug her, but Mary doesn't move.
In the hospital, Adrian tells Robin that Miranda's condition isn't good and asks her to find Mahlee.
Mary heads to the airport.
At home, Julia realizes Mary has taken her passport with her.
Robin finds Puss in the back of Cafe Stasi. He reveals that Cinnamon hung herself and that Dang and Bootie put her in the suitcase. Robin points her gun at Puss and he hands her the key to the apartment where the surrogates live.
Robin arrives at the surrogates' apartment and finds Adrian and several couples waiting outside the locked door. Upon finding the apartment empty, Robin sees a DVD that says "Play me."
At the airport, the surrogates go through security with Mary. Puss arrives and Mary tells him she doesn't want to go with him since he left her to die in the brothel. After a physical altercation, Puss leaves Mary and gets on the plane with the surrogates.
On the DVD, Puss tells the couples that the surrogates are leaving with their babies which will be sold to support their villages in Thailand. Adrian tells the distraught couples that legally the babies belong to the surrogates.
Robin arrives at the airport and finds Mahlee's stuffed panda. She gets a call from Pyke saying they have Mary with them. Julia holds Mary in the backseat of Pyke's car.
Robin visits Mary who sleeps as Michaela watches over her. Julia thanks Robin for all her help and tells her that she and Mary have reconnected. Julia tells Robin that she asked Pyke for two months to try to make their marriage work. Robin asks to borrow Mary's birthday DVD. Pyke says he'll come by later to get it.
At home, Robin watches the footage of young Mary. There's a knock on the door. Robin looks up.
Stream the entire Top of the Lake: China Girl series online now.