Top of the Lake: China Girl Recap: Chapter 3 & 4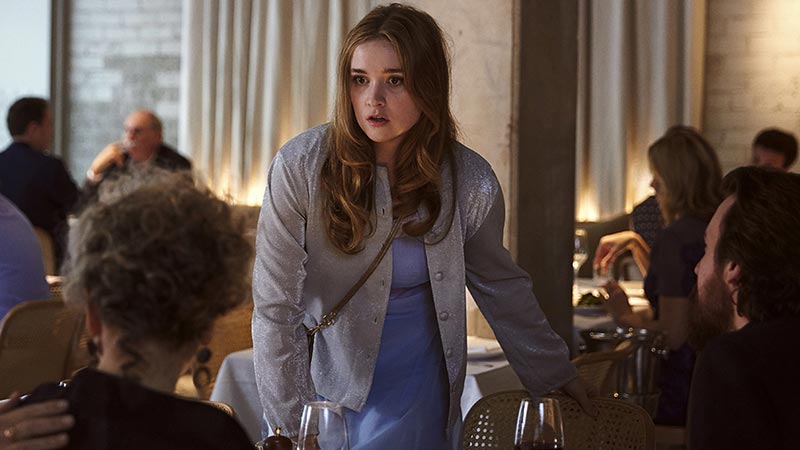 While shopping for a gift, Robin (Elisabeth Moss) gets a call about the "China Girl" case.
At the precinct, Toni (Damon Herriman) confesses to killing an Asian prostitute in self-defense. Robin and Stally (Christiaan Van Vuuren) determine Toni is lying, and have a drink on the roof. Stally admits to being attracted to Robin, who declines his offer of casual sex.
Robin tells Adrian (Clayton Jacobson) that the victim's death might involve a breakdown in a surrogacy arrangement. 
Adrian and Miranda (Gwendoline Christie) tell Robin that they're having an affair. Adrian suggests Robin meet with Al Parker (David Wenham). She refuses. 
At the fertility clinic, Doctor Campbell (Kevin MacIsaac) tells Robin that illegal surrogacy is dangerous in Sydney because the law favors the surrogate carrying the baby over the hopeful parents.
Pyke (Ewen Leslie), Julia (Nicole Kidman) and Isadore (Marg Downey) have dinner with Puss (David Dencik) and accuse him of being a bigamist before Mary (Alice Englert) has arrived to restaurant. Puss storms out. Julia tells Mary that Puss is already married and is dangerous.
Mary and Robin meet up for burgers. Miranda and Liam (Kirin Callinan) come by and they all take a walk to the beach. Robin texts Pyke to let him know Mary is ok.
Robin and Miranda visit Felicity (Helen Thomson), a woman in a psych ward who believes she has lost her baby. Felicity's husband Mike (Julian Garner) reveals that they are using an Asian surrogate.
Robin discovers that Mike has a criminal record for assault and requests a DNA sample from him and his wife.
Al Parker arrives in a wheelchair with his family for his meeting with Robin. While alone in a conference room, Al tells Robin he loves her, removes his belt and attempts to strangle her. Struggling, Robin lights a curtain on fire and gets away from Al.
A security guard sees the fire in the room and Al attacking Robin. Robin gets away and tries to strangle him with a microphone stand. Armed officers burst into the room and Adrian pulls Robin off of Al.
At home, Mary receives a gift and a card from Robin. 
Brett (Lincoln Vickery) looks for Cinnamon on brothel websites.
Pyke, Julia and Mary get ready for the dad and daughter school dance. Mary gets a call about Puss. 
At the brothel, the prostitutes tell Mary that Puss has been depressed. Puss says now that Mary's 18 she could work in the brothel.
Robin gets a tattoo of "Mary" on her arm and returns to work. Miranda and Robin air their issues with each other to Adrian. Robin gets a report that Brett has information about the "China Girl" case.
Mary brings Puss to her school dance. Pyke and Mary dance and Puss cuts in and dances lasciviously with Mary. He then rushes the stage and is carried out by security.
The next morning, Robin arrives at Miranda's and discovers she has slept with Liam. 
Robin and Miranda visit Brett who says he knows their victim, Cinnamon, from the Silk 41 brothel. Brett tells them to talk to Puss and that Mary is always at the brothel. As they're leaving, Brett points a gun at the window and pretends to shoot Miranda and Robin as he talks to an imaginary Cinnamon.
Miranda and Robin discuss the possibility of Brett being the murderer. Robin wonders if Silk 41 is offering prostitutes as surrogates to clients who believe them to be students.
Mary tells Dang (Ling Cooper Tang) that she wants to work at the brothel. Dang and Caramel (Merlynn Tong) tell Mary how difficult prostitute work is.
Pyke picks up Robin from her apartment. They wait for Mary at the beach. Mary arrives with her friends from the brothel and Puss. While talking about Mary, Puss attacks Robin and bites her nose.
At the hospital, Robin tells Pyke that Puss lives at the Silk 41 brothel and Mary's friends are prostitutes. She says Puss might have something to do with the murdered prostitute. 
Dang tells Puss she won't let Mary work at the brothel. She tells him he's cruel. Puss says it wasn't his fault the suitcase containing Cinnamon's body floated to the shore. 
At home, Mary tells Pyke she won't be returning that night for her birthday dinner.
Miranda and Robin bring the DNA results to Mike and Felicity. Robin notices two cribs in the nursery and finds out that Mike and Felicity have three illegal surrogates.
Mary dresses up to work in the brothel. Puss tells her to work the streets if Dang won't let her work in the brothel.
Puss takes Mary to where the streetwalkers work. Puss hits her, and Mary gets out and joins the prostitutes.
Pyke, Julia and Isadore watch old videos of a young Mary at her birthday dinner.
Mary gets out of a customer's car, crying. She calls Robin for help.
At Robin's house, Mary cries and says she can't leave Puss. 
Pyke arrives to find Robin singing to Mary to comfort her.
Stream the entire Top of the Lake: China Girl series online now.