Top of the Lake: China Girl Recap: Chapter 1 & 2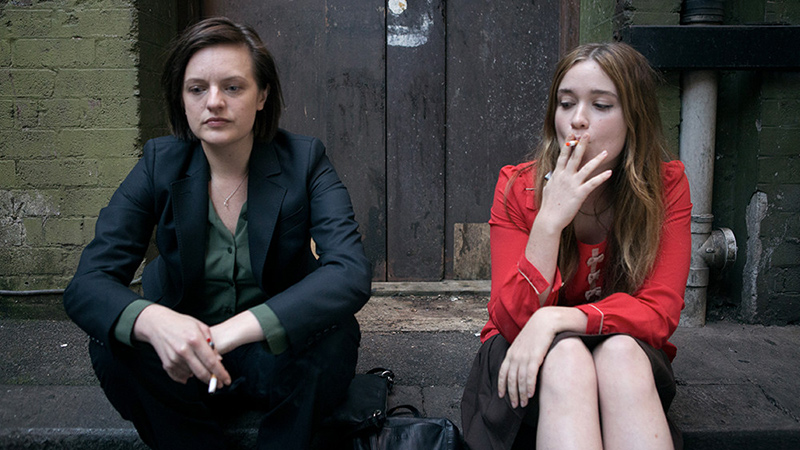 A man and a woman take a suitcase to a graveyard on the ocean. The man pushes the suitcase into the water with the woman's help. The suitcase sinks to the ocean floor.
While getting dressed, Robin Griffin (Elisabeth Moss) reads a handwritten letter and clutches it to her chest.
Robin introduces herself to a group of cadets as Detective Senior Constable Griffin and leads them through a handcuffing procedure. During an exercise, an insubordinate cadet jokingly asks if Robin is going to shoot him. Robin screams at him.
Constable Miranda Hilmarson (Gwendoline Christie) commends Robin for shooting Al Parker, who was involved in the case of the missing New Zealand girl. Robin reveals Parker turned state's witness on the underage sex ring he was facilitating and was granted immunity.
Adrian Butler (Clayton Jacobson) asks Robin if she got counseling after the New Zealand case. He tells her to go easier on the cadets.
The suitcase, cracked opened and revealing a woman's hair, drifts up to top of the ocean.
Over drinks, Robin and Adrian discuss her time in New Zealand. She reveals she is not getting married and wants to focus on work. Adrian says Al Parker's civil suit against her is going forward on the grounds the shooting was personal. Robin reveals that Parker tried to rape her several times.
Puss (David Dencik) picks Mary (Alice Englert) up from school and takes her to the brothel where he lives. Some of the women tell him that Cinnamon, another prostitute, is missing. Mary tells Puss her parents want to meet him.
A group of geeky men at a cafe discuss prostitutes. One of the men, Neeson (Yianni Warnock) tells Brett (Lincoln Vickery) that he went to the Silk 41 brothel and Cinnamon wasn't there.
Robin's brother, Liam (Kirin Callinan), asks her to move out. Later, Robin reads a letter from her daughter, Mary, and looks up her address on the Internet.
Mary tells her dad, Pyke (Ewen Leslie), and mother, Julia (Nicole Kidman), that Puss is coming for dinner. They discuss Julia being a lesbian and leaving Pyke. Mary says she hopes they like Puss as he's older than her.
Miranda tells Robin about a vacant apartment in her building.
Adrian brings an envelope and a stuffed panda bear to a young woman.
Mary, Julia, Pyke and Puss have dinner and discuss feminism. Puss asks Pyke and Julia if he can marry Mary. They say she's too young at 17.
Robin follows her GPS to Mary's address. She watches Pyke take out the trash.
Julia tells Pyke she thinks Mary should be in the hospital for mental illness. She says she's not going to let Mary and Puss get married.
In her new apartment, Robin has a dream about babies and screams in bed. Miranda arrives after being woke up by the screaming and invites her over for tea.
The suitcase washes up on shore and is discovered by lifeguards.
Adrian tells Robin that Parker has agreed to a face-to-face meeting with her. The officers get a call that a suitcase with human hair has washed up on shore. Adrian tells Robin to take Miranda with her to investigate.
On the beach, Robin opens the suitcase. Miranda observes that the dead woman's eyes are open.
Four weeks earlier, Robin is getting ready for her wedding.
In the woods, Johnno (Mark Leonard Winter) tells a young German woman he's getting married to his childhood sweetheart. Later, the police arrive and arrest them for marijuana possession.
Robin arrives at the police station in her wedding dress to marry Johnno. After seeing the German woman in the cell with him, she takes off her veil and walks away.
Over beers, Robin tells Johnno's mother and sister that she has to leave New Zealand.
In Australia in the present day, Robin photographs the dead woman found in the suitcase.
During the autopsy, Robin discovers the victim was pregnant. Ray (Geoff Morrell), the pathologist, tells Robin she needs someone in her life. Robin says she's happy alone.
Robin buys a card at a store. Adrian tells her that she needs to work with Miranda despite wanting to work solo.
Miranda, on a cigarette break, tells Robin she's pregnant the same amount of weeks as the victim. Robin tells her she should give up smoking.
Robin briefs the detectives on the case, which is being considered a murder. She surmises that the victim, whose face is damaged, could've been a brothel worker who became pregnant and was murdered by a customer or pimp. With the fetus, Robin thinks they could make a paternal link to a possible suspect.
Robin writes a card to Mary and her parents. While driving, she sees Mary walking by on the street. She drops the letter at Mary's house.
Brett hangs out with the laptop geeks at the cafe. Neeson attempts to flirt with the waitress. Brett gets up and leaves.
Brett brings a bag of food to the brothel and asks for Cinnamon. A young prostitute carrying a stuffed panda bear goes in to see the brothel doctor.
Brett is sent by the madam, Dang (Ling Cooper Tang), to a room and finds another woman who is not Cinnamon. Brett asks Dang if Cinnamon is the woman who was found on the beach. Dang says Cinnamon is a prostitute and has to work to pay back $30,000.
Dang brings Brett to the other prostitutes who tell him Cinnamon is gone and that Puss hurts them sometimes.
Robin and Miranda meet with Linda (Michelle Lim Davidson), a sex worker advocate. Robin asks if any Asian women have been reported missing. Linda says if the victim was a sex worker, she is likely working under a false passport. Robin takes a call about the letter she left for Mary.
Miranda and Robin visit brothels with Linda to further investigate. Robin notices a stuffed panda in one of the brothel photos.
In Adrian's office, Robin notices the stuffed panda he had is gone. She asks him if he goes to brothels and he says he used to.
Robin meets with Julia and Pyke. Julia says Mary started acting out when she didn't receive a reply to the letter she sent Robin five years back. Pyke says Mary has an older boyfriend and thinks she should meet Robin.
At Robin's apartment, Liam let's Robin know he invited Miranda over for dinner. Liam and Miranda flirt, and Liam guides Miranda through a mediation which causes her to cry. Robin gets a call from Mary and agrees to meet.
Robin meets Mary at a restaurant and apologizes for not replying to her letter. Mary tells Robin to call her "Baby" and that she's getting married despite her parents' objections.
Outside while sharing a smoke, Robin tells Mary she was raped by three men, one of which is her father. They take a photo together, and Mary asks Robin to come with her and her friends to the beach.
Ray reveals that tests came back that showed the victim and the baby didn't share the same DNA. Robin tells him she met her daughter for the first time. Robin surmises that the victim was a surrogate mother.
Stream the entire Top of the Lake: China Girl series online now.