7 Questions with Top of the Lake: China Girl Star Alice Englert (Mary)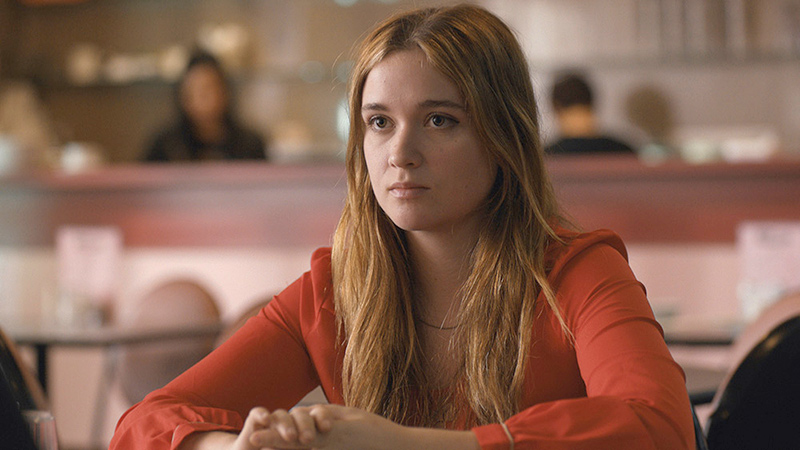 Top of the Lake: China Girl star Alice Englert, daughter of creator Jane Campion, discusses the adolescent angst her character Mary faces in the series, the respectful relationship she had on set with David Dencik (Puss) and the inspiration she felt working with Elisabeth Moss (Robin Griffin) and Nicole Kidman (Julia).
Q: Can you tell us about your character Mary?
A: I am the biological daughter of detective Robin Griffin, adopted at birth by Julia and Pyke Edwards who live in Sydney, Australia, where the second season of Top of the Lake is based. Mary is an intense personality. I think some of that is borrowed from the complication of being an adolescent person, and then just the complications of being a human, which I think is a central theme in Top of the Lake and something that I've thoroughly enjoyed appreciating and examining in the series, as well as being part of something that is complicated and is intelligent in its mystery.
Q: What journey does Mary go on in Top of the Lake: China Girl?
A: I think at the beginning of the series Mary is in the process of surviving her feelings as an adolescent and her feelings as an adopted child, and as a child that did try and reach out to her mother and didn't get a response. It's fascinating. And for me, it was extremely special to do the scene as Mary with Robin where they meet for the first time because it's like meeting the creator, and she has to confront these fantasies of love and protection and safety that she had associated with this mother figure, that she had also tried to let go in the years leading up to the beginning of the series.
Q: What's did you observe about Robin and Miranda's relationship in Top of the Lake: China Girl?
A: That is a beautiful relationship in this story. I think it's great to see women who are not just strong, but also really complicated, and sometimes weepy, and sometimes messed up, and who don't really like each other [Laughs], but that being something that is a story. And that being enough to be a story is fantastic, finally. And I love their romance, and I love seeing [Miranda]'s desires for what she wanted Robin Griffin to be as well and how she wanted Robin to see her.
Q: What was it like working with Elisabeth Moss?
A: Elisabeth is just so professional, but in that way that just, as a leading lady, it's so inspiring. She's so kind, she's so generous, she's so funny, very naughty and funny, but that doesn't stop the kindness.
Q: How was your experience working with Gwendoline Christie (Miranda Hilmarson)?
A: Gwen is just such a beautiful person. She has a laugh that you can hear, like, [Laughs] you can hear it down the street. You really can. Like, you actually can because she opens her mouth all the way and it's just huge and great. And it goes through your whole body, and it's just lovely. She's a beautiful, sensitive human being, and I'm a sensitive one as well, and I always appreciate — I mean, everyone, we're actors, we're actresses, so we're all sensitive — but I love working with other sensitive people who are managing that [Laughs] in the world.
Q: How was your experience working with Nicole Kidman?
A: I really admire Nicole Kidman, who is Julia. She's very warm. She's got a beautiful energy. She's very available as someone to work with, and generous as well, very generous. I've always loved her work and it's just great to be doing it — doing some of it — with her now.
Q: How was your experience working with David Dencik?
A: David is a wonderful actor and very [Laughs] adorable, very funny, and very open. We have a really nice working rapport, uncomplicated, uncharged. That remains for the series, which is a relief. I don't think I could've taken it if he wanted to be method about this. That would've been too hard [Laughs]. But he's great and he's hilarious and respectful and intelligent, which is great when you're playing a relationship like this together. No weird stuff. Love it.
Stream the entire Top of the Lake: China Girl series online now.