6 Questions with Top of the Lake: China Girl Star Elisabeth Moss (Robin Griffin)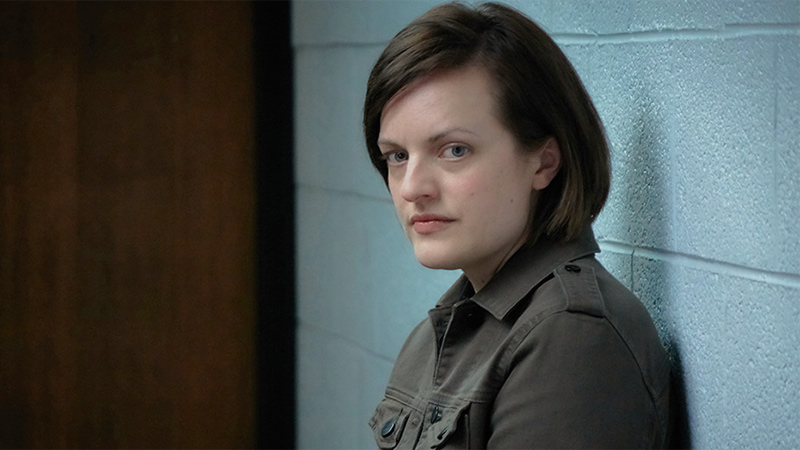 Top of the Lake: China Girl star Elisabeth Moss discusses the return to her Emmy-winning role as Detective Robin Griffin, why Jane Campion is like no other director and the surprising new female friendship Robin forms with her work partner Miranda Hilmarson (Gwendoline Christie).
Q: What was your experience like playing Detective Robin Griffin in Top of the Lake: China Girl?
A: I think what I love most about Robin is, from an actor's perspective of playing her, not necessarily her best quality which are her flaws, her vulnerability and her ability to be strong when she needs to be and to fight for justice and fight for the truth in her work. And the juxtaposition of that with her complete sort of chaos in her personal life and her inability to sort of get that under control.
What I love playing about her is those two things and the conflict between them. This season, she's so much more messed up than [Laughs], than she ever has been before, and it's been a challenge to play, but it's also been really fun.
Q: What was your experience like working with Top of the Lake: China Girl creator Jane Campion?
A: There's nobody like Jane. I've worked with many different directors and many wonderful directors. I've had the privilege of working with some very talented, amazing people, well-known and not well-known. And there's something about the way that she speaks to you, and there's something about the way that she guides you on set that isn't like anyone else. It just isn't. She has this very in-tune way of guiding you through a scene. And she'll say something that you just go, "Oh, I didn't think about it that way." Or she just, she'll come up to you and say, "This is your playground, sweetie. Just have fun."
And there's been a lot more of that in Season 2 I think because we know each other quite well now and we've known each other for over four years, which I guess doesn't sound like that long, but it's been a really deep relationship and an intense relationship. And there's a lot of trust that's been built I think from Season 1 — trust in each other. So, there's a bit of a shorthand now that it makes things really easy. And when you feel like a director trusts you, I mean, that just gives you so much freedom and so much confidence.
Q: What are the themes in Top of the Lake: China Girl?
A: I feel like Season 2 is very much about parenthood, and specifically motherhood — and the different kinds of motherhood, and the different ways that people become a mother. And how motherhood doesn't always have to do with being a biological mother. We address so many different kinds of motherhood — Robin specifically having had a child and giving birth to a child but then not raised it. Nicole's character having not given birth to the child, but raised her.
Q: What's the dynamic like between Robin and Miranda (Gwendoline Christie)?
A: I think it is going to be very surprising for the audience, this sort of yin and yang team of Robin and Miranda — these two people who obviously not only look so different, but act so different. And it sort of starts out in this quite humorous place of Miranda being this sort of fangirl of Robin, and then mutates into this sort of terrible, argumentative, judgmental, hurtful relationship.
Q: What was it like working with Gwendoline Christie?
A: She is one of the most special people I've ever met, but she's also certainly one of the most special actors. She has this sort of quality of being incredibly strong and analytical and logical and thinking  —  thinking about this and thinking about that. You can ask her any question and she has the answer for it, character-wise, immediately.
But also being very fluid and very mobile and very willing to change things and go all over the place. In Season 1, I didn't really have that buddy — Robin didn't have that friend. It's been really amazing in Season 2 to have this female relationship, this actress, another woman to act opposite — I mean a lot of my stuff is with Gwen. And it's been a really interesting and special surprise out of this season for me as an actor, and it ends up being the same for Robin as well.
Q: What was your experience like working with Alice Englert (Mary)?
A: It's been lovely working with Alice. I know her a little bit. We met on Season 1 and sort of were friends then and have been friends over the years. So, it wasn't like coming in and working with a new person at all, which was really nice. She is very similar to Jane in a lot of ways. I see Jane in her so much, and she's very open and sort of has this raw quality that I think is really interesting for Mary. I think that there would've been a sort of very typical way to play Mary, which would've been fine. But there is a strange quality that Alice bring to it that really fits with the tone.
Stream the entire Top of the Lake: China Girl series online now.