6 Questions with Top of the Lake: China Girl Creator Jane Campion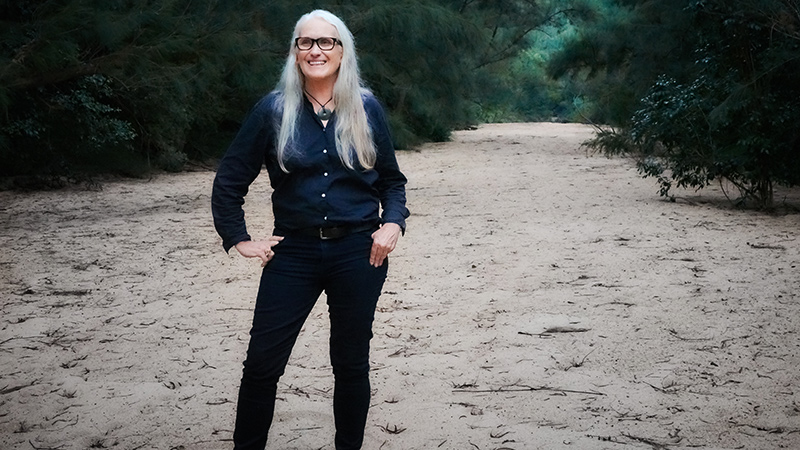 Top of the Lake: China Girl creator Jane Campion discusses what inspired her to continue Robin Griffin's story, the "sharp focus" Elisabeth Moss contributes to her role and why she was eager to cast Nicole Kidman and Gwendoline Christie.
Q: What made you want to continue the story of Robin Griffin with Top of the Lake: China Girl?
A: The thing with the first series [Top of the Lake] was that it was a really exciting experiment. We just didn't know how it would go down. We did what we wanted. The thought of making a second series was a bit devastating to begin with, so you really need to create an appetite, or in some way be dealing with material that is fascinating to you or really bites into your own life in a substantial way.
The idea of doing another series in New Zealand didn't appeal to me. I wanted a new environment, and I guess I thought of Sydney because that's where detective Robin Griffin came from. And I actually just thought about it like, okay, well, what about we treat it like a new book, with the same detective further on in life, and a completely different story?
Q: What appeals to you about creating crime mysteries like Top of the Lake: China Girl?
A: Top of the Lake is always kind of a crime mystery story, and I think the wonderful thing about crime mysteries is that you're dealing with the character who's not perfect themselves and they're entering the mystery, they're entering the unknown in a way and they're trying to — with everything they've got — find out what happened. And they always come across, or come up against their own limitations, the things that they haven't really worked out about themselves. So, it's a sort of perfect paradox. They can only find out what they themselves are willing to know, or they get pushed in their face what they don't know.
It's always a great thing in crime stories where the protagonist has to come up against the antagonist and the crime itself, and they get pushed to places that are really uncomfortable for themselves and are forced to grow or go to ground, end up with drinking problems and all the rest of it. And, in this story, Robin comes back with a sort of growing desire to meet the child that she had when she was a teenager and adopted out.
She knows the child's grown up now and is in Sydney somewhere and it becomes irresistible for her to want to find out if that child is okay. I mean, at one time — I think in the first one [Top of the Lake] — she sort of said that she can't meet the child because she was raped and she doesn't want the child to have to know that. That seems like a knowledge that would only be uncomfortable. But on the other hand, now she feels like, well, maybe she has to offer herself. Maybe it's going to be important. And it turns out that that's the sort of crucial relationship in the story, and all our worlds have a way of intersecting.
Q: What's the relationship like in Top of the Lake: China Girl between Mary's birth mother Robin (Elisabeth Moss) and adopted mother Julia (Nicole Kidman)?
A: The two mothers have a very different view of each other. …It's a little bit of an exploration of what is really mothering — someone who gave birth to the child, and then someone who actually was there every day and looked after that child and brought them up, who was, I think, the actual mother, the real mother.
And that comes up in our story quite a lot. And also, with teenagers, the actual mother and the actual teenager can go through times when they're really having struggles. And that can feel very hard for someone whose put so much love and time. And nobody's a perfect mother.
Everybody is struggling with their own lives, and when they're a mother they, I guess, whatever their priorities are they sort of pass on. And maybe they want their kid to be perfect — or in ways, they wish they were — and the kid gets that message, and then they rebel. And in the story there's a little bit of jealousy around it as well, and there's a little bit of a battle between the mothers.
Q: What was it like working with Elisabeth Moss again?
A: Lizzy's such a unique actor and great human. She's got a great secretive kind of power, and this time I felt like her qualities as an actor had really strengthened even more than before, and I wasn't tired of her before or after doing six hours. She still has a way of working that's so mysterious to me and beautiful. And it's like she gets into subterranean rivers, and she can get onto them and it takes her through a scene and you just [think], "My god, you know, she's — the girl is singing notes that I didn't even know existed."
And that's what's so intriguing about her as an actor. I don't know anyone that's doing it quite like her. It's not classic work. It's very particular to Lizzy, and I think also Lizzy brings to it a lot of, you know — she has very sharp focus. She can really use her focus, but put it back in herself. She brings you to her, and she's got a sort of sense of integrity, like she's always that sort of sense of a little lamp being on in the way that she plays Robin Griffin, so that no matter how dark everything gets,  she'll be looking for the light because it's just the way she has to do it.
Q: Why did you choose Nicole Kidman to play the role of Julia?
A: I think the character of Julia is a really fun character for Nicole because I don't really know anyone else that could quite play her. Who's got Nicole's queenliness, and can also play the humor of it? Because she [Julia] is a suburban queen, which isn't quite the real thing. She's always a step or two away from the actual feminist. But in love with Germaine Greer — going to her university but Germaine Greer wasn't there at the time. And with all the entitlement and sense of self-belief that knows no bounds. I love it [Laughs].
Q: What was the inspiration for choosing Gwendoline Christie to play Robin's detective partner, Miranda?
A: Initially I had a real hard time trying to figure out or get excited about that relationship until I thought about Gwendoline Christie. And actually I thought about her because she wrote to me and suggested I should, we should — would it be possible that we would ever work together. And I thought, "My god, what a great idea." I sort of remembered seeing a little of the Game of Thrones and seeing her and thinking, "Oh, wow." And then when I met her and talked to her, I just found her humanity so moving and touching as a person.
And the fact that she's tall, you know, like six-foot-five, she's a real contradiction to the idea of how women should be. Like women should be petite and gentle and feminine and small. And she just, you know, defies those ideas, which is hard for the character Miranda, and probably sometimes hard for Gwendoline. But because I'm always interested in conceptions of femininity and I guess extending, breaking, smashing, and just exploring, it became really interesting to have little Robin and very tall Miranda because I found it funny [Laughs]. And absurd and also like their humanity does completely go beyond it.
Gwendoline and Lizzy are really very funny people. And the very first moment they met each other, they just fell into each others arms and laughed and laughed and laughed, and couldn't stop laughing, and never stopped laughing the entire time that they were working together.
Stream the entire Top of the Lake: China Girl series online now.
In the NYC area? Don't miss "Jane Campion's Own Stories", a retrospective of Campion's work in film and television, with screenings at the Film Society of Lincoln Center September 8 – 17.