5 Questions with Top of the Lake: China Girl Star David Dencik (Puss)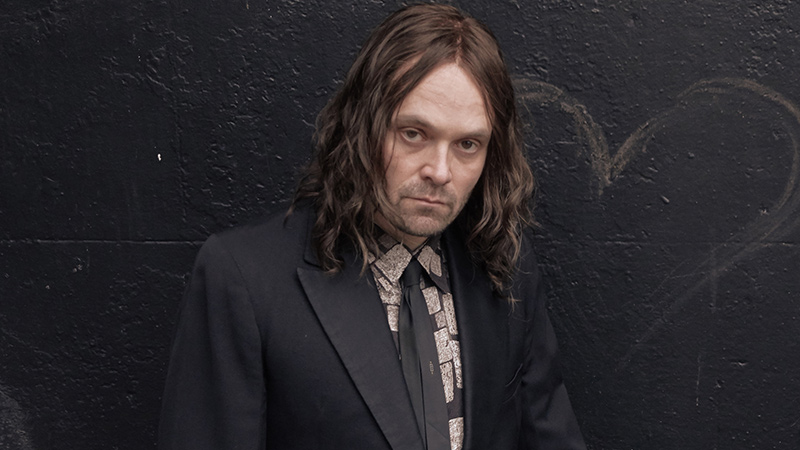 Top of the Lake: China Girl star David Dencik discusses the Dostoyevskian character that helped inspire his role as Puss, the "moody" and "disgusting" room in which his character lives and Puss's relationship with Rob Griffin's (Elisabeth Moss) biological daughter Mary (Alice Englert).
Q: Can you tell us about the character you play in Top of the Lake: China Girl?
A: Puss is a European person who has landed somehow in Sydney many years ago. He is very much influenced by his European heritage, at least in the way I see it — I think the way Jane sees it too. And, in a nutshell, he's dating Robin Griffin's daughter [Mary], whom she has never met up until a certain point. He is her boyfriend. That's how he fits in, in a dramatic sense, but he is a very complicated character, very contradictory. And I just read prior to this interview in the script, when he's first introduced in the script, it says something about his long hair. Which, as a European, adds something — a European style to his manner, so I took that to my heart. And then it says after that "he has the look on his face, that of an arrogant man who has just been insulted" — for no obvious reason because he had not been insulted in that particular scene. And I thought that was key to the way to act it — that he is, in a way, offended by society. He's a confused academic. He is a rebel without a cause in the true sense because he doesn't even know what he's rebelling against. But he's very anti-establishment. He's very anti-, I think, the Western world, in a sense.
… He's actually also a bit stolen, I think, from a character in a Dostoyevsky book called The Possessed, or The Devils, or something… A guy called Stavrogin. So I read the entire book because Jane Campion told me that it was a source of inspiration. And when I came down here [to Australia], it turns out she didn't even finish the book, and it's a really thick book. But it was good fun reading it. And this Stavrogin — I think Dostoyevsky calls him a nihilist — he has no particular beliefs. He just wants to destroy whatever's around him, the values of people around him.
Q: What is Puss's relationship like with his girlfriend Mary?
A: Puss is very much in love with Mary too, in a certain sense, but it's a more platonic way. It's not — and that's also where it differs from your mainstream TV drama — it's not an erotic love affair they have. Well, not particular anyway. This TV series doesn't dwell on the intimacy between Mary and Puss. Mary is a teenager and she is rebelling against her parents, as many teenagers do. And she has the backstory of being adopted.
So somehow they identify with each other — Puss says, at least, that his mother was raped. He was the result of a rape, as is Mary. So they have points in their own destinies that actually link together, where I'm sure they identify with each other. And the fact that, in a way, Puss is a free spirit. He actually does what he wants to do and what pleases him. And I think she's very attracted to that. But then he's a dangerous person for Mary too. He has ideas about feminism and about female liberation that are not coherent with anybody else's.
Q: Can you describe the room in which Puss lives?
A: It was, in a way, another cast member. I think because it's so moody, and it's so full of books, and it was a bit disgusting, I'd say, with all the cat food. When you see Puss, the way he dresses, he's not very vain. Or maybe he is vain, but not in any particularly clean way. So it was a bit rundown. It was inspiring to be in. As a guy, he's not very materialistic. And that really goes to show in the way he lives.
Q: What was your experience like working with Top of the Lake: China Girl creator Jane Campion?
A: Working with Jane Campion was a major attraction. I had not seen Top of the Lake Season 1 when I was contacted, so I saw it all in one. And then I read the first four episodes that were sent to me, and I was just mesmerized by the writing too, the character that we just spoke about. It was so not your average TV series. I think it's very gutsy to actually write a character like Puss. And the dialogue is many times irrational and strange, and I say stuff — it was just really quirky in a very good sense and it appealed greatly to my taste, and to what I enjoy in acting.
Q: What was your experience like working with fellow cast members Alice Englert (Mary), Ewen Leslie (Pyke), Elisabeth Moss (Robin) and Nicole Kidman (Julia)?
A: I work closely with Alice Englert, Jane's daughter. And I work closely with Ewen Leslie as well, and he's great fun. I've been to his house, we've had a pizza, met his kid and all that. We really get along very well. It's nice to have him around. I've had a couple of scenes with Elisabeth Moss, and she's just wonderful to work with.
We actually had to reshoot a scene at the beach because it was just too big a scene to do all in one day, but [everyone was] so supportive and interested and present. I've had a couple of scenes with Nicole [Kidman], and the same thing there. Everybody seems to be in it to get something out of it themselves — to do some good acting, to do some good scenes, to make this story worthwhile to watch. Nobody seems to just come in and get it over and done with and go out, as I must confess, happens to me once in a while. That's not the case here at all — no. You just want to stay on set.
Stream the entire Top of the Lake: China Girl series online now.