5 Questions with Top of the Lake: China Girl Star Gwendoline Christie (Miranda Hilmarson)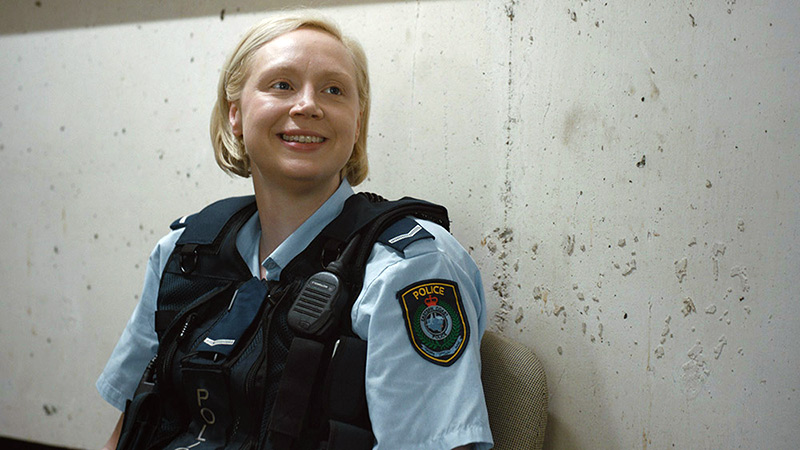 Top of the Lake: China Girl star Gwendoline Christie (Game of Thrones, Star Wars: The Force Awakens) discusses how her letter to Jane Campion scored her a role in the show, how she and Jane built the "impulsive, strange" character of Miranda Hilmarson and what it was like working with the "sensational" Elisabeth Moss.
Q: Can you tell us about the character you play in Top of the Lake: China Girl?
A: I play Miranda Hilmarson. She is a police constable. She's been in Sydney in the police force for around two years. … There is a lot of friction between the men and the women in the workplace, and Miranda doesn't really have so many friends. So when she hears that Detective Robin Griffin, the super detective, is arriving at their police station, she makes a beeline for her.
Adrian [Robin and Miranda's boss] knows Robin and knew her before the case; they have a long-standing history together. And Adrian arranged for Miranda to start to work with Robin. Miranda is a very enthusiastic person. She's unbridled. She can get a little bit carried away sometimes [laughs]. And she's very excited by the prospect of working with Robin, and really wants Robin to be her friend, which proves challenging.
Q: What was your experience like watching Season 1, and how did you get cast in Season 2?
A: I thought it was the most brilliant series. I thought that Elisabeth Moss was brilliant, ravishingly brilliant. Everyone was so real; there was such a reality. And humor, incredible humor. I wondered how Jane might tackle that world, but she tackled in a way that I could never have imagined — with a whole new pair of eyes that illuminated human existence to me in yet another new way. And the relationships between the characters were so complex and so real. I really wanted to be a part of it.
… So I contacted Jane [Laughs] and a miracle happened. I wrote a letter, and she sent me back a very nice message. And then about six months later I got a phone call from her saying that after she read my letter, she started dreaming about me and she'd written a part for me in her new series.
Q: What was your reaction to reading the scripts for Season 2?
A: They were a real page-turner. They really were. The story was so much more complex, dark, funny, but also deeply profound. And exploring a topic that I didn't think has really been explored in a TV show. And exploring it in Jane's inimitable way, which is a very unique voice, a voice you can't predict, a voice that you can't formulate — it's incredibly unique.
I just thought that the material was so well-written, so well constructed and new, that this was a different way of looking at the subject matter — a different way of looking at female characters actually. All the characters. Everybody is very flawed and very, very human consequently — and that's a very fun thing to play. It's also a frightening thing to play because it causes us to look at our own humanity, to look at our own shortcomings, to look at our fragility as human beings, but to actually see the beauty in that.
Q: What was your experience working with Elisabeth Moss?
A: Lizzy is a sensational person. I knew she was a sensational actress, but I didn't know I'd be equally bowled over by her incredible personality, and her discipline, and her dedication, and her imagination and creativity. And her absolutely wonderful, wicked sense of humor. I have so enjoyed every moment that I have worked with her.
Q: What was your experience like working on Top of the Lake: China Girl?
A: We had a fantastic rehearsal period where we were able to come together and talk through each scene, and talk through who the character is, what they like, and go back further and further and further. And every point that you might think, "Oh, that's enough," you push that further. And go further back, or into more detail, because you'd find just these tiny small things — whether it was a sense of smell about something or the way some fabric made you feel — that were these tiny details to build someone.
To build someone multifaceted, to build a character that is conflicted, that's complex, that doesn't make sense, that behaves in ways that are illogical, gauche, unreasonable, impulsive, strange [Laughs]. That was so delightful to do that.
Stream the entire Top of the Lake: China Girl series online now.