Cast Members
Amy Poehler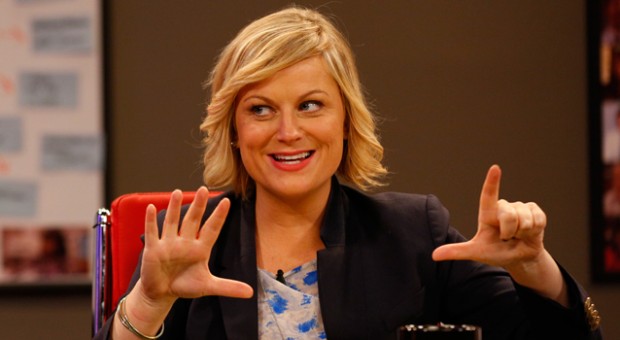 Parks and Recreation - Producer / Writer / Director / Actress - With an impressive body of work that encompasses both film and television, Amy Poehler has emerged as one of Hollywood's most versatile and sought after talents. Poehler currently stars in the NBC comedy series Parks and Recreation from producers Greg Daniels and Mike Schur (The Office). She plays Leslie Knope, an optimistic and over-achieving mid-level bureaucrat and Deputy Director in the Parks and Recreation Department of Pawnee, Indiana. The role has earned her two Emmy nominations and a Golden Globe nomination this past year.

In addition, Poehler has launched an online series, "Smart Girls at the Party" (http://www.smartgirlsattheparty.com), which will launch a dedicated channel on YouTube this summer. Poehler serves as producer and host of the series that showcases real girls who are changing the world by being their selves.

Poehler shot to stardom starring for eight seasons on Saturday Night Live. Renowned as "a brilliantly inventive sketch comedian," (Entertainment Weekly, 11/05), Poehler boasted an impressive arsenal of outrageous characters and memorable impressions. She received two Emmy nominations for Outstanding Supporting Actress in a Comedy Series for her work on the show. After her buzzed-about portrayal of Senator Hillary Clinton during the 2008 Presidential Election, Poehler completed her eighth and final season and her fifth as the co-anchor of "Weekend Update," while twice being nominated for Emmy's.

In 2008, Poehler starred opposite Tina Fey in Universal's hit comedy BABY MAMA. She was also recently seen opposite Parker Posey and Rachel Dratch in SPRING BREAKDOWN, which premiered at the 2009 Sundance Film Festival. In 2007 she starred in the ice-skating comedy BLADES OF GLORY, alongside Will Ferrell, Will Arnett, and Jon Heder. Her other feature credits include HAMLET 2, MEAN GIRLS, MR. WOODCOCK, SOUTHLAND TALES, TENACIOUS D IN THE PICK OF DESTINY, THE EX, WET HOT AMERICAN SUMMER, and ENVY.

Poehler has lent her voice to a number of animated films, including the 20th Century Fox animated film ALVIN AND THE CHIPMUNKS: THE SQUEAKQUEL. Additionally, she voiced Snow White in the box office smash hit SHREK THE THIRD. You can also hear her in Dreamworks' MONSTERS VS. ALIENS and in HORTON HEARS A WHO! with Jim Carrey and Steve Carell. She also created, produced and starred in the Nickelodeon series Mighty B.

Poehler joined the SNL cast from the Upright Citizens Brigade, a sketch/improv troupe originally formed in Chicago. Poehler and the U.C.B. relocated to New York where they had a sketch show on Comedy Central for three seasons on which she was both a writer and performer. In addition, they opened a theater currently regarded as the premiere sketch/improv comedy venue in New York City and a theatre/school in Los Angeles. Poehler and the U.C.B. were featured in A.S.S.S.S.C.A.T.: Improv an improvised comedy special on Bravo. She continues to perform regularly with the UCB's long-running improv show Asssscat, which is celebrating its thirteenth year.

Poehler has made memorable appearances on television ranging from Late Night with Conan O'Brien (as recurring character Stacey, Andy Richter's little sister), Arrested Development, Wonder Showzen and Undeclared" She also was a voice on Spongebob and The Simpsons.