6 Questions with Writer-Director Ed Burns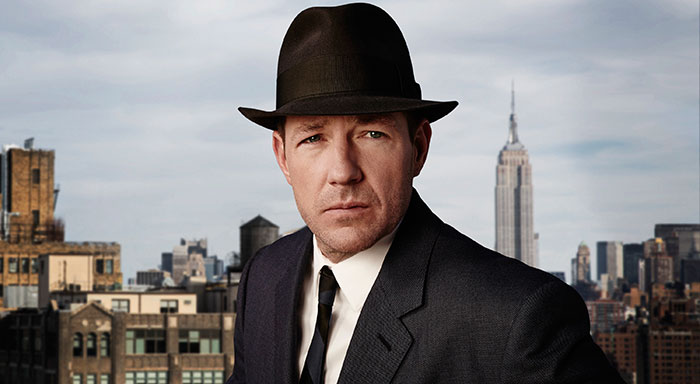 Multihyphenate auteur Ed Burns (The Brothers McMullen, Saving Private Ryan, Public Morals) discusses writing, directing and starring in his new series, becoming a Sundance Film Festival legend and his long and fruitful relationship with Steven Spielberg.
Q: What do you remember about bringing your debut feature, The Brothers McMullen, to Sundance back in '95?
A: We were finishing the film up until probably three nights before I had to be at Sundance…. At that first screening at the Egyptian [Theatre], that is the first time I had ever seen a single frame of that movie projected on film in a theater. So you can imagine, that was a pretty heady and surreal experience. …The audience loved the movie, then you do the Q&A and they say, "Alright, Ed will hang out here in the theater. If you want to meet him just make a line around the edge." The line went all the way out of the theater! You've got a lot of people who dug the movie who just want to say congratulations, but then every agent and producer and manager was coming up to me, handing me their business cards. And I had, prior to getting into Sundance, spent a year getting rejected by every agent, manager and producer. [Robert] Redford came to our second screening…. But the big one had to be the night we won the Grand Jury Prize… we were all just in shock. That's a moment when, as a 27-year-old kid, you recognize life is never going to be the same.
It really was the best week you could have in your life. I keep saying it's like a lottery ticket that you win and then every year you get to keep cashing it in, because I've been able to stay in the business and make movies and tell stories.
Q: McMullen is still an indie legend. When's the last time you watched it? What did you think?
A: It's hard for me to watch anything that I've done once a couple years go by. McMullen is especially painful. I was such a kid when I made it, a lot of the dialogue makes me cringe. It's too close, too personal. I bet it's been 15 years since I've seen it.
Q: From McMullen to Public Morals, your work has often incorporated autobiographical elements. How has your approach evolved?
A: It is really is just that adage about writing what you know and drawing from your own experiences and trying to write with authenticity. There are aspects of my upbringing in and around New York that, for better or worse, I'm obsessed with. And I'm constantly mining my experiences, my parents' experiences and my grandparents' experiences for inspiration.
Q: Who are your biggest filmmaking influences?
A: Hands down, it's Scorsese and Woody Allen. In my filmmaking career I was aspiring most times to be some version of a Woody Allen-type storyteller. Small, personal films, these kind of walk-and-talk stories, drawing from my experiences and the things I was going through as a young man in New York City. That said, [Scorsese's] Mean Streets is probably one of the first films I can remember seeing that opened my eyes to a different approach to filmmaking and storytelling.
Q: What's it been like adjusting to serialized storytelling?
A: The part that's most exciting as a writer is the fact that you can go so much deeper with all of these characters. You can create more complex, more nuanced characters just because you have so much more time to tell your story.
The challenge was thinking about that story and breaking it into ten episodes. I kind of wrote it more as a novel, and then had to go, okay, at 45 pages I'm supposed to finish an episode, so what kind of scene do I need to go out on in order to ensure the audience is going to come back the following week.
Q: What's it been like having Steven Spielberg on board as producer? How has your relationship evolved since the Saving Private Ryan days?
A: Adam Goldberg, Vin Diesel [and I] had all made independent films prior to working on Ryan. We asked him if it would be okay if we could sort of look over his shoulder and periodically pick his brain, and treat the experience a little bit like going to graduate film school. And Steven is extremely generous, and said, "Sure! Why not?"
Since then, I've kept Steven in my life as a mentor. Any time I was thinking about acting in a bigger film or had a new script, I would send it to him and just ask his opinion. And I did that with Public Morals. He read [the script], and instead of just giving me notes, he said, "I love this and I want to help you get it made…" He was there every step of the way, reading the scripts, giving me notes, casting even the smallest parts, looking at auditions. He visited on set a few times, which is, you know, for the cast and crew, the great thrill you could ever have, having Steven show up and give you a pat on the back.
THE RETURNED returns on Halloween at 10/9c. Watch the trailer now or catch up with THE RETURNED Season 1 now!