Top 10 Best Things Amy Poehler Has Ever Done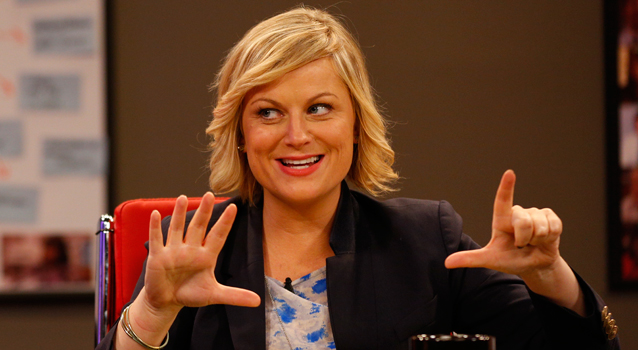 Amy Poehler is probably best-known for her many seasons on Saturday Night Live. Or is she now better-known for Parks and Recreation? Or being co-emcee with Tina Fey on various live telecasts? It's actually hard to say, because Poehler's accomplishments are myriad, impressive and often laugh-out-loud funny.
1. Co-founding the Upright Citizens Brigade.
As a young sketch comedian, Poehler, along with Matt Walsh, Ian Roberts, and Matt Besser, launched the Upright Citizens Brigade, a sketch troupe turned improv/comedy theater turned comic-talent juggernaut. Basically, about half of the people who you find funny did comedy at or around UCB (and Poehler's skill at improv remains legendary).
2. Co-Hosting the Golden Globes with Tina Fey.
It had been too long since longtime friends Fey and Poehler teamed up to work together — they only had a few years together on SNL's Weekend Update and Baby Mama was almost five years old when the Hollywood Foreign Press award show tapped the duo to strike the perfect balance of snarky satire and lighthearted irreverence. And they were so awesome, they co-hosted the event three years running.
3. Her role in Mean Girls.
In 2004, Amy Poehler gave a stand-out comedic performance in the movie written by her homegirl Tina Fey, Mean Girls. Many actresses would shy away from playing a mother to avoid aging their persona, but Poehler manages to jump this hurtle by ripping into her small part with gusto as the world's most permissive "cool mom" to teenage monster Regina George. The result was a treasure trove of quotable one-liners, and a hilarious depiction of a very desperate anti-housewife.
4. Leslie Knope on no sleep.
Poehler also wrote the season two Parks and Recreation episode "Telethon," in which Leslie signs the Parks Department up for a 2AM-6AM shift at a diabetes telethon—and then stays up for the 24 hours immediately preceding the telethon in order to make shirts for everyone. The result is Poehler's most nuanced and lovable character, Leslie Knope, in a state of determined, sleep-deprived delirium—at once hilarious and a touching testament to her unbeatable optimism.
5. "The Debate," Parks and Recreation.
Poehler showed her investment in the Leslie Knope character by writing and directing this pivotal season four episode of Parks, in which Leslie debates the hilariously dopey Bobby Newport (Paul Rudd) while running for city council. The episode has plenty of laughs, but also strong emotional stakes for the characters developed over the previous sixty-something episodes of the series.
6. "Really?!? With Seth and Amy."
Poehler first got Weekend Update attention alongside veteran anchor Fey, but the Poehler/Meyers partnership (already forged in their early cast-member years) arguably got its biggest profile bump from their recurring "Really?!?" segment, in which the pair trades off on incredulous interrogation of a recent current event.
7. Rick! Rick! Rick!
Poehler created a lot of excellent characters during her 8-year run on SNL, but her preteen Kaitlin character, forever excitedly nagging her quiet stepfather Rick (Horatio Sanz, underplaying beautifully) is one of her most endearing, because it springs from Poehler's great sense of character, not just a funny catchphrase or goofy behavior.
8. Smart Girls at the Party
In 2008, Poehler began the tween-and-teen-targeted web-series Smart Girls at the Party, focusing on girls and women who have "changed the world by being themselves," as a counteraction against the sniping and stress of that difficult age. The show has expanded into an online community and website that spreads its positive messages.
9. The Taylor Swift retort.
After Fey and Poehler made a harmless T-Swift joke during that Golden Globes telecast, Swift mentioned to an interviewer that she agrees with a Madeline Albright quote (though she attributed it to Katie Couric) about there being a "special place in hell for women who don't help other women." Poehler fired off a response that managed to be both empathetic and funny: "Aw, I feel bad if she was upset. I am a feminist, and she is a young and talented girl. That being said, I do agree I am going to hell. But for other reasons. Mostly boring tax stuff."
10. Weekend Update co-hosting.
Women had hosted and co-hosted SNL's Weekend Update segment before, but Fey and Poehler were the first two-lady pairing, and they brought a sensibility distinct from the goofball-and-brain Fallon/Fey team that preceded them: alternately smart, cutting, and silly.
Bonus: This time she totally nailed male privilege.