THE WRITERS' ROOM: "Pretty Little Liars" Recapped and Revealed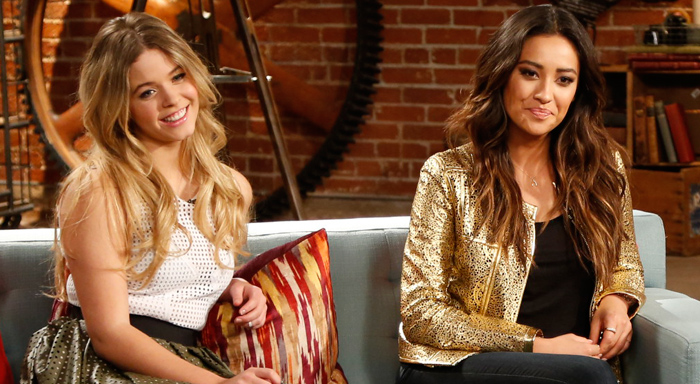 Jim Rash and the creators of Pretty Little Liars are watching a YouTube clip of a screeching fan and her best friends as they squirm and cry through the season 4 finale of Pretty Little Liars. Throughout the episode one constantly pleads, "Get me through this!" to her fellow watchers. We screened a few fan videos on the set of THE WRITERS' ROOM, but that one is particularly telling. Every plot twist is blessed with a jubilant shriek. Every cliff-hanger, another spilled bag of popcorn. And after the show's credits, most fans head over to Twitter to discuss and debate all the details.
Last summer, the Pretty Little Liars season 3 finale incited nearly two million tweets during its live broadcast—making it the No. 1 tweeted telecast ever. But that wasn't the first time that fans of the show had spoken out en masse. In fact, Pretty Little Liars holds all of the top five spots for most-tweeted live viewings, indicating the overwhelming popularity of the show among the social-media-savvy crowd—millennials.
But while the show targets the same audience that Sara Shephard's book series developed before it—young adult females—the show's writers, I. Marlene King, Oliver Goldstick and Joseph Dougherty, told Jim Rash on THE WRITERS' ROOM that the fandom is growing and now includes mothers, fathers—and even brothers—of the core demo. But why all the twitterpation over Pretty Little Liars compared to any other teen mystery drama?
If our taping of THE WRITERS' ROOM is any indication, popularity follows generosity: stars of the show, Shay Mitchell (who plays Emily Fields) and Sasha Pieterse (Alison DiLaurentis), brought a ton of swag to share with the crew. They even autographed headshots. It's also clear that when it comes to rewarding fans, these girls know what they're doing. Mitchell goes out of her way to satisfy the show's steadfast—taking to Twitter to talk to them during and after the show—and they love her for it. Who can blame them?
King, Goldstick, and Dougherty—each a veteran TV writer—all reiterated how the closeness of fan interaction has changed the way we watch television. It empowers viewers to invest in the narrative Goldstick says—it also changes the direction of the story-telling. While Shephard's books provide tent-poles, nodes and long narrative arcs, the real writing is in how they are connected. And everyone knows immediately when something doesn't works. How? Just check your Twitter feed.
Think you know everything about the girls of Rosewood High? Take the Pretty Little Liars Quiz.