THE WRITERS' ROOM: "House of Cards" Recapped and Revealed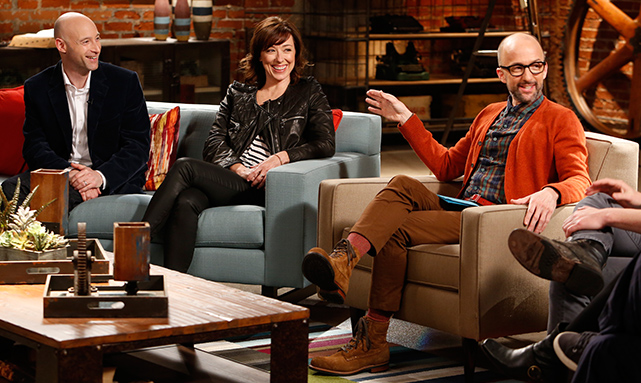 Midway through taping our "House of Cards" episode of THE WRITERS' ROOM, we showed the series' creators a clever rap tribute made by superfan Adam WarRock who raps about dirty DC politics, Freddy's Ribs and even education reform (to keep things smart). But he dwells on binge-watching above all: "I can't stop watching House of Cards," he says in the chorus, "six episodes/ in like 24 hours/ gonna knock out like seven mo'." For Warrock, binge-watching House of Cards is the only way to stay ahead of "the pack." And if he's learned anything from the show, it's that staying ahead is essential to staying alive! Because once a season of House of Cards is dropped, the spoilers start going off like bombs.
That's why showrunner Beau Willimon was so hesitant to say anything too plot-specific during the taping of our show. He stuck to the known facts about process and scope on camera and off. Talk about a political maneuver. What we did learn is that for the cast of House of Cards, as in real life, the only certainty is death. The difference is that in the series, you're more likely to be killed. Literally. "Everyone [in a political office] must be willing to be a murderer," Willimon says. And the writers want to keep it that way. During the taping of our show, Willimon used violent imagery to describe the show as cutting open the truth of Washington power brokers and tearing into the dark world of politics. Since the premiere episode of Season 1, even the neighborhood dogs are watching their backs.
That aside, THE WRITERS' ROOM panelists were oddly chummy with one another on set… For a show about power, deception and broken alliances, the creative energy here seems wildly egalitarian. Willimon repeatedly credited fellow panelist John Mankiewicz (the only veteran TV writer in the room) with providing critical direction about structuring the finale, while cowriter Laura Eason couldn't stop complimenting Willimon on his strong dramatic arcs… It left me feeling suspicious. As our rapper Warrock says: "POLITICS IS DIRTY, MAN!/…/IT'S ALL A LIE, MAN!" No one who makes a show like this one can be trusted!
To paraphrase the New York Times, if The West Wing was what we hoped Washington politics was like in real life, House of Cards is what we fear it has actually become. Everyone on the panel agreed on that. But fans (the actual POTUS included) don't mind. In fact, like WarRock, they're inspired. Willimon's writers' room mandate to "subvert the trope" keeps all narrative options open: That means what goes up doesn't necessarily come down. And that's part of the excitement in the story. As our rapper wisely says of Frank Underwood: "When he gives that wink/…/ You're in on the plan/ You're along for the ride/ So good, Goddamn!"
Would Frank Underwood and series creator Beau Willimon be impressed with your House of Cards knowledge? Take the quiz and find out!