Top 10 Supernatural TV Shows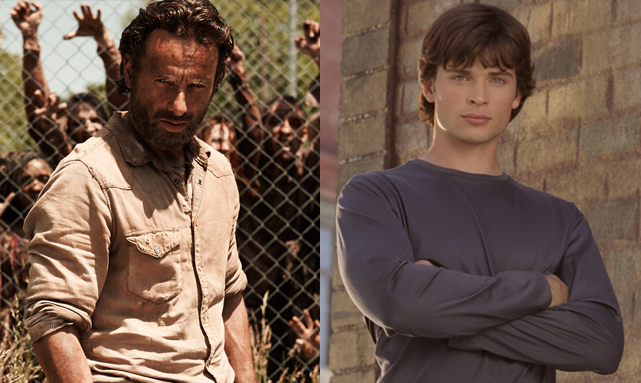 From zombies to monster hunters, we've hunted down the best English-speaking supernatural shows of the last 25 years. (Otherwise, THE RETURNED would be in the top slot, naturally.) Check out the list below, if you dare.
1. The Walking Dead (2010-Present)
Prior to AMC's adaptation of the hit comic book series, zombies on the small screen looked less like gruesome monsters and more like drowsy hipsters. That all changed with The Walking Dead, which unleashed a bevy of decaying monstrosities on the poor citizens of Georgia. The Walking Dead upped the ante for horror on television by making no character immune to grisly death. In fact, there have been so many tragic onscreen passings, the cast line-up has changed dramatically in just four seasons. [See: 10 The Walking Dead Deaths That Made You Cry]
2. American Horror Story (2011-Present)
The pitch for Ryan Murphy's twisted supernatural anthology series must've gone something like this: "It's The Shining meets David Lynch with a little S&M mixed in for good measure." Part of the fun of this show is that it changes completely with each season, and it's all the better for shocking and surprising us each time. Season One examined dysfunctional family dynamics within a haunted house, while Season Two threw viewers into an insane asylum with regular cast member Jessica Lange as a terrifying nun. The third season went full-on supernatural crazy with a story about a coven of witches that also somehow managed to include Fleetwood Mac songstress Stevie Nicks as herself. At this point, it's anyone's guess where the show will go next. Whatever happens, it's guaranteed to be eerie and unsettling.
3. Games of Thrones (2010-Present)
From the moment the White Walkers stalked across the barren wasteland beyond The Wall, it was clear that HBO's adaptation of George R.R. Martin's acclaimed book series would mix supernatural scares with high fantasy. And so far the series has given fans dragons, a killer smoke demon baby, a flaxen-haired sorceress, and "Wargs," aka characters who can enter the minds of animals. With several seasons (and two books) left in the series, who knows what else Game of Thrones will offer up. Deadly bunnies, perhaps? No, wait, Monty Python did that already.
4. True Blood (2008-Present)
With its no-holds-barred approach to sex and blood-spewing violence, True Blood is the show vampire fans were waiting for post-Twilight mania. (No sparkly teen vamps or shirtless werewolves who fall in love with babies here.) Mixing social commentary with over-the-top scares, for awhile, True Blood was unlike anything else on TV. (Telepathic fairies? Sure, why not?) At this point, a Chupacabra could show up and we wouldn't be surprised.
5. Supernatural (2005-Present)
Picking up the reigns from supernatural TV greats like Buffy and The X-Files, The Winchester Bros. have been hunting demons, ghosts and all manner of ghouls on The CW since 2005. In an era when most supernatural drama leans heavily on gloomy romance, Supernatural has remained a fun, straightforward apocalyptic action-fest. It probably doesn't hurt that stars Jared Padalecki and Jensen Ackles have inspired more than a few obsessive Tumblr tributes. But the show wouldn't have lasted nearly 10 seasons if it didn't also have its fair share of scares and twisty plotlines.
6. Smallville (2001-2011)
Over the course of this long-running superhero series, Clark Kent faced all sorts of bizarre baddies thanks to the same meteor shower that brought him to Earth. Mixing soapy teen drama with action-packed "freak of the week" plots, Smallville was a hit with both the comic book and swooning romance novel set. While its earnestness wasn't everyone's cup of tea, Smallville deserves credit for paving the way for hits like Heroes and Arrow.
7. Lost (2004-2010)
Polar bears, smoke monsters, time-travel, mysterious hatches — these are just some of the clues and red herrings that were spawned from the question, "What is up with that island?" Was it all just a dream inside the mind of a dog? (Well, that theory has been rejected.) But as the series progressed, fans took to the Web to discuss their various theories and the show's many OMG moments. (We still get chills at the words "Not Penny's Boat.") It's a testament to Lost's legacy that fans are still arguing over the series' divisive finale all these years later.
8. Carnivále (2003-2005)
Remember when they cancelled Carnivàle after only two seasons, and everyone collectively yelled, "BUT IT WAS GETTING SO GOOD!?" Fans are still recovering from not knowing the meaning behind so many of the crazy, apocalyptic details that were building up in this tale of a mystical traveling circus and the impending battle of good versus evil. (How exactly did the Knights Templar fit into the story?) Though the Carnivàle faithful may never get all of their questions answered, the show's unique premise and gorgeous cinematography rank it as one of the best supernatural dramas of all time.
9. Buffy the Vampire Slayer (1997-2003)
High school is hell. Particularly when your school sits on a literal "Hellmouth" that serves as a gateway to a demonic dimension. Over the course of seven seasons, Buffy and the "Scooby Gang" battled all manner of vampires and other nasties while still making time for hilarious quips and plenty of relationship drama. (Fans debated the merits of Angel versus Spike way before Edward ever bared his fangs at Jacob.) It's the show that put Joss Whedon on the geek map, and showed that supernatural drama doesn't always have to be dark and brooding.
10. The X-Files (1993-2002)
Supernatural TV wouldn't be the same without this long-running paranormal sci-fi series. With their believer/skeptic routine, Agents Mulder and Scully set the template for investigators of the strange and creepy to come. Over the course of the series, Mulder and Scully encountered everything from ghostly telekinetics to the fabled "Jersey Devil." While the writers laid on the alien mythology pretty thick, the best episodes featured supernatural chills that made us question what was in our own backyards. (Remember the "Fluke Man" episode?)
Watch THE WRITERS' ROOM: "The Walking Dead, Smallville & other comics," online now.
Want more? SundanceTV's THE RETURNED returns this fall.