THE WRITERS' ROOM: "The Walking Dead, Smallville & other comics" Recapped and Revealed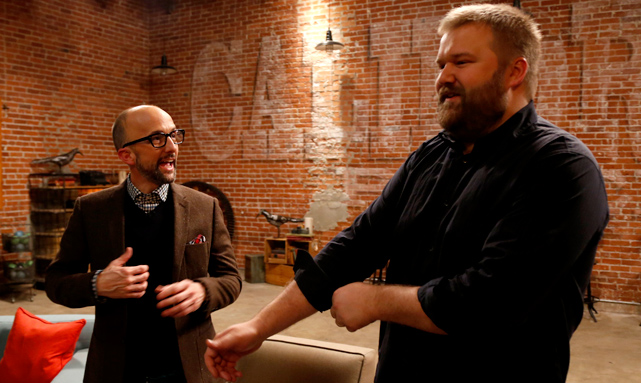 Taping THE WRITERS' ROOM, like every episode of The Walking Dead, cable's most-watched TV series ever, is never quite drama-free. Before our host Jim Rash even began discussing The Walking Dead, Smallville and other comic adaptations in this season's second episode, the lights began flickering on and off. At one point, the power generator went completely dead. For TV producers, a blackout on set is nerve-racking. But for Robert Kirkman, creator of The Walking Dead comic book and executive producer of the show on AMC, it was a punch line. He loved it. Of course, he's no stranger to the mad excitement of a looming apocalypse. And neither are his fans, who are millions strong.
Kirkman and his fellow panelists (comic book writer Blair Butler and Michael Schneider, LA bureau chief of TV Guide Magazine) agree that the time for apocalypse narratives on TV is now. They theorize that during times of widespread global instability, audiences seek out stories that highlight the triumph of human relationships over impossible odds like, well, zombie invasion. Yet Schneider insists that there's nothing really new here: TV viewers have always sought out "that could be me" moments in extreme situations. Zombies are just kind of zeitgeist-y, which hasn't always been the case.
When Smallville premiered, just after 9/11, the pendulum was swinging in another direction: America was looking for a hero. Al Gough and Miles Millar, the series' creators, don't discount that timing for Smallville was integral to its success [read their interview here]. Superman is so thoroughly American after all.
But there's always a risk that timing could be off. Audiences might not be ready to see their favorite comic books come to life. In fact, everything that Kirkman had written up to The Walking Dead had been, according to him, a "massive failure," which is hard to believe. Now, he's made the undead come so alive that zombies have been integrated into popular culture far outside the world of Hollywood. (Butler alleges that the CDC has even initiated a "zombie preparedness" kit that trains citizens for potential, unexpected disasters.) Even his original storylines have life outside the comics: new characters, altered situations. Someone who loses his hand in the comic magically has two functioning hands in the series. "Screw the comic," Kirkman says. This is TV. In adapting comics for the screen, certain liberties must be taken.
The dream scenario, though, is that the comic lasts far beyond the TV series. While TV shows rarely last more than five seasons, a comic can continue evolving for decades. Gough, Millar and Kirkman all agree that the goal is to honor the story, its characters and their fans, without pandering or compromising for ratings. And while Kirkman admits that he can't satisfy every fan of the show, he did stick around for an hour or so after taping THE WRITERS' ROOM to sign comics for everyone on the crew.
Watch all new episodes of THE WRITERS' ROOM Mondays at 11PM/10c.
Want more zombies? Take The Walking Dead Quiz. Superman fanatic? Take the Smallville Quiz.