SundanceTV announces new season of THE WRITERS' ROOM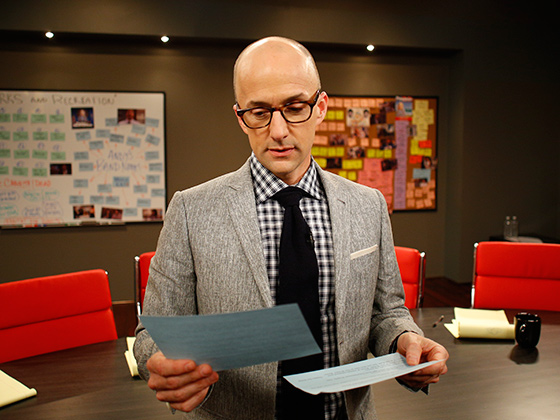 'THE WRITERS' ROOM,' HOSTED BY ACADEMY AWARD®-WINNING SCREENWRITER JIM RASH, RETURNS MONDAY, APRIL 14 AT 10PM ET/PT ON SUNDANCE TV
Sophomore Season of Acclaimed Series Dives Into the Creative Genius Behind Scandal, House of Cards, The Good Wife, Sons of Anarchy,  Pretty Little Liars and Comic Book Adaptations
New York – March 28, 2014 – SundanceTV announced today that the second season of its critically acclaimed original series THE WRITERS' ROOM hosted by Academy Award®-winning screenwriter (The Descendants), comedian and actor (Community) Jim Rash, will premiere Monday, April 14 at 10:00 PM ET/PT.  The six-part series will take viewers inside the writers' rooms of enormously popular television series, including Scandal, House of Cards, Sons of Anarchy, The Good Wife and Pretty Little Liars.  In addition, The Walking Dead, Superman and Other Comic Book Adaptations will explore the increase in graphic novel adaptations for television and feature some of the masterminds behind The Walking Dead and Smallville.  Host Jim Rash will steer the conversation as writers, producers and actors raise the curtain on the creative process behind these beloved series.
"There's so much tremendous TV today, creators are pushing boundaries and viewers are highly engaged.  With THE WRITERS' ROOM, we are able to provide TV fans with an insider's perspective on the shows they love," said Sarah Barnett, President and GM of SundanceTV. "Jim Rash hosts these conversations with insight, expertise and a certain irresistible charm."
"I'm delighted to have the chance to host THE WRITERS' ROOM for a second season," said Rash.  "It's such an honor to sit with writers I've admired for years and share with our audience the creative process and how words on a page come to life."
Episode Order, Airdate and Panelists (in alphabetical order) include:
Scandal
Premieres Friday, April 18 at 9:00 PM ET/PT
Jenna Bans (Co-Executive Producer)
Matt Byrne (Story Editor)
Heather Mitchell (Supervising Producer)
Shonda Rhimes (Creator and Showrunner)
Kerry Washington (Cast Member)
Mark Wilding (Executive Producer)
The Walking Dead, Superman and Other Comic Book Adaptations
Premieres Friday, April 25 at 9:00 PM ET/PT
Blair Butler (Writer of the comic book Heart, Geek Culture Expert for MSN Nerdcore)
Al Gough and Miles Millar (Creators and Executive Producers, Smallville)
Robert Kirkman (Creator and Writer of The Walking Dead comic books and  Executive Producer and Writer, AMC's The Walking Dead)
Michael Schneider (Los Angeles Bureau Chief, TV Guide Magazine)
House of Cards
Premieres Friday, May 2 at 9:00 PM ET/PT
Matt Bai (Political Consultant/National Political columnist for Yahoo! News)
Laura Eason (Writer and Story Editor)
John Mankiewicz (Writer and Co-Executive Producer)
Molly Parker (Cast Member)
Beau Willimon (Creator and Showrunner)
Sons of Anarchy
Premieres Friday, May 9 at 9:00 PM ET/PT
Mike Daniels (Co-Executive Producer)
Charles Murray (Co-Executive Producer)
Katey Sagal (Cast Member)
Kurt Sutter (Creator and Showrunner)
The Good Wife
Premieres Fruday, May 16 at 9:00 PM ET/PT
Ted Humphrey (Writer and Executive Producer)
Michelle King (Creator, Executive Producer and Showrunner)
Robert King (Creator, Executive Producer and Showrunner)
Julianna Margulies (Cast Member)
Pretty Little Liars
Premieres Friday, May 23 at 9:00 PM ET/PT
Joseph Dougherty (Executive Producer)
Oliver Goldstick (Executive Producer)
I. Marlene King (Executive Producer)
Shay Mitchell (Cast Member)
Sasha Pieterse (Cast Member)
Jim Rash is an Academy Award winning writer, as well as an acclaimed actor and director who has emerged as one of Hollywood's most gifted and multi-faceted talents.  Last year, Rash had the Fox Searchlight film THE WAY, WAY BACK, which was released in July, 2013.  Joining his writing partner, Nat Faxon, Rash co-wrote, co-directed and starred in the film alongside a notable cast including Steve Carell, Toni Collette, Sam Rockwell, Amanda Peet and Maya Rudolph.
In 2012, Rash won an Oscar for Best Adapted Screenplay for THE DESCENDANTS, which he co-wrote alongside Alexander Payne and writing partner Nat Faxon. The film starred George Clooney, Judy Greer and Shailene Woodley.  He also received an Independent Spirit Award, Writers Guild of America Award, Satellite Award and National Board of Review Award for his screenplay. In addition, Rash is currently writing with Faxon on an untitled action comedy for Indian Paintbrush featuring Kristen Wiig as well as another project for Alexander Payne's production company Ad Hominem and Fox Searchlight. Airing currently is season five of NBC's hit comedy series Community, where he plays the cross-dressing educator, Dean Pelton.
THE WRITERS' ROOM is part of SundanceTV's impressive slate of offerings including its highly anticipated original series THE RED ROAD, starring Jason Momoa, Julianne Nicholson and Martin Henderson. Later this year, the network will unveil THE HONORABLE WOMAN starring Maggie Gyllenhaal and season two of the critically acclaimed RECTIFY.  2013 was a landmark year in which SundanceTV successfully launched a widely acclaimed original scripted slate with TOP OF THE LAKE, RECTIFY and THE RETURNED.