"THE RETURNED" Recap: Episode 207 (Etienne)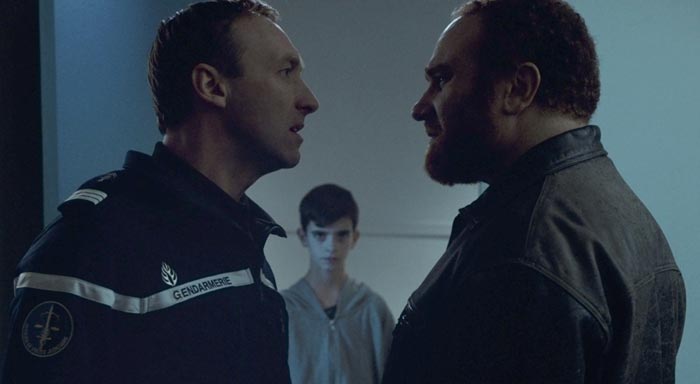 Ten months after the original flood 35 years ago, Milan gathers a group of townspeople in the woods and tells them the time has come to join the dead in the afterlife. Milan comforts Simon's parents as they have second thoughts and tells Etienne he will finally be freed from his guilt.
They allow Etienne to execute them one by one, with Milan killing Etienne and leaving a young Pierre to finish Milan himself off. Pierre kills Milan but can't bring himself to end his own life, so he flees, Victor/Louis watching from the bushes unseen. Police rescue the group's children from a cabin nearby.
In the present day, Pierre and Frédéric speculate as to whether Victor/Louis somehow caused the other goon's suicide. They hear that Sandrine has forced her way in to see Audrey and hurry to help. Sandrine pleads to Pierre to let Audrey go, but Frédéric convinces him to stand firm and they rush out, locking Sandrine in with her daughter.
Virgil comes to visit Camille and her family, still trapped inside by the horde. Virgil tells Camille she must finally leave her family behind and come with him as the horde migrates, but she refuses. The horde moves on. The family cautiously makes their way back to the town. Meanwhile, Berg follows the horde.
Virgil challenges Lucy on her inconsistency, pointing out that she said the returned must all come together, but Simon, Camille and others are apart. Lucy tells Virgil she'll know what to do when they have Simon and Adèle's baby.
Father Jean-François tells Simon that police are holding Adèle and suspect she faked the kidnapping. Simon storms out with Chloé, determined to get the baby back.
A doctor tells Adèle that her baby has an irregular heartbeat and abrasions on his forearm, warning her that she won't be allowed to see the child until they determine she's not trying to hurt him.
Chloé asks Simon why Lucy wants to steal Nathan. He explains that Lucy thinks the baby will save the returned, claiming Lucy doesn't know as much as she pretends to.
Ophélie tells Julie that Mr. Lewanski has died and asks if she can put her in touch with any family. As Julie refuses, they hear a scream from nearby: Madame Costa has startled an examiner by returning to life before her autopsy.
Soldiers question Victor/Louis about Pierre's goon's suicide and ask him to help them find his parents, but he reveals nothing.
The horde scatters as a helicopter passes overhead. Berg heads into the crowd and meets his father. Etienne tells Berg he remembers nothing. Lucy asks Morgane to help her corral the others, but he walks away.
Police question Adèle, trying to connect the dots of Simon's arrest by Thomas, the surveillance videos showing Adèle and Simon together, Thomas' death and the baby's kidnapping. Adèle imagines Thomas urging her to tell the truth and incriminate Simon, but she tells the officer Simon is dead.
Julie visits Madame Costa, who tells her a man from the Helping Hand shot her, and that she was with Victor on a mission to find Julie at the time. Julie hurries off to look for Victor.
Police question Milan but are baffled by his vague, philosophical allusions to his suicide cult and apocalyptic philosophy.
Next the police bring Camille, Claire, Jérôme and Léna to the same holding room as Adèle to await questioning. Adèle and the family share information until Chloé appears to join Adèle.
Berg escorts Etienne to his old office. In a flashback, Etienne demonstrates a scale model of the dam to his son before receiving a visit from Victor, who warns him the dam will collapse and kill hundreds if it's built. Etienne is disturbed, but tells Victor to be on his way. Victor heads to the Lewanskis' where he meets Mrs. Lewanski for the first time.
An officer asks Jérôme point blank if Camille is his daughter and how she was declared dead. Jérôme admits that he doesn't understand and begs the officer to let his family go.
Julie visits the Helping Hand and demands Victor's whereabouts. Pierre takes her aside and asks her what she knows, trying to convince her to join the fight against the returned. When she refuses to help, they chain her up with the others.
Victor confronts Milan, telling him not to hurt Julie. Milan seemingly defers to Victor, crediting him with causing all of the supernatural occurrences and offering to help him. Victor protests that he isn't the cause.
An officer shows up to ask Milan why he alluded to the suicide cult. Milan's chilling answers provoke the soldier to draw his weapon. Victor blacks out all power to the police station and makes the aggressive officer shoot another soldier. The rest of the force catches up with the rogue shooter and kill him. Jérôme leads the detainees out of the the station in the confusion, but Adèle refuses to leave without her baby, asking the Segurets to take care of Chloé.
Adèle runs into Simon inside and they discover the baby is missing. Adèle guesses the soldiers must have moved him, but Simon is certain Lucy has taken the child. Victor flees the station by himself.
View photos from THE RETURNED Episode 207.