Camille's Shocking Return: Episode 1 Recap (Spoiler Alert)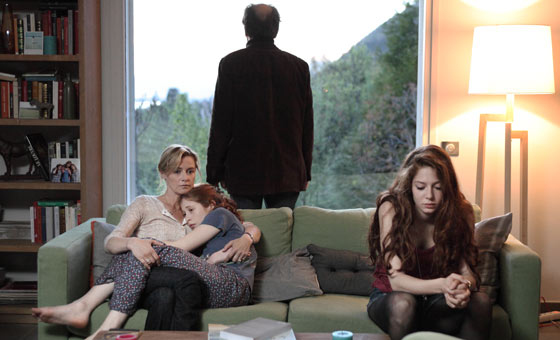 Episode 1 – "Camille":
In a French mountain town, a seemingly random group of people find themselves in a state of confusion as they attempt to return to their homes. They're unaware they've been dead and their attempt to rejoin the world shakes families and loved ones.
Oh my god. So obsessed with this creepy zombie mountain town show (and secretly relieved that not all zombies are falling apart and have blood lust). But the show raises more questions than anything… It's like when you are watching a horror movie and you are screaming at the screen, "NO DON'T GO IN THAT DILAPIDATED HOUSE!" or "RUN YOU SILLY FOOL, HE'S GOT AN AXE!" This show is more subtle than that, but still. A few questions:
1. What the hell is up with creepy mountain towns?
2. If I was Claire I would have grabbed (daughter) Camille and ran her butt straight to a hospital.
3. If a creepy (cute, but TRES CREEPY) little boy followed me home and started eating my food, I would call the police.
4. Wait – THIS HAS HAPPENED ONCE BEFORE? THE CREEPY MOUNTAIN TOWN HAS HAD ZOMBIES?
5. Does no one in this town know not to walk alone at night – especially in a creepy dimly lit underpass?
6. Doesn't anyone own a car?
7. Poor Adele. Id think I was going crazy too – but man, did Victor take it to the extreme.
8. So… the Returned can't sleep… and somehow they make it out of burning houses alive?
9. The dead come back – and now the living are dying. One is murdered and another commits suicide. This doesn't bode well. I'd move.
10. Okay. One twin has sex and the other can feel it? AIGH! Talk about no privacy…
11. So the tres creepy (but cute) little boy has been dead for a while… is he the "first case" the doctor was talking about? And this means the Returned don't age? Ever?
Kind of dying (not literally, thank god, although apparently, if I lived in this town, I'd have a good chance of coming back) for next week. Is the murderer a zombie too? Was it only the people who died on the bus who are coming back? Or is it everything that died in that time period – because the butterfly came back…
I have no nails left. Thank you, SundanceTV.