A Sign of Judgment Day: Episode 3 Recap (Spoiler Alert)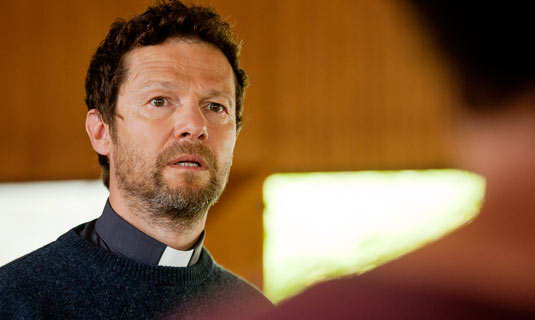 Episode 3 – "Julie":
Determined to come out of hiding and return to something resembling normal life, Camille invents a new identity for herself. Adele gets closer to Simon and reveals surprising news. Life around town is getting more and more disturbed.
Okay. So I have a theory about this show – and it's Biblical… In the Bible there is a passage Matthew 12:38-42: "…At judgment time, the citizens of Ninevah will come back to life along with this generation … At judgment time, the queen of the south will be brought back to life along with this generation …"
So – are the Returned a sign of Judgment Day? But why only a select few? Luke mentions the "resurrection of the righteous" – but the serial killer can't be all that righteous, right?
And when people rise from the dead, the birds are supposed to fall out of the sky, the fish are supposed to die and Armageddon starts, so…
On to episode three!
And even more questions:
Does no woman in this town know safety rule number one? DON'T WALK ALONE LATE AT NIGHT… are there no taxis in this town? And why – if the underpass has been a site of an attack before isn't it better lit with cameras? There are cameras, but why aren't they inside the attack tunnel?
But – the attack explains Julie's affection for creepy but cute little Victor – she cant have kids and one just shows up…
Ok whoa – Costa's wife died in 1978? This Resurrection is a pan epidemic…
Does no one in this town communicate with each other?
And what is up with that creepy shrink/doctor?
So the bar owner knows his brother is a killer/weirdo, right?
Julie gets attacked again? And the guy turns into creepy kid Victor? I'm confused. And creeped out. Again.
Not to mention – you'd think the town police chief would have sent out a bulletin about Lucy being attacked – so the women in the town know not to wander off at night. But instead he's stalking his fiancée on CC TV…
And what's with the wild animal with its stomach ripped out and the flies in the trash at Lena/Camilles house.. Looks like what was in the killers cabin. Or the rotten sewage water in the pub? The zombies are bringing bad things..
What is with the scar on Lena's back?
AND OH MY GOD THE KILLER IS BOTH VINCENT AND THE BAR MANAGERS BROTHER?
I knew that kid was creepy…
A suspicious writer,
Paula