"THE RED ROAD" Cast on Memorable Moments from Season 1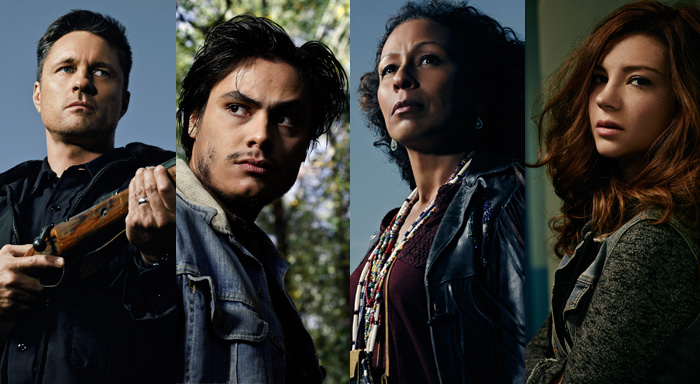 Do you have a favorite moment from THE RED ROAD Season 1? We know it's hard to pick just one, but it might help to read up on the scenes that stuck with the series' stars. Martin Henderson (Harold Jensen), Kiowa Gordon (Junior), Tamara Tunie (Marie), Allie Gonino (Rachel Jensen) and Executive Producer Sarah Condon weigh in on what they loved about Season 1.
Martin Henderson (Harold Jensen): When I get to beat up Jason Momoa (Phillip Kopus), because we all know, in real life that would and could never happen.
Kiowa Gordon (Junior): If whoever reads this hasn't seen the show yet, spoiler alert! Favorite moment was shooting Jack in the back to save my family.
Tamara Tunie (Marie): My favorite moment from last season's THE RED ROAD was the scene when Julianne's character comes to my house looking for Phillip. My character shows a lot of compassion for her, considering earlier, she wrecked my car and came to my door with a gun!
Allie Gonino (Rachel Jensen): Hmmm, a favorite moment from Season 1…It was actually a moment that didn't end up making it into the final cut, but in the first episode, Jean and Rachel are fighting in the foyer, yelling and screaming at each other. Our director, James Gray, told Julianne to slap me in the face without my knowledge. I wanted to laugh so badly, but I stayed in character and we finished the scene. It was such a surprising move, which made it exciting.
Sarah Condon (Executive Producer): My favorite scenes from Season 1 are probably the scenes between Martin and Jason, because I think their chemistry and combativeness is always exciting onscreen. One of my favorite scenes is the one where they're outside the diner in the rain talking about everything that's happened. We always pictured this cat-and-mouse game between these characters, one who comes back seemingly a criminal, one who's a police officer, but their two worlds collide and they have this tremendous impact on each other. Another scene that I love is when Kopus kills Mike, because I think it's an incredibly sad scene that took a lot of great acting from both those guys in terms of his need to kill his best friend. It's a very wrenching scene.
Want more? Read exclusive interviews with Martin Henderson, Kiowa Gordon, Tamara Tunie, Allie Gonino, and Sarah Condon, then watch a video interview where Jason Momoa answers fan questions.
Watch THE RED ROAD Season Finale Thursday 10/9c on SundanceTV.