Keep Up With the Cast of "THE RED ROAD"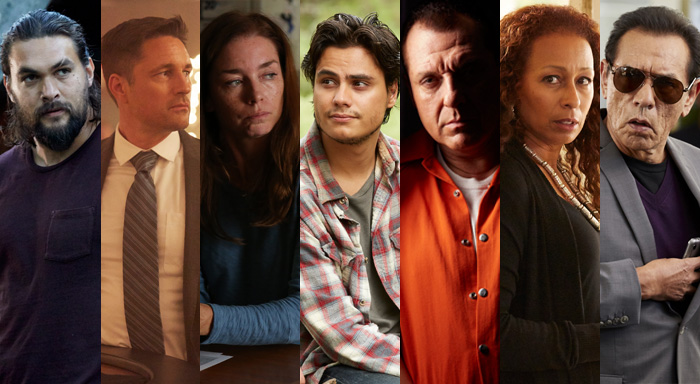 Want to catch up with the THE RED ROAD stars? Read up on the cast's other big and small screen projects.
Jason Momoa (Phillip Kopus)
In addition to the offbeat upcoming "cannibal love story" The Bad Batch and 2015 thriller Sugar Mountain, Momoa has joined the DC Comics film universe in the role of Aquaman, and will appear in 2016′s Batman v Superman: Dawn of Justice and The Justice League Part 1 (2017) before headlining his own Aquaman movie in 2018.
Martin Henderson (Harold Jensen)
The New Zealand native will appear in the suspenseful Everest alongside Jake Gyllenhaal, Josh Brolin, Robin Wright, Sam Worthington, Emily Watson and John Hawkes. In 2016 he'll star in Hellbent as a fugitive drifter enlisted by a 16-year-old runaway (Isabelle Fuhrman) to transport her across the country.
Julianne Nicholson (Jean Jensen)
Nicholson will star in 2015 Whitey Bulger biopic Black Mass, starring Johnny Depp, as mob wife and Bulger associate Marianne Connolly opposite gangster husband Joel Edgerton (The Great Gatsby, Zero Dark Thirty).
Kiowa Gordon (Junior)
Gordon is starring in 2015′s Medicine Man, a tale of rival Old West snake oil salesmen. He'll also appear as Dakota in Bomb City, a gritty Texas drama about a youth gang who commits a hate crime.
Tom Sizemore (Jack Kopus)
Sizemore has a number of projects slated for release in 2015, including indie drama Durant's Never Closes, starring Sizemore as mysterious restauranteur Jack Durant alongside Pam Grier and Peter Bogdanovich.
Tamara Tunie (Marie)
You can see Tunie in 2015′s Bad Vegan, an indie comedy about the titular dietary movement. Zoo, Tunie's new drama series premiering in June, follows a scientist trying to get to the bottom of of a wave of violent animal attacks.
Wes Studi (Levi)
Catch the veteran character actor in Palominas, an action-packed upcoming Western from modern day cowboy Thadd Turner about a sheriff defending against hired guns on the Mexican border. Later in 2015 Studi will appear in Candles, a fictionalized retelling of a tragic real life crime.