"THE RED ROAD" Recap: Episode 201 (Gifts)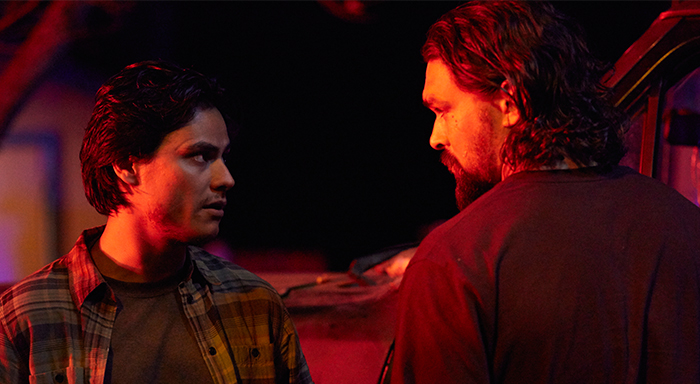 Police top brass interview Harold on the bloody shoot-out with the Albanians, while other cops try to beat a confession out of Phillip. Both men stick to the same story, distancing Phillip from his father and framing Harold's actions as self-defense. Harold is hailed as a hero when one of the dead criminals turns out to be a wanted cop killer.
A year later, tensions between the tribal community and neighboring townspeople are at a high as both groups wait for the government to officially recognize the tribe and bar public access to the mountains where they live. Harold, who has been promoted, tries to stop the townspeople from littering and illegally hunting as they take advantage of their last chance to use the land. Phillip works at a construction site, just set free after surviving a stint in jail–despite attempted assassinations by Albanian inmates.
On a hunting trip, Mac takes Junior to hidden ruins deep within the woods and counsels the boy against reconnecting with his absentee father, a tribal chief who has been sending Junior gifts, pointing out that the man didn't bother to help Junior's drug-addicted mother when Junior was a baby and he had the chance.
Jean anonymously leaves a new bike at the home of the Lenape boy she injured.
Phillip goes to Marie's house, but decides to stay elsewhere after learning that Mike Parker's infant son is currently staying over with his mother. Marie suggests the abandoned home of a recently deceased neighbor.
Mac and Junior discover a deer that has been poisoned by sludge from illegal dumping and bury it.
While Jean struggles with her symptoms of schizophrenia, Harold tracks Phillip down. The two men agree to stay away from each other's families and never cross paths again.
Captain Warren tells Harold that his ambitions to replace him as captain may be foiled by his lack of popularity within the force, advising Harold to be more social.
As Harold tries to make plans with fellow officers, Frank Morgan, father of the injured boy, shows up at the station with a box of toys and tells Harold to tell Jean to stop visiting his house.
Phillip and a pair of fellow workers scatter the access road to the mountains with barbed wire-wrapped posts to discourage the townspeople's overhunting.
Harold confronts Jean over the toys, but comforts her and assures her she can move on, as the injured boy has fully recovered. Jean encourages Harold to have the guys over.
Over poker, the cops gripe about the prospect of being forced to work together with new tribal police, suggesting they may ignore calls for help. Jean listens in as one of the guys mentions Phillip's release from jail.
Harold gets an emergency call from a rookie cop who's stuck in the mountains with a flat tire. The guys head up to rib him and offer help, getting angry when they see the posts littering the access road. Mac appears from the woods with a rifle and the cops find themselves in a standoff as everyone refuses to put down their weapons. A sound spooks the rookie and he fires a shot into the woods. Harold and his cohorts leave the scene.
Junior's father, Chief Levi Gall, warns Mac that he'll face threats from every side as chief of a federally recognized tribe, offering financial support. Mac turns the successful chief down, unimpressed by his integration into American corporate culture.
Phillip's Lenape foreman questions him about the discarded posts, firing him and informing him that Mac officially "disenrolled" Phillip from the tribe after his most recent arrest.
Phillip shows up at a tribal celebration and asks where he can find Mac, learning the elder is at home. As he approaches Mac's house, he sees a car peel off and finds Mac dead with a bag of cash on the ground nearby. Phillip takes the bag of money as Junior arrives at the scene and discovers the body. Phillip tells Junior he didn't kill Mac and calls 911.
Harold takes Junior and Phillip's statements — Junior claiming he arrived on the scene first — and tells the men the FBI will be handling the investigation since the mountains are now federal land. Phillip thanks Junior for his help and promises they'll identify Mac's killer. Junior replies that he already knows who did it and that he'll execute the killer himself.
Need to catch up? Read recaps from Season 1.