6 Questions with "THE RED ROAD" Star Tamara Tunie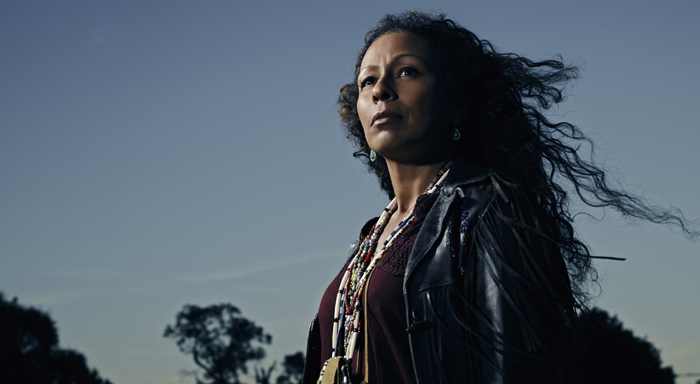 THE RED ROAD's Tamara Tunie discusses Marie's parenting style, the role of women in the Lenape culture and her favorite episode of Law & Order: SVU.
Q: By your own real-life standards, would you say Marie's tough or easy on Phillip?
A: I think she is easy on him. But that is because of her own guilt.
Q: Have you learned about any unique aspects of Lenape culture in the process of working on THE RED ROAD?
A: Lenape kinship system has matrilineal clans, that is, children belong to their mother's clan, from which they gain social status and identity. The mother's eldest brother was more significant as a mentor to the male children than was their father, who was of another clan. Hereditary leadership passed through the maternal line, and women elders could remove leaders of whom they disapproved. I like that!
Q: You're probably best known for dramatic roles, but you're appearing in the new season of the political satire Alpha House. Do you enjoy comedy?
A: I do! Comedy is really challenging and timing is everything! I just finished a movie called Bad Vegan, which is a dark comedy, but I got a chance to be hoodwinked, and I hope it is as funny as we all thought it was!
Q: You recently starred in the dance drama Fall to Rise. Are you a dancer yourself?
A: I studied dance for many years and danced with a company when I first got to New York. I can still do a triple pirouette!
Q: You've played good guys (Law & Order) and bad guys (24). Do you have a preference?
A: Well, first of all, Alberta Green on 24 was not a bad guy, DARN IT! She was just doing her job. But my character in Devil's Advocate was definitely a bad guy, but she was so friendly about it, you could hardly tell. Bad guys are more interesting because of course they think they are justified in what they are doing.
Q: Do you have a favorite episode from your time on Law & Order: SVU?
A: Oh, yes! It's the episode where I get shot by Isabelle Hupert, who is one of my favorite actors, and I then save my own life! You go, Melinda!
See Tamara Tunie on-screen in THE RED ROAD Thursdays 10/9c on SundanceTV.
Think you know everything about Tamara Tunie? Prove it by taking this quiz.