6 Questions with "THE RED ROAD" Star Nick Gomez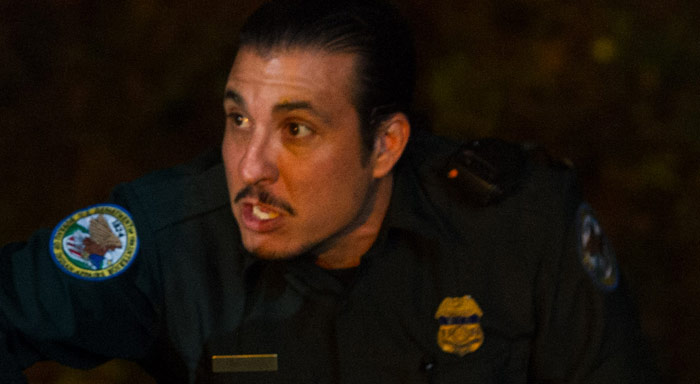 Nick Gomez talks playing bad guys on Dexter and The Walking Dead, bonding with Martin Henderson and Jason Momoa, and which THE RED ROAD character he'd most want to play.
Q: You've played characters in the hit series Dexter and The Walking Dead. Which one was more of a bad guy?
A: I would definitely say El Sapo on Dexter was more a bad guy. He made his living from killing people, and truthfully, I never saw Tomas from The Walking Dead as a bad guy. He was just scared as hell and reacted in the only way he knew how.
Q: Do you think Frank from THE RED ROAD could hold his own against those two?
A: Frank could definitely hold his own against either one. Frank is a strong, stoic character and he was trained in the military, saw combat and will do anything to protect his family.
Q: Did you know when Season 2 was announced that you'd be a part of it? If not, when did you find out? And how?
When I heard Season 2 was a go, I wasn't sure I would be coming back so I was thrilled when I got a call a few months out from filming that not only would I be back, but also the direction in which my character would be going. I was beyond excited!
Q: If you could give your character any advice, what would it be?
A: When you run out of bullets, don't forget you still have a taser.
Q: Have you bonded with any co-stars?
A: Yeah, I became pretty good friends with Martin [Henderson]—I still have to take him up on his kayaking offer. And Jason was always a lot of fun to play around with on set.
Q: If you could play any other THE RED ROAD character, who would it be?
Jack Kopus. But only cause I wish I was half the actor Tom Sizemore is.
See Nick Gomez on-screen when the THE RED ROAD Season 2, Thursdays at 10/9c on SundanceTV.
Go deeper with THE RED ROAD cast. Read an interview with Tamara Tunie.