6 Questions with "THE RED ROAD" Star Martin Henderson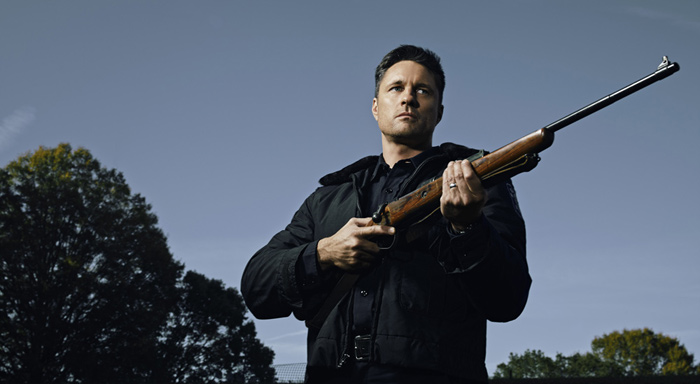 New Zealand-born RED ROAD star Martin Henderson talks about getting comfortable in his role as a cop, preparing for his action-packed sequences and embracing his stunt double.
Q: Did you research police work to prepare to play Harold?
A: I had the opportunity and the pleasure to spend some time with real cops, including several ride-alongs with a fantastic person, Detective Eddie Perkins. That gave me tremendous experience observing real-life crime scenes and watching how they go about their processes and protocols. I had the chance to do this before both seasons and it was invaluable.
Q: How hard is it as an actor to get comfortable using police equipment like handcuffs and walkie-talkies?
A: Using police equipment takes practice to do it well and to do it fast. Walkie-talkies are no big deal, however, what's tricky is trying to use the equipment properly while also making it look authentic in a shot. Sometimes I would be in a position that it just wasn't possible to do it correctly and make it look real so you just have to fake it now and then.
Q: Season 1 ends with a fight and a shootout. How much rehearsing did that scene take? Do you use a stunt double?
A: We rehearse and we rehearse, including before scenes and between scenes. When we're not shooting, we're rehearsing. That said, I do have a stunt double… and I'm not afraid to use him!
Q: You've been acting since you were 13. What advice would you give to a young actor just starting out?
A: No matter how your career goes, there will be a fair share of knocks, so all I can say is work hard… really hard, and never stop believing in yourself.
Q: You're starring in the Australian TV series Secrets & Lies simultaneously. How do you juggle both shows shooting on two sides of the globe?
A: I had a few weeks off between the two shows, which was great. That gave me the time I needed to get myself out of one character and get my head into Harold's character, including working on a different accent.
Q: Do you sympathize with Harold's choices to operate outside the law? Or are you more a by-the-book type?
A: Thankfully, I've never been in a position where I've had to make that choice in my personal life. It's easy for me to say that I would never do what Harold decided to do, but then again who knows how you'd react if the situation meant harm to your most loved ones—your wife, your children. In that sense, I do sympathize with Harold. He's in a bad place and often can't get out of his own way.

See Martin Henderson on-screen in THE RED ROAD Thursdays 10/9c on SundanceTV.
Not enough? Watch THE RED ROAD star answer fan questions.