6 Questions with "THE RED ROAD" Star Kiowa Gordon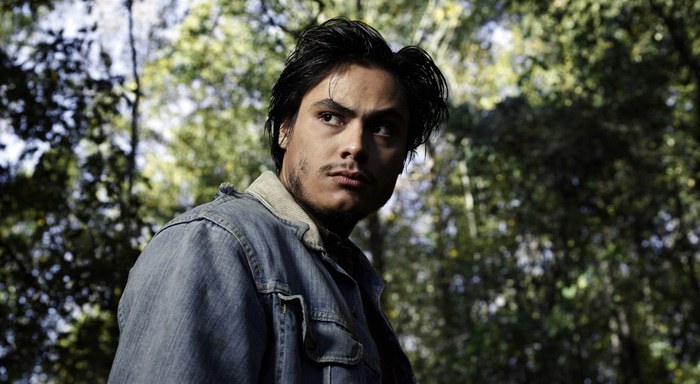 THE RED ROAD star Kiowa Gordon discusses his relationship with co-star Jason Momoa, his involvement with The Twilight Saga, and his passion for music and poetry.
Q: Phillip Kopus plays a big brother to Junior in THE RED ROAD Season 1. Is there anyone in the cast who took on that role with you as an actor during the series?
A: Actually, Jason. Couldn't have asked for a better dude. There's never a dull moment with him. I feel like everyone else has bonded even more since wrapping up Season 2.
Q: You've said in interviews that you have a lot in common with Junior. What's the biggest difference between you two?
A: The biggest difference would be the charm Junior's got working for him with Rachel.
Q: Junior and Rachel's relationship has had its ups and downs. Who do you think is in the right?
A: I don't think either of us is in the right, when you're in a relationship these things tend to happen. I would never leave somebody at a hotel to find their own way home though. That's just douchey.
Q: The Twilight Saga completed three years ago. Do people still recognize you on the street from that franchise?
A: HAHA! Maybe once in a while. I wouldn't know because I don't usually talk to strangers in passing on the street. For all I know, they could be thinking I'm just another weirdo like them. I get recognized more from friends telling friends of friends.
Q: You've played a werewolf, a soldier and an orphan. What's your dream role?
A: I'd really like to be a spy/assassin.That would be so damn fun.
Q: You're also a singer and songwriter. Who are your musical influences?
A: Right now, anything that progresses music for me. I'm always trying to find new sounds. Some of my biggest influences are my family and friends though. A lot of my lyrics/poetry are about or for the people I care for, especially my daughter, Kaili.
See Kiowa Gordon on-screen in THE RED ROAD Thursdays 10/9c on SundanceTV. Have more questions for him? Join @TheRedRoad and @CircaKiGordon on Twitter for a Q&A tonight at 9/8c!
Not enough? Watch THE RED ROAD star answer fan questions.