6 Questions with "THE RED ROAD" Star Allie Gonino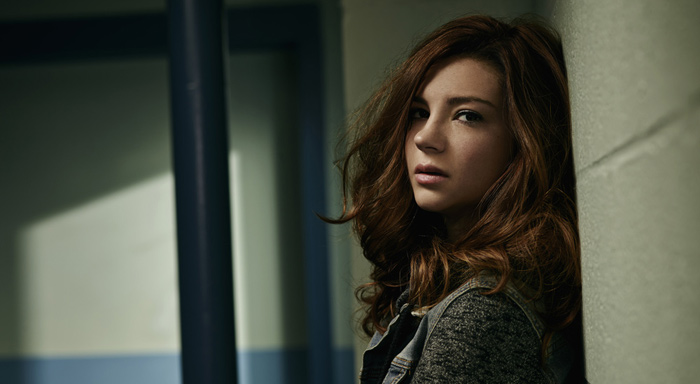 Allie Gonino, who plays high schooler Rachel Jensen in SundanceTV's THE RED ROAD, talks about her own rebellious teenage years, being an activist and jamming with co-star Kiowa Gordon.
Q: Rachel definitely rebels against authority. Did you go through a similar phase as a teenager?
Absolutely! About a year after moving to Los Angeles with my mom, I started doing things normal 17-year-olds do, but are told not to do by their parents. I did some good old-fashioned lying and stretching of truths. My mom actually threatened at one point to move me back to Texas if I didn't get my act together within 90 days. Shortly after that, I was asked to join The Stunners, which was a girl group I performed with for the next three years. That saved my ass from expulsion!
Q: You're an activist in real life. What are you working on now?
I'm really good friends with the founder of The Thirst Project, and I continue to promote that cause whenever possible. I "donated" my birthday this year to raise money for the world water crisis, through The Thirst Project. More recently, I became involved with the LA LGBT Center and I'm now on the Young Professionals Council, which helps to raise money for the homeless youth centers that provide housing, education, food and medical care to at risk youth. There are nearly 7,000 homeless youth in Los Angeles, and about 40% of these people are LGBT, who were kicked out of their homes due to their sexual orientation. I won't get into the dirty details of what this looks like, but it's an issue I encourage others to educate themselves about, and to get involved if it speaks to them.
Q: Both you and Kiowa are musicians. Do you ever jam together on set?
Haha, we have never jammed together, but our trailers are usually right next to each other, and I always hear him singing and he hears me singing in my trailer a lot. We always talk about doing a jam, but when we get to set, there isn't a lot of downtime.
Q: Any new music projects coming up?
The alt-folk band I'm in, The Good Mad, just released an EP in January entitled "Face Your Feels," and it's available on iTunes. I'll be releasing my first solo EP on April 7 called "Hollywood High." The solo stuff is alt-folk as well. If The Dixie Chicks, Fiona Apple, and Father John Misty had a baby…
Q: You're active on Twitter, Pinterest, Instagram… Do you have a favorite social media platform?
I like Instagram, because it's the easiest way to keep up with my friends and family, (and obviously artists I like to stalk), and for my fans to keep up with me. I get obnoxiously obsessed with Pinterest. I just moved into a new place, and I can get sucked into pinning cool decor ideas for way too long. It's a virtual vision board—or a virtual black hole.
Q: If you lived in Walpole, New Jersey which character do you think you'd hang out with socially?
Probably Kate and Junior. Please don't make me move to Walpole, I don't do well in the cold.
See Allie Gonino on-screen in THE RED ROAD Thursdays 10/9c on SundanceTV.