10 Movies Featuring Native Americans to Add to Your Must-See List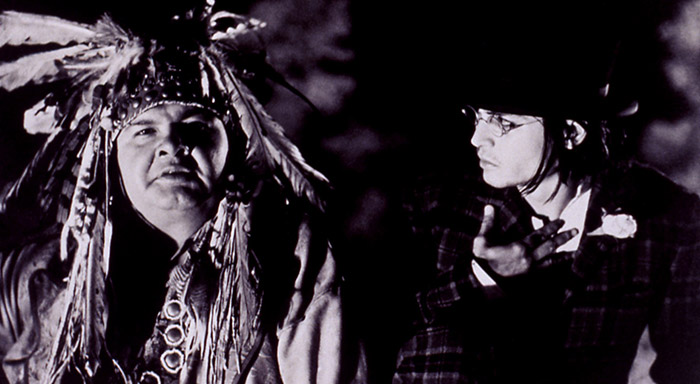 To celebrate the return of THE RED ROAD Season 2, we've put together this list of movies with a strong Native American theme or performance. From thrillers to romances, there's something here for every movie lover.
1. Big Eden
Eric Schweig is dreamy small-town storekeeper Pike Dexter in this romantic comedy. Pike is falling in love with Henry Hart, played by Arye Gross, who returns to Montana from New York City to care for his ailing grandfather. The movie shows off Schweig's incredible good looks and his acting talent as he longs for Henry Hart to stop chasing after his straight high school crush and notice the hottest guy in town.
2. Dead Man
Jim Jarmusch's trippy black and white Western has Johnny Depp in his mid-nineties prime and Gary Farmer as Nobody with some of the best lines in any film about Natives ever. "What name were you given at birth, stupid white man?" Plus, Neil Young did the soundtrack and he never gets old.
3. Edge of America
A movie based on a true story, the new black high school teacher is coerced into coaching the girls basketball team on the Three Nations Reservation. James McDaniel is the coach, the movie also features Misty Upham in one of her first roles. Upham, who died much too young last October, gives a touching performance as Shirleen who makes a mistake and gets caught.
4. Frozen River
Two mothers who need back up find unexpected support from each other in this award-winning (Sundance Grand Jury Prize – Drama) crime drama with nail-biting moments of suspense. Melissa Leo was nominated for an Academy Award for her performance, but Misty Upham holds her own as the Native mother who is looking to get back what she lost.
5. Older than America
Georgina Lightning directed and starred in this terrific ghost story about spectral consequences of Canada and U.S. boarding school policy. Posters showcase Bradley Cooper who has a small but amusing part as a geologist, but it is Lightning as the haunted daughter who is the heart of this movie.
6. One Flew Over the Cuckoo's Nest
Today there are so many movies starring Native actors, it may be difficult to understand the impact Creek actor Will Sampson's performance made on Native communities in 1975. This 40-year-old picture deserves every accolade; but for Native audiences, after decades of Westerns where Natives were always dying, the modern presence of Sampson's character and his final act is nothing less than a promise of decolonization.
7. Rhymes for Young Ghouls
It's 1976 and residential schools are mandatory for First Nations children. Kawenna'here Devery Jacobs is fierce as 15 year old Aila, who survives outside the schools by strictly following her own set of rules. When those fail she has ancestors on her side.
8. Shouting Secrets
THE RED ROAD's Chaske Spencer is Wesley, a writer who confronts his past and reconnects with his family when his mother has a stroke. The excellent cast (Tantoo Cardinal, Gil Birmingham, Q'orianka Kilcher and Tyler Christopher) are a convincing native family: attractive, funny, angry and heartbreaking as they come together to say goodbye.
9. Smoke Signals
Catch up on all the cultural references you've been missing and "get stoic" with Victor Joseph (Adam Beach) and Thomas Builds-A-Fire (Evan Adams). Funny and not to be missed, but Adam Beach's wigs are pretty bad.
10. Tiger Eyes
Based on a novel by Judy Blume, this coming of age story features Tatanka Means, son of activist and actor Russell Means, as the friend a lonely girl needs when her family moves across the country after the sudden death of her father. The film gently explores deep themes and Means has a light touch in his role as the love interest.