6 Questions with "THE RED ROAD" Executive Producer Sarah Condon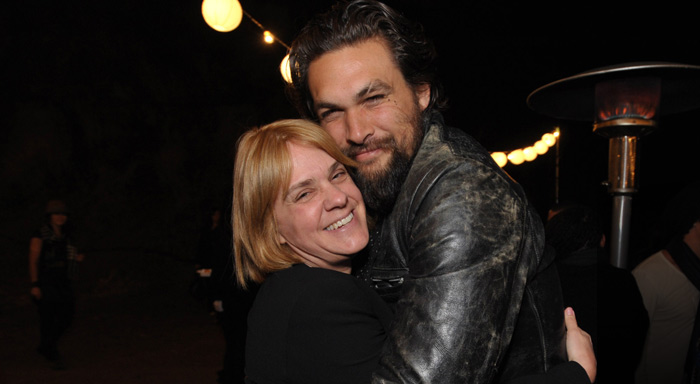 THE RED ROAD's executive producer, Sarah Condon, discusses casting Jason Momoa, dividing her time between THE RED ROAD and Looking, and exploring unique subcultures.
Q: How did you originally get involved with THE RED ROAD?
A: I had read some articles in The New York Times and The New Yorker about this Native American tribe that had been living in the mountains and some of the strife that had gone on with them, and it seemed like this incredibly interesting subculture and world. Simultaneously, I was meeting with [creator] Aaron Guzikowski because we wanted to work together. I had read an early draft of [Guzikowski's feature script, 2013's] Prisoners and was really blown away by it. We were trying to basically do a thriller that also had something to say. When I found those articles I thought, "Oh, this is perfect," and sent them to Aaron, and Aaron had actually heard a bit about this world and was already sort of intrigued. So it came together really nicely that way where he immediately felt like this would be a great way to do a thriller that has a bit of a message as well.
Q: What was it like casting the role of Phillip Kopus?
A: I think the hardest thing about casting that role was that it was hard to find an actor who had the right combination of menace and also a certain kind of psychological introspection that drew you into the character. A lot of guys were sort of one or the other. Jason actually put himself on tape with one of the scenes, and the moment we watched it we were just… It was an electric performance, truly just kind of amazing, and it brought you into that character in a way no one else had. So we were incredibly excited when we saw it because we were like, "Finally, there''s someone that can do this role!"
Q: How were things different going into Season Two with the world and characters already established?
A: I think the great thing about Season 2 is we're able to go deeper into the Native American community and look at their struggles more. I think the first season was more about the tension between the town and the community. The second season is I would say a little bit more about the struggles of the Native American community themselves, particularly in regard to this toxic sludge issue and just all the hierarchies and tensions within their community, as well as the pressures coming from outside.
Q: You also produce Looking, which follows three gay men living in San Francisco. How do you divide your brain between that show and THE RED ROAD?
A: I'd say it's relatively easy, because they are so different. Which is honestly part of what I love about producing them. Y'know, I didn't know that I'd produce them at the same time, but they're both fully engaging. The gay world of San Francisco is a full subculture and the Native American world we've recreated down in Georgia where we're out in the forest and lakes and camping and, y'know, that's a very tough world. So I love the contrast of going from the colorful world of San Francisco to the tougher world of THE RED ROAD.
Q: Looking is often very funny, and before that you produced Jonathan Ames' comedy Bored to Death. Did working on such a dramatic series (THE RED ROAD) take any adjusting?
A: RED ROAD is a darker world for sure. There are days where you're shooting in what used to be a meth house or freezing outside in the woods, that you are almost living the life of the characters. But I kind of love that. It's what helps connect you to the story and come up with ideas and things that should happen, when you're living in that world.
Q: A naturalistic dramedy, a hipster detective comedy, and now a Lenape crime story…. What makes a project catch your eye?
A: I think the biggest thing for me is a unique subculture I want to explore that I find fascinating and I feel like hasn't been looked at before. And then coming together with a hugely talented writer who has a vision, a unique voice, and a strong point of view on the subject. All of those projects — Jonathan Ames for Bored to Death, Andrew Haigh and Michael Lannan with Looking, and then Aaron with THE RED ROAD — I think it is all about how the writer comes to the subject and has a really authentic voice that, in some way, in its specificity makes the story universal.
THE RED ROAD Season 2 premieres Thu., Apr 2 at 10/9c on SundanceTV.