Whatcha Gonna Do When They Come for You? 10 Bad Boys We Love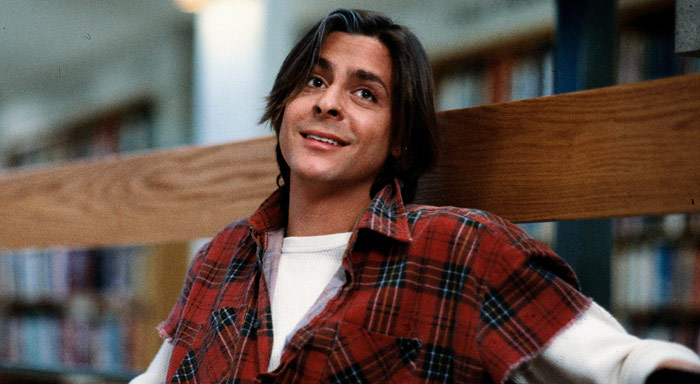 What is it about bad boys that makes them so irresistible? Whether they're icons of the big screen or Jason Momoa's Phillip Kopus in THE RED ROAD on SundanceTV, who can resist that alluring combination of devil-may-care attitude, meditative demeanor and their smoldering good looks. Here are 10 cinematic bad boys we can't help but love.
1. Patrick Verona (Heath Ledger), 10 Things I Hate About You
Sure, Patrick smokes, drinks and hangs out in seedy establishments, but he's also undeniably funny and charming. Well, at least he is to everyone but Kat Stratford (Julia Stiles). But then Patrick tries to woo Kat (so that he can earn some quick cash). Hey, what's not to love about a guy who does a goofy dance with the high-school band?
2. Wade "Cry-Baby" Walker (Johnny Depp), Cry-Baby
Wade Walker's look was clearly cast in the mold of James Dean, and like Dean's character in Rebel Without a Cause, Wade's from the wrong side of town and mixed in with the wrong crowd. And as if his brooding persona isn't bad-boy enough, he can also drive the women wild with his picture-perfect ability to shed a single tear.
3. Daniel Cleaver, Bridget Jones's Diary
He's a cad who treats women like tissues and cheats on Bridget. But he also has great hair, a silver tongue, and (drunkenly) is willing to put up a fight for Bridget's affections.
4. Brandon Darrow (Leonardo DiCaprio), Celebrity
Leo is arguably a bad boy in every role he plays, from defiant loverboy Romeo in William Shakespeare's Romeo + Juliet to sleazy stockbroker Jordan Belfort in The Wolf of Wall Street. But the unrepentant bachelor is also something of a bad boy in real life, which is why his cameo role in Celebrity as a spoiled, louche Hollywood star is the perfect marriage of fact and fiction.
5. Johnny Castle (Patrick Swayze), Dirty Dancing
Like many movie bad boys, Johnny Castle is a brooding babe who keeps his emotions in check. But unlike most bad boys, he also knows how to express himself through dance! While the most people regard Johnny as a threat, open-minded teeanger Baby (Jennifer Grey) sees through his hard-shell exterior and proves to be like the wind through his dreams.
6. J.D. (Christian Slater), Heathers
Okay,so he's a psychopath who plots both murders and the destruction of the entire school. But he's also just another misunderstood bad boy. "So maybe I am killing everyone in this school because no one loves me," he confesses. Also, he's played by Christian Slater.
7. Troy Dyer, Reality Bites
Troy is the ultimate '90s slacker. An unemployed aspiring musician who can't be bothered to take a shower, has a cavalier attitude comes to an abrupt halt when his father dies. Lelaina (Winona Ryder) takes him back despite his many, many faults. And once we've glimpsed the genius poet inside him, do we really blame her?
8. Han Solo (Harrison Ford), Star Wars
Yes, there are even bad boys in galaxies far, far away. Compared to golden-boy Luke Skywalker, Han Solo is a fly-by-the-seat-of-his-pants loner who's always lookin' out for #1. That is, until he falls passionately for the spitfire Princess Leia.
9. John Bender (Judd Nelson), The Breakfast Club
John Bender is identified as "the criminal" of the "breakfast club," thanks to his penchant for smoking pot and vandalizing property. But underneath a tough exterior, he's soft at heart. Despite teasing the stuck-up Claire (Molly Ringwald) during their eight-hour detention, the two kiss later that day, prompting Bender to end the movie by raising his fist in victory.
10. Johnny Lawrence (William Zabka), The Karate Kid
Blonde, rich, entitled, bratty: Johnny embodies everything we usually don't think of when we think about bad boys. Which is why it's so satisfying to see lose the competition and the girl to Daniel LaRusso (Ralph Macchio). But at least he's learned a valuable lesson about not being a total jerk.
Get to know THE RED ROAD's resident bad boy, Philip Kopus, when Season 2 returns on Apr. 2 at 10/9c.