"THE RED ROAD" Reading List: 10 Great Books by Native American Authors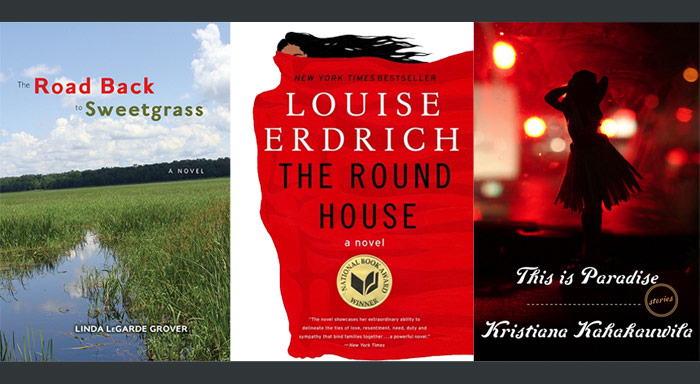 While you wait for the return of THE RED ROAD, explore the drama and complexity of native lives through these indigenous writers unique stories. Here is a short list of novels, short stories and memoirs by some of the finest native writers in the U.S. and Canada.
1. Bad Indians: A Tribal Memoir by Deborah Miranda
The conquest of California Indians is underwritten and contemporary California natives are under represented in media, so this blend of personal memoir and tribal history from Chumash writer Miranda is both a revelation and detective story.
2. Islands of Decolonial Love by Leanne Simpson
The Nishnaabeg author's book of short stories and songs is a love letter to native peoples in her part of Turtle Island and everywhere. A reminder that loving is a survival technique.
3. Miko Kings by LeAnne Howe
Howe's historical novel travels through time to repatriate the most American sport, baseball, by exposing its native roots. A pitcher with no hands remembers his glory days in Choctaw love story bookmarked by World War I and the Vietnam War.
4. Ravensong by Lee Maracle
Metis author Maracle's description of native lives in 1950s Pacific Northwest is nothing like Ozzie and Harriet. When a flu epidemic strikes, the teenage protagonist Stacy learns, "There is a hierarchy to care."
5. The Girl Who Grew A Galaxy by Cherie Dimaline
In this novel Toronto-based writer Dimaline (Ojibway and Metis) introduces readers to Ruby Bloom, an imaginative young woman with a complicated, bordering on miserable, life. Ruby's anxieties manifest as planets spinning around her head; so it is fortunate that on a trip to New Orleans she meets an astronomer.
6. The Road Back to Sweetgrass by Linda LeGarde Grover
Grover's book of short stories, The Dance Boots won the Flannery O'Connor award for short fiction, in her first novel the Ojibwe author takes up themes familiar to fans of native fiction: authenticity, dispossession and a complicated relationship to home.
7. The Round House by Louise Erdrich
Joe Coutts is thirteen-years-old when his mother is attacked and his life is forever changed. Erdrich's book about the aftermath twists the too-often told story of violence against native women into a story of revenge and won the 2012 National Book Award.
8. The Truth About Stories by Thomas King
In this memoir King explains the power of stories, why we tell them, listen to them and need them. King, who is Cherokee, writes, "The truth about stories is that's all we are."
9. The Way of Thorn and Thunder: The Kynship Chronicles by Daniel Justice
Cherokee author Justice serves up some Tolkien realness through an indigenous lens in this fantasy trilogy about the battle for Everland, a place resembling the colonial United States, where the forest-dwelling Kyn resist conquest.
10. This Is Paradise by Kristiana Kahakauwila
These six short stories go far beyond the postcard facade of aloha and sunsets. In the title story, several groups of Native Hawaiian women gather to surf, work, play and network while a haole tourist learns "Hawai'i is no fantasyland."
Angie Morrill is a member of The Klamath Tribes and Coordinator of Native American Recruitment at the University of Oregon.
Want to know more about THE RED ROAD? Go deeper into the Native American myths that inspired the series.